Mastercard supports sustainable and inclusive future for young leaders with Renaissance Awards partnership
October 29, 2021 | By Giuliana Abbate
The projects of the selected young leaders – and the stories behind them – will be
represented in an exclusive film available worldwide on Priceless.com
29 October 2021 – Mastercard has partnered with the Renaissance Awards, an Eco Age initiative founded in Florence, Italy – home of the Renaissance – that rewards young leaders dedicated to creating a world that is more socially just, economically inclusive, environmentally restorative, and technologically balanced.   
The new generation plays a pivotal role in shifting the global mentality towards its future and can set an example that inspires everyone to make changes for a better tomorrow. As such, the Renaissance Awards honors 12 of the most visionary and talented young individuals that have embraced social purpose in their businesses this year. Their stories will also be celebrated through The Renaissance Awards film, which debuted as a worldwide exclusive and is now available on Sky and on the Priceless.com platform.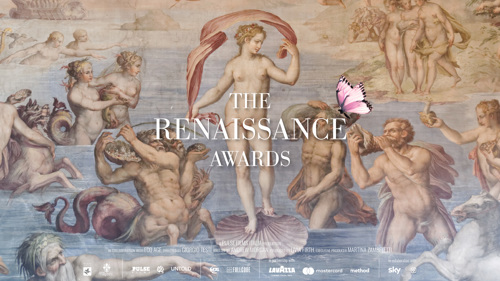 The Renaissance Award film, which honors the 12 winners, also stars legendary musician, and president and co-founder of the We Are Family Foundation, Nile Rodgers; Academy Award winner Colin Firth; model and activist Gisele Bündchen; musician, political activist and NGO Circle founder, Annie Lennox; award-winning South Asian actor Ahad Raza Mir; and songwriter Ben Harper. Mastercard has also partnered with the awards to publish videos showcasing behind-the-scenes footage of the project founders telling their stories.
As an organization that shares the values and mission of the Renaissance Awards, the partnership represents Mastercard's commitment to promoting a global 'renaissance' that creates a more inclusive, sustainable, and positive future for its customers. As part of this commitment, Mastercard provides expertise, networks, tools, and solutions to promote impactful individual and collective action that can lay the foundations for a better tomorrow.   
"At Mastercard we are proud to partner with the Renaissance Awards and share its vision to build a more inclusive and sustainable world. We believe that both collective and individual actions are vital in driving systemic change, and we are working daily to encourage people to act. Together with our networks and partners, we are collaborating to make a positive impact on the wellbeing of our planet. With our expertise, we want to enable everyone to do their part," said Jeannette Liendo, Senior Vice President Marketing and Communications, Mastercard Europe.
"We see the next generation as the creators of new and valuable innovations for the future. Young entrepreneurs from around the world, such as those awarded by the Renaissance Awards, pave the way for ideas to be a springboard for new solutions. With their social impact projects, these individuals are role-models from which we can all draw inspiration to make the difference".
"I am extremely grateful to Mastercard for supporting this project and I couldn't have found a better way of saying that what we are doing together is truly "starting something priceless".  Supporting young leaders to scale their solutions is the only way to guarantee a future for all of us and I look forward to working more and more with Mastercard on this journey", commented Livia Firth, Co-founder and Creative Director of Eco Age.
The mission of Mastercard and the Renaissance Awards is supported by global research, commissioned by Mastercard, which reveals that 85% of consumers are willing to take personal action to contrast environmental challenges and 60% people believe brands hold a responsibility to act and contribute positively to global sustainability. Furthermore, the global emergency of the pandemic has shone a light on the vulnerability of our planet and its citizens are now expressing a strong desire for urgent developments that can address their most pressing challenges.
The growing activism finds in the new generations the main interpreters, who are perfectly represented in the Renaissance Award and its main protagonists. Giorgio Testi, film director and founder of Pulse Films comments: "EcoAge has been an important partner for us over the past 2 years. Always challenging us in creating compelling contents with a high level of tech, but still, intimate and socially engaging. For The Renaissance Awards my goal in this film was to leave viewers with a sense of responsibility to the world around them, prompting them to make more ethical decisions in life, and that goes for all the crew who worked on it as well. At Pulse Films we believe it's always worth investing in movies that change viewers' perspective and make them open their eyes"
Among this year's winners include Italian Alessio Genovese, who received an award within the "Socially Just" category for his project "Funkino – Cinema for Inclusion". The project aims to encourage disadvantaged teenagers – including migrants and prisoners – to embark on careers in the film industry and promote a world without discrimination.
"I am honored to receive this award for the collaborative and participatory film laboratory "FunKino —Cinema for Inclusion" based in Palermo, Sicily. The laboratory provides mentoring to marginalized youth and prisoners in film writing and production. The lab supports the entry of people at risk of social exclusion into the realm of Italian cinema and foregrounds their voices in showing the public their priority issues and solutions. As asserted by one of FunKino's past participants, "Our films will make people understand that we can think, that we have ideas". Participants regularly allude to even bigger aspirations. Through our storytelling "We are actually saving lives and encouraging somebody to take action", concluded Alessio Genovese, winner of the 'Socially Just' category of the Renaissance Awards.
- END –