Mastercard, DSK Bank, and Conservation International form partnership to further expand Wildlife Impact Card Program to Europe
November 19, 2021 | By Anna Marciniak
Launching in Bulgaria, the Mastercard Wildlife Impact Card alerts consumers to the urgent crisis experienced by over 2,000 Critically Endangered species and demonstrates Mastercard and DSK Bank's commitment to protecting global biodiversity
Sofia, Bulgaria - Mastercard and DSK Bank, of OTP Group, have today announced the introduction of the Mastercard Wildlife Impact Card as part of the global program to protect the biodiversity of the planet. The global program is expanding with Bulgaria . This initiative will enable debit cardholders to support the protection of Critically Endangered species – including the African Forest Elephant, Yellow-tailed Woolly Monkey, Black-and-White Ruffed Lemur, and Sunda Pangolin – through donations to Conservation International.
For every Mastercard Wildlife Impact Card issued, DSK Bank will donate $1 to Conservation International to help protect and restore wildlife habitats. By 2030, this project is expected to reach priority areas equal to 40 million hectares of landscape and 4.5 million square kilometres of seascape globally. The roll-out represents in Europe, enhancing the region's status as a hub of sustainable solutions. Each Wildlife Impact Card can be easily integrated into digital wallets or carried in a physical form made of sustainable materials.
The roll-out of the Wildlife Impact Card builds on Mastercard's global commitment to contribute to a better tomorrow for the planet's biodiversity. The company's Priceless Planet Coalition – of which DSK Bank and OTP Group were among the inaugural contributors – unites the efforts of consumers, financial institutions, merchants and cities to fight climate change through the restoration of 100 million trees over five years – together with Conservation International and World Resources Institute.
"DSK Bank's unique wildlife animals-themed cards will help raising awareness on the world threatened species and environmental issues. Our partnership with Mastercard and the global ecology player Conservation International is an excellent example of the numerous roles that business can play in empowering societies and individuals to create a healthier and more sustainable planet. With this card we would like to empower our more than 2,5 clients around their passion for clean nature and protection of endangered species," says Mr. Tamas Hak-Kovacs is Chairman of the Management Board and Chief Executive Officer of DSK Bank.
"Every extinction is a tragedy for the species, the natural environment and for people," stated Dr. M. Sanjayan, CEO of Conservation International when the program was announced earlier in 2021 in the USA. "Wildlife is critical to securing benefits like cleaner water and more fertile soils. When we destroy animal habitats, we don't just put these benefits at risk; we create entirely new challenges to our health and our ability to address climate change. Saving nature has always been about saving ourselves, which is why we are proud to partner with Mastercard to provide a simple way for consumers to take immediate action to help protect wildlife and their habitats."
"We are proud to have DSK Bank, and its large cardholder base, as a partner to leverage the full scale of Mastercard's business, technology and network of products and services that inspire action towards a more sustainable future. This launch builds on our Priceless Planet Coalition – of which Conservation International, DSK Bank, and OTP Group are also contributors and partners – as we continue to invest in projects with the greatest potential to improve the future of our planet's biodiversity, climate, and communities," adds Vanya Manova, Country Manager Mastercard for Bulgaria, North Macedonia, Albania and Kosovo.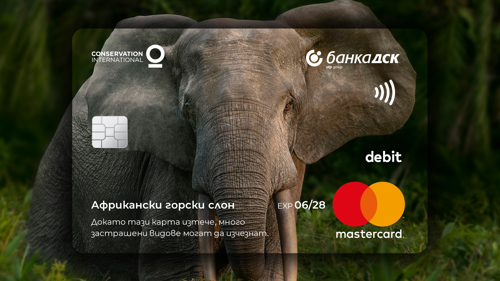 About DSK Bank
DSK Bank is part of OTP Group - the largest financial service provider in Hungary and regional leader in Central and Eastern Europe. OTP Group provides high quality financial services to more than 16 million clients in 11 countries, utilising its network of nearly 1,700 branch offices, 4,900 ATM and highly innovative digital channels.
As a modern company with a long-term strategy for growth and progress in the large-scale digital transformation of its business, the bank invests in the development of innovative offices, modern products, and personalised services for its clients.
About Conservation International
Conservation International works to protect the critical benefits that nature provides to people. Through science, partnerships and fieldwork, Conservation International is driving innovation and investments in nature-based solutions to the climate crisis, supporting protections for critical habitats, and fostering economic development that is grounded in the conservation of nature.  We work in 30 countries around the world, empowering societies at all levels to create a cleaner, healthier and more sustainable planet. Follow Conservation International's work on Conservation News, Facebook, Twitter, Instagram and YouTube.
About Mastercard (NYSE: MA)
Mastercard is a global technology company in the payments industry. Our mission is to connect and power an inclusive, digital economy that benefits everyone, everywhere by making transactions safe, simple, smart and accessible. Using secure data and networks, partnerships and passion, our innovations and solutions help individuals, financial institutions, governments and businesses realize their greatest potential. With connections across more than 210 countries and territories, we are building a sustainable world that unlocks priceless possibilities for all.  
Follow us on X (formerly Twitter) @MastercardEU and @MastercardNews, read more about our global impact in Perspectives, and subscribe for the latest news from the Mastercard Newsroom.