Mastercard alongside Inter Women: Jersey Partner of the Nerazzurri Women's Team
November 18, 2021 | By Giuliana Abbate
Mastercard enriches its collaboration with Inter by supporting the Women's Team and creating more new experiences for consumers and football fans
MILAN, November 18, 2021  – Mastercard's journey alongside Inter continues: Mastercard, the leading global payments company and partner of Inter since 2018, announces today the extension of their partnership to include the Women's Football Team.
The collaboration will allow Mastercard to be the jersey sponsor of the Women's Team at the Italian Championship and the Italian Cup matches, as well as collaborate with Inter to create several consumer focussd initiatives. Thanks to the engagement of their many ambassadors, these initiatives will inspire future generations by promoting women's empowerment, both on and off the field, and dealing with diversity, inclusion and fair play.
Specifically, the focus on the Women's Team underscores the commitment of both brands to the development and promotion of the women's football movement, both from a sporting and social point of view. Mastercard shares the desire to promote gender equality in women's football with the Nerazzurri Club and hope to inspire next generations of players and fans.
"We know that a simple ball can give life to Priceless moments so we are proud to collaborate with the Nerazzurri Club to share our passion for the beautiful game." commented Michele Centemero, Country Manager Italy of Mastercard. "Furthermore, we are especially happy to work alongside the Women's Team to help implement sustainable programs based on teamwork, sportsmanship and inclusion - that girls and women from all around the world can hopefully aspire to."
"It is with great satisfaction that we announce this new collaboration with Mastercard, a brand strongly linked to the world of international football and committed to supporting the development of the latter in the female sphere," the words of Alessandro Antonello, CEO corporate of FC Internazionale Milano. "Mastercard shares with Inter the commitment to equality and inclusiveness and we are therefore happy to see a brand with these values on the jerseys of our female players."
Finally, the collaboration will allow Mastercard to be the jersey sponsor of the Women's Team at the Italian Championship and the Italian Cup matches and to collaborate with Inter to create several initiatives that, thanks to the engagement of many ambassadors, will promote women empowerment, touching topics as diversity, inclusion and fair play – both on and off the field – to inspire next generations. 
Mastercard has developed one of the most well-rounded women's sports portfolios globally over the past decade, with investment spanning players, teams and competitions. This includes partnerships across tennis, golf, esports, football and rugby, as well as sponsoring players, teams and events, such as Crystal Dunn, Naomi Osaka, Kadeisha Buchanan, Pernille Harder, Ada Hegerberg, Sam Kerr, Saki Kumagai, Wendie Renard, Alex Scott, Eefje "Sjokz" Depoortere, Brooke Henderson, Annika Sorenstam, Chanel Alberts, Piwokuhle Nyanda, Safi N'Diaye, Maggie Alphonsi, Portia Woodman, Arsenal Women, Brazilian Football Federation (CBF) Women's Football Team, Olympique Lyonnais Women's Team, CONMEBOL Women's Copa America 2022, Australian Open and The AIG Women's Open, among others.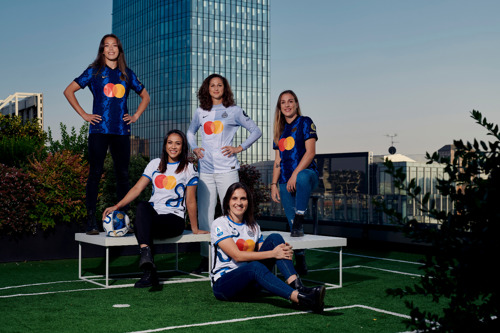 About Mastercard (NYSE: MA)
Mastercard is a global technology company in the payments industry. Our mission is to connect and power an inclusive, digital economy that benefits everyone, everywhere by making transactions safe, simple, smart and accessible. Using secure data and networks, partnerships and passion, our innovations and solutions help individuals, financial institutions, governments and businesses realize their greatest potential. Our decency quotient, or DQ, drives our culture and everything we do inside and outside of our company. With connections across more than 210 countries and territories, we are building a sustainable world that unlocks priceless possibilities for all.
Follow us on Twitter @MastercardEU and @MastercardNews, read more about our global impact in Perspectives, and subscribe for the latest news from the Mastercard Newsroom.