Criptan launches, along with Mastercard, a card to pay with cryptocurrencies in any physical and online establishment
May 18, 2021 | By Ana Díaz Sacristan
CriptanCard will allow payments with cryptocurrencies from the Criptan account in any physical and online establishment that accepts Mastercard, as well as cash withdrawals at any ATM.
The launch of the card has been possible thanks to Criptan's partnership with Mastercard and Pecunpay.
Valencia, 18 May 2021. The cryptocurrency trading platform Criptan has launched CriptanCard, the card that will allow users to pay with cryptocurrencies in any physical and online establishment that accepts Mastercard globally. Criptan will convert their cryptocurrencies into traditional fiat currency, which can be spent everywhere Mastercard is accepted around the world. Currency will enter Mastercard's network as traditional fiat currency.
This card will allow Criptan users who own cryptocurrencies in their accounts to use them to make purchases, any time and anywhere they want, as well as to withdraw cash from any ATM globally.
The CriptanCard can be easily requested from the Criptan app and does not need to be reloaded with euros beforehand as the user will be able to choose which of the cryptocurrencies stored in their account they want to pay with.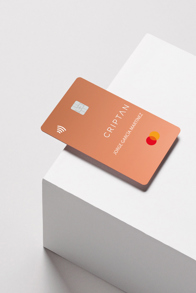 CriptanCard has been made possible thanks to an alliance with Mastercard and Pecunpay, an e-money institution member of Mastercard. Pecunpay has actively supported the project, both technologically and operationally, and has made possible the integration with its banking platform through APIs, so that Criptan can run its own transactions.
"This is great news and we are sure that this programme is going to be very relevant, as the Crypto world is here to stay. At Pecunpay we offer all our legal and technological capacity to make CriptanCard a great success", said Commercial Director of Pecunpay, Jaime Rentero, who also pointed out that the company worked hard from the very beginning to shorten the "Time to Market" since the launch of CriptanCard.
The launch of CriptanCard represents the realization and democratization of cryptocurrencies beyond a mere investment asset.
That's why the co-founder of Criptan, Jorge Soriano, states: "Our goal with CriptanCard is to allow any citizen to feel that cryptocurrencies are part of their daily lives. And to do this we must change the way people interact with their own economy and make everyone aware that there are alternative models to the current economic ones. And the first step is to make it easier to use them".
According to Paloma Real, General Manager at Mastercard Spain: "As more consumers look to enter the crypto ecosystem, CriptanCard gives them an easy way to use them to pay, anytime and anywhere they want. Mastercard continues to evolve and meet consumer demands for choice in the way they pay. We are delighted to join Criptan and Pecunpay to launch Mastercard's first crypto card in Western Europe".
Media Contacts
Raquel Bascuñana, Nebo Comunicación
About Criptan
Criptan is a cryptocurrency trading platform with an integrated escrow service that seeks to bring the world of cryptocurrencies closer to people's day-to-day life. It was founded in 2018 by Jorge Soriano, an architect who worked for years in strategic and creative consultancy, with an extensive experience of more than six years in the crypto world; and Jaume Sola, linked for more than 30 years to the innovative and technological ecosystem, who has also been involved since their beginnings on platforms such as Flywire and other leading technology ones.
They both understand cryptocurrencies as a new form of money that must be accessible to everyone. That's why they decided to create a platform focused on simple and reliable access that would be the gateway for this type of users. And to complete the project, they were joined by Enrique and Pablo Penichet, founders of Bbooster Ventures; and Manuel Palencia and John Nahm, Managing Director of Strong Ventures
About Mastercard (NYSE: MA)
Mastercard is a global technology company in the payments industry. Our mission is to connect and power an inclusive, digital economy that benefits everyone, everywhere by making transactions safe, simple, smart and accessible. Using secure data and networks, partnerships and passion, our innovations and solutions help individuals, financial institutions, governments and businesses realize their greatest potential. With connections across more than 210 countries and territories, we are building a sustainable world that unlocks priceless possibilities for all.  
Follow us on Twitter @MastercardEU and @MastercardNews, read more about our global impact in Perspectives, and subscribe for the latest news from the Mastercard Newsroom.