Mastercard expands partnership with League of Legends European Championship
August 12, 2021 | By Bénédicte Stievenart
Official payment partner; launches new Play of the Week segments for Summer and Spring Playoffs 
Waterloo, August 12, 2021 – Mastercard has extended its partnership with Riot Games to sponsor the League of Legends European Championship (LEC), following a successful four-year partnership with the brand globally. The expansion of its portfolio sees the preeminent esport in Europe strengthen Mastercard's relationship with the largest esport, and its communities, across Europe.
Connecting fans to Priceless experiences, Mastercard's partnership with the League of Legends European Championship Finals will create unique fan experiences and opportunities with their favourite esport talent. Kicking off on 13th August 2021, the LEC Summer Playoffs will feature Europe's top esports team battling it out to lift the silverware. Additionally, the top three teams from Europe will qualify for the 2021 World Championship.
Of the partnership, Jeannette Liendo Senior Vice President, Marketing and Communications, Mastercard Europe said: "We are proud to partner with the League of Legends European Championship. This builds on our successful global partnership with Riots Games. We want to connect people to their passions and in Europe, the passion of League of Legends esports fans have for the game is indisputable. We look forward to curating unique Priceless experiences for fans at the Finals of the League of Legends European Championship and other various promotions."
"Mastercard has become a staple when it comes to professional League of Legends partnerships and we are beyond excited to have them join the LEC family," says Zeynep Gencaga, Senior Manager, Business Development and Partnerships, Europe & MENA, Riot Games. "Their dedication and passion towards delivering top notch content will play an important role in taking the LEC finals fan experience to the next level."
Launched in 2009, League of Legends quickly grew to attract 11m[1] players worldwide in just three years. Recent player count information puts the number of active monthly players at between 100 and 120m people [2].
As the official partner for the League of Legend European Championship, Mastercard will curate several exclusive digital experiences and onsite activations which will be available on Priceless.com. Mastercard will sponsor a new Play of the Week segment during the Summer and Spring Playoffs – which will give the unique opportunity for fans to win tickets for upcoming playoffs and other prizes. An additional element of the partnership is that Mastercard will also sponsor dedicated drops, special rewards launched during the competition on the official global broadcast of the LEC. By watching on the game, fans will be able to earn from in-game items to real LEC team merchandise.
Since announcing the global partnership in 2018, Mastercard's partnerships have expanded, establishing a strong presence within the League of Legends esports ecosystem. The deal is a further demonstration for the global technology company towards digital sponsorship assets, as part of its world class esports and entertainment portfolio. As well as in real life events, Mastercard has recently worked extensively in digital-first experiences including NLC, LCS, CBLOL as well as global events, including the World Championship and Mid-Season Invitational.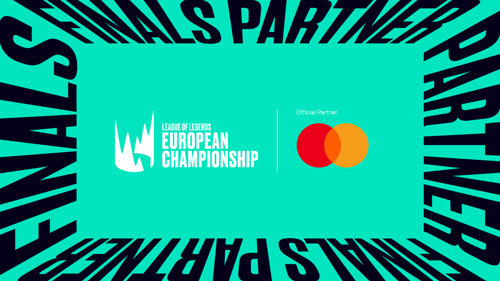 NOTES TO EDITORS