Mastercard and emerging fintech ZEN launch digital financial solutions to tackle e-commerce challenges for consumers and businesses
November 26, 2020 | Warsaw
Mastercard provides ZEN with comprehensive support in the fields of technology, know-how, marketing, and access to business partners worldwide to bring fintech's financial solutions to consumers and entrepreneurs in 32 European markets
Fintech company ZEN in cooperation with Mastercard have launched a suite of digital finance solutions which will enable consumers, freelancers and entrepreneurs to effortlessly manage their financials and cash flow, as well as pay safely and conveniently both online and in-store with contactless payment card.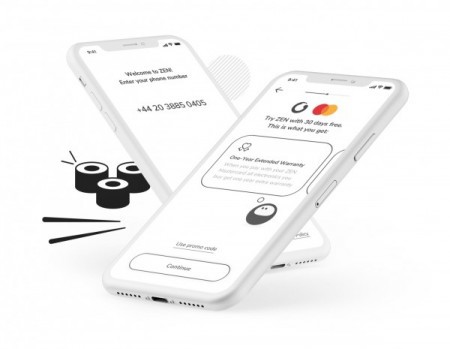 ZEN users get Mastercard card either in plastic or digital-only form. Thanks to Mastercard's tokenization technology, the card can be added to Apple Pay and Google Pay mobile wallets, to provide ZEN customers with convenient and secure ways to pay, both online and in-store. ZEN payment card gives access to exclusive benefits, including cashback and one-year extension of the manufacturer's warranty. ZEN card also provides access to multi-currency account, allowing to pay in 30 currencies with no commission fee. ZEN's users, both individual and business clients, do not need to spend time and energy on chargeback claims. Instead, they can follow the easy process to report the claim directly to ZEN, which will take care of the procedure on users' behalf, within ZEN Care package. For entrepreneurs, ZEN solution provides instant payments flow which guarantees that money transfers are executed within hours from a transaction. All services are easily managed through a mobile application with a simple, minimalistic design and intuitive user interface, with ZEN support available 24/7.
"As an entrepreneur running my own business, I have encountered many challenges managing my finances and money transfers with traditional banking solutions. It has been taking too much of my time, distracting me from growing my business. This experience has made me realize that more people like myself need a comprehensive, digital financial suite which gives peace of mind in terms of managing their money and cash flow. This is how the ZEN concept was born. Our mission is to provide effortless banking experience and online payments so that our clients can focus on what really matters" – says ZEN's founder, Dawid Rożek.
ZEN's products are available in all countries of European Economic Area [1]. With offices in Poland, the Netherlands and Lithuania, digital money license issued by the central bank of Lithuania and approved by European Banking Authority and local regulators in 31 countries, ZEN provides customer service in English, German, Spanish, French, and Polish, with more languages to be added at a later stage.


Strategic partnership to bring innovation
ZEN is launching their solutions in strategic partnership with Mastercard. Mastercard works with the fintech not only the field of payments, but also provides comprehensive support to accelerate its international development. This includes access to Mastercard's innovative technologies and business partners worldwide, as well as to Mastercard's experts in product development and marketing.
"Mastercard is partner of choice for fintechs around the world and we are delighted that ZEN has selected us to not only partner on leading product development, but also their launch and communications strategy. I truly believe that ZEN's exciting new customer value proposition combined with a strong marketing strategy driven in partnership with Mastercard, will be a great success for the many people it serves" – says Raja Rajamannar, Chief Marketing and Communications Officer, Mastercard.
"Our partnership with ZEN is a great example of Mastercard's holistic approach to cooperation with fintechs. We have been working with ZEN since its launch, focusing on product development and market launch strategy. We offer Mastercard's technology, know-how, experience and scale, while ZEN adds its creativity and agility. We are happy to have become ZEN's partner as we believe that such a comprehensive corporate-startup cooperation has a great potential of bringing innovations in digital payments to consumers and entrepreneurs" – says Bartosz Ciołkowski, general manager for Poland, Czech and Slovakia, Mastercard Europe.
"ZEN is inspired by the culture of the Far East, where the concept of zen means peace of mind, the feeling of security and control. Our acronym of ZEN – zero-effort non-bank – stands for helping our clients manage their finances effortlessly. We are aware that to be successful, fintech companies need to scale their business internationally and this is why, with Mastercard's strategic support, we have created a unique, digital solution, designed to meet the needs of contemporary consumers and entrepreneurs across Europe" – adds Dawid Rożek.
[1] Austria, Belgium, Bulgaria, Croatia, Cyprus, Czech Republic, Denmark, Estonia, Finland, France, Germany, Gibraltar, Greece, Hungary, Iceland, Ireland, Italy, Latvia, Lichtenstein, Luxembourg, Malta, Netherlands, Norway, Poland, Portugal, Romania, Slovakia, Slovenia, Spain, Sweden, United Kingdom
Media Contacts
Anna Marciniak, Mastercard
About ZEN
ZEN is an international fintech company based in Poland, with a digital money license issued by the central bank of Lithuania, which provides financial services in 32 European countries. The company's mission is to provide consumers and entrepreneurs with peace of mind in managing their money and purchase transactions. To achieve this, the company offers a comprehensive suite of digital products and services, such as a payment card, multi-currency account, online payment platform, as well as associated unique benefits and additional customer protection. These services are available to users via mobile app and online transaction service. The company has been founded by Dawid Rożek, the author G2A.com platform's international success, and develops in strategic partnership with Mastercard.
About Mastercard (NYSE: MA)
Mastercard is a global technology company in the payments industry. Our mission is to connect and power an inclusive, digital economy that benefits everyone, everywhere by making transactions safe, simple, smart and accessible. Using secure data and networks, partnerships and passion, our innovations and solutions help individuals, financial institutions, governments and businesses realize their greatest potential. With connections across more than 210 countries and territories, we are building a sustainable world that unlocks priceless possibilities for all.  
Follow us on X (formerly Twitter) @MastercardEU and @MastercardNews, read more about our global impact in Perspectives, and subscribe for the latest news from the Mastercard Newsroom.