Growth Of The Love Economy – Valentine's Day Spend Up 17% In Three Years
February 12, 2020
Spend on experiences outpaces traditional gifts like flowers and jewellery
Valentine's Day card spend slows to just 2 per cent over past three years


A new study of card transactions from over 53 countries around the world has revealed that the 'love economy' is growing five times as fast as the global economy with Valentine's Day spend up 17 per cent since 2017.

Romantics across the world are spending more than ever before, with overall transactions in the lead up to Valentine's Day (11-14 Feb) up by 31 per cent over the past three years. The figures come from the Mastercard Love Index, which analyses spending habits and trends around Valentine's Day by analysing credit, debit and prepaid card transactions across the globe.

The trend of gifting 'experiences' is outpacing traditional gifts like flowers and jewellery, with hotel bookings up 22 per cent and flights to romantic getaways up 13 per cent. A massive $2.2 billion was spent booking flights and trips away last year. The data also revealed that spend on the traditional Valentine's Day card is slowing down, with just 2 per cent growth over the past three years.

Food continues to be a safe way to peoples hearts, with spend in restaurants continuing to increase for Valentine's Day year-on-year. Since 2017 there has been a 32 per cent increase in the amount of Valentine's Day transactions in restaurants, with overall spend increasing by 16 per cent to $£3.4 billion in 2019.

As experiences including travel and dining continue to grow at rapid pace, spend on traditional gifts continues to slow. Flowers are still blooming but not booming with just 3 per cent growth since 2017, while jewellery spend has grown by just 6 per cent in the period.

The rise of online shopping also continues, with a 57 per cent spike in online transactions in the Valentine's Day period over the past three years. Of those still shopping offline, the share of contactless transactions has seen a massive increase of 175 per cent since 2017, with increasing year-on-year growth.

"The trend of favouring experiences over traditional gifts continues to grow and it's clear that today's generation place a great emphasis on making Valentine's Day an opportunity to create a shared experience," said Rose Beaumont, SVP Business Enablement and Communications at Mastercard. "It is easier to travel and book trips away now than ever before, which is reflected in the huge increases in flights and hotels booked online in the lead up to Valentine's Day over the past three years. The Mastercard Love Index is a unique look at how buying behaviour is evolving over time, and as we make our way in a new decade we want to help connect people to those Priceless possibilities as we expect the trend of investing in time and memories together to continue to grow."

The data revealed a positive trend of a more organized Valentine's Day planner, with the majority of transactions taking place earlier than ever before and the number of last minute shoppers falling. 2019 saw the majority of Valentine's Day transactions take place on 11th Feb, compared to 2018 where they took place on 12th Feb and in 2017 where they took place on 13th Feb, the day before Valentine's Day.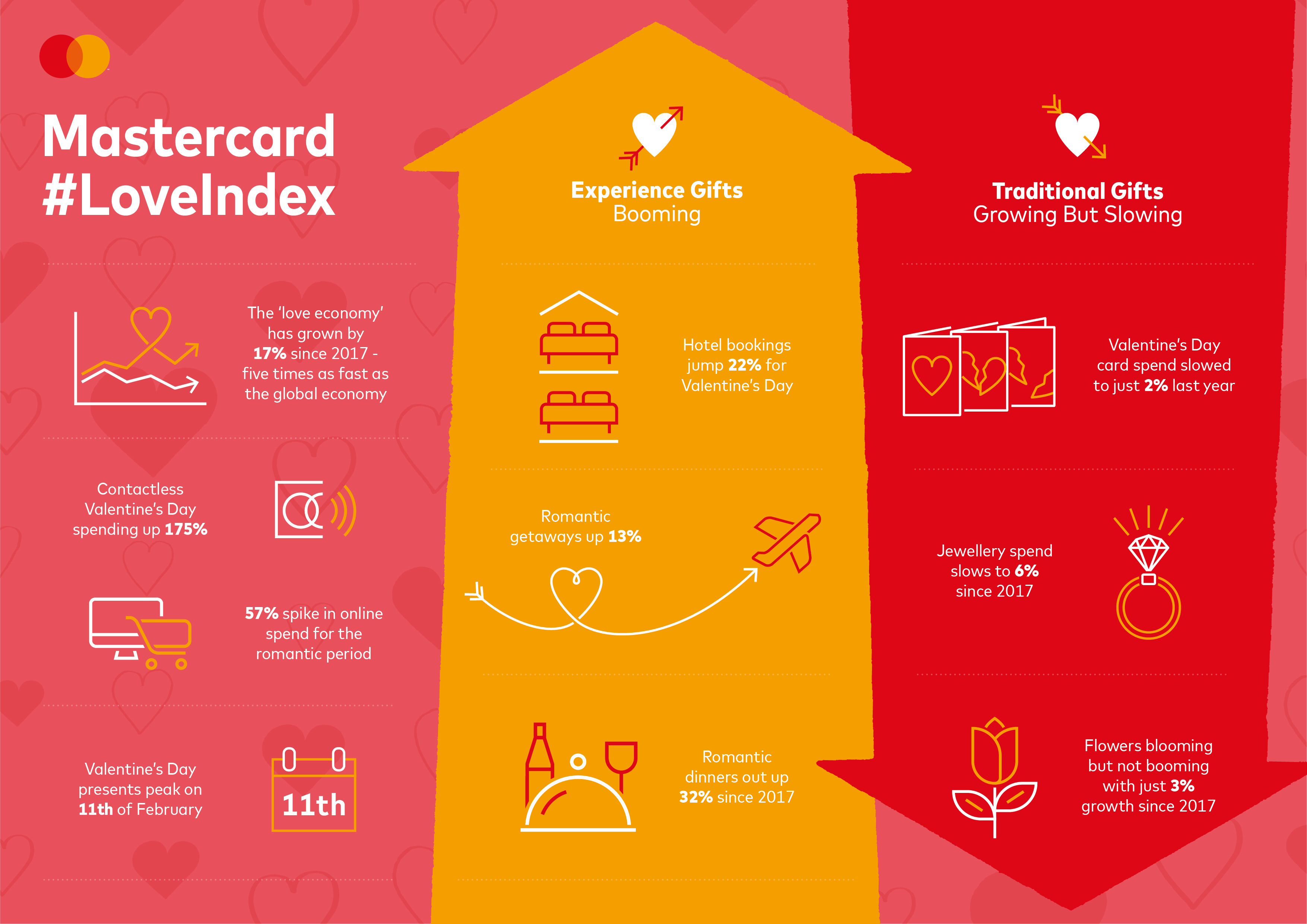 - Ends -

For more information and imagery please contact alice.brown@mastercard.com


Notes To Editors
The annual Mastercard Love Index was created by analysing credit, debit and prepaid card transactions in 53 territories around the world over a three-year period (11-14 February, 2017-2019).

About Mastercard
Mastercard (NYSE: MA), www.mastercard.com, is a technology company in the global payments industry.  We operate the world's fastest payments processing network, connecting consumers, financial institutions, merchants, governments and businesses in more than 210 countries and territories.  Mastercard products and solutions make everyday commerce activities – such as shopping, traveling, running a business and managing finances – easier, more secure and more efficient for everyone.  Follow us on Twitter @MastercardEU and @MastercardNews, join the discussion on the Beyond the Transaction Blog and subscribe for the latest news on the Engagement Bureau.