TransferGo and Mastercard empower more European customers to make fast, simple and secure cross-border payments
December 7, 2020 | London, UK
Partnership enables people to transfer funds from any payment card or bank account to Mastercard cards across borders 
London, UK – 7th December 2020: TransferGo and Mastercard today have announced a partnership that enables customers across 20 European countries to make international money transfers from any payment card or bank account directly to a Mastercard debit or credit card.
Leveraging Mastercard Send™, TransferGo customers can now transfer money in real-time[1] to Mastercard card holders in 20 countries: Austria, Bulgaria, Czech Republic, Denmark, Estonia, Germany, Greece, Hungary, Latvia, Lithuania, Poland, Portugal, Romania, Russian Federation, Slovakia, Spain, Sweden, Turkey, Ukraine and the United Kingdom.  The payment can be made from any card or bank account directly to a Mastercard card in those countries, thus giving people a simple, fast and convenient money transfer experience.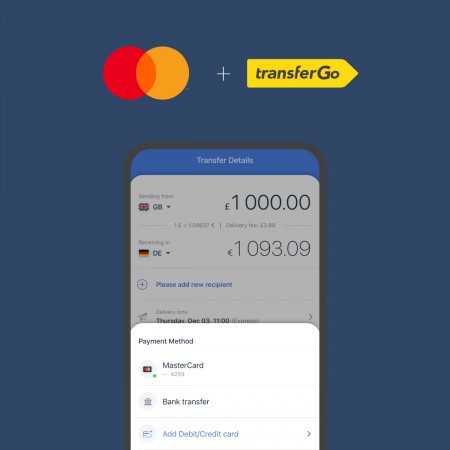 Mastercard Send™ enables secure, near real-time payment transfers to and from billions of card, bank and digital accounts around the world, and is part of Mastercard's multi rail proposition, which enables people and organisations to send and receive money how, where and when they choose.
Commenting on the Mastercard partnership, CEO and co-founder Daumantas Dvilinskas said: "Our partnership with Mastercard comes at a time where this a growing need for strong international digital payments structures – something that has only accelerated during the COVID-19 pandemic. We will continue to be relentless in our support of the evolving needs of both new and existing customers as we develop and implement new technology that allows us to react fast, meet new challenges head-on and achieve new outcomes."
"Providing people with choice is at the heart of what we do here at Mastercard. Be it domestic or cross-border payments, we want to empower people to decide what method of payments best fits their needs at a particular moment" comments Milan Gauder, Executive Vice President, Products & Innovation at Mastercard Europe.  "To that end we are delighted to partner with an innovative company such as TransferGo to reach millions of people around the world to benefit from a fast, safe and reliable international payment solution" adds Gauder.
With this new offering, customers who want to make international transfers will be able to benefit from best-in-class security standards provided both by Mastercard and TransferGo. As a licensed authorised payment institution in the UK, TransferGo is held to very strict security standards including keeping personal and financial information safe through modern security technology, including SSL encryption between its servers and the individuals' browser. Meanwhile Mastercard's best-in-class security tools and capabilities provides an additional layer of security for managing regulatory, financial and fraud risks.
One of the world's fastest growing money transfer companies, TransferGo's partnership with Mastercard is the latest in its constant cycle of innovation – listening to its customers and looking at ways it can help provide fast, cost-effective money transfer solutions to migrants and businesses. It simplifies people's payment experiences by bypassing complex online banking services, or removing the need to look for details that aren't always easy to find – such as an individual's International Banking Account Number (IBAN). In just two months (Sept & Oct) TransferGo has doubled its volume of transactions in Ukraine and Russia when sending direct to a recipient's card.
Media Contacts
Aylin Fastenau, Mastercard
About TransferGo
Founded in 2012, TransferGo has established itself as one of the most trusted money transfer services in the world. Its focus on delivering, fast, reliable remittances has led it to become the only Pan-European money transfer company that can guarantee an individual's money will reach its destination in 30 minutes. By putting the customer experience first TransferGo has built a brand that thousands of clients trust and a product they love. Its vision is to make international financial services pain-free and without artificial borders.
Founder and CEO Daumantas Dvilinskas was included in the 2017 Forbes 30 under 30. The company was nominated for "Fastest Rising Startup of the Year" at the TechCrunch Europa Awards 2018 and listed as one of 2019's five hottest UK start-ups by TNW. Since 2012, TransferGo has been focused improving international money transfers. Now, with over two million customers worldwide, TransferGo has quickly built a reputation as one of the most trusted money transfer services worldwide – as demonstrated by a Trustpilot score of 4.9 and five-star rating over 17,981 reviews – by placing security, speed and ease of use at the heart of its tech-driven solutions.
About Mastercard (NYSE: MA)
Mastercard is a global technology company in the payments industry. Our mission is to connect and power an inclusive, digital economy that benefits everyone, everywhere by making transactions safe, simple, smart and accessible. Using secure data and networks, partnerships and passion, our innovations and solutions help individuals, financial institutions, governments and businesses realize their greatest potential. Our decency quotient, or DQ, drives our culture and everything we do inside and outside of our company. With connections across more than 210 countries and territories, we are building a sustainable world that unlocks priceless possibilities for all.
Follow us on Twitter @MastercardEU and @MastercardNews, read more about our global impact in Perspectives, and subscribe for the latest news from the Mastercard Newsroom.