New mobile money propositions have the potential to reduce the world's unbanked population by more than a third
March 28, 2019 | Oslo, Norway | By Philipp Bruchert
The mobile phone could draw an extra 607 million into the financial mainstream – but access to mobile money is just the first step in achieving true financial inclusion

A new report from Mastercard confirms the power of mobile technology to improve financial inclusion. The research shows that 15 countries account for over 60% of the global unbanked population, where 607 million people have a mobile phone, but do not yet have a bank account. Mobile technology could therefore provide them with immediate access to the benefits of financial inclusion.

In all but one of these 15 countries (India) people with a mobile phone outnumber those with a bank account by several million (rising to 204 million in China).

Tactical Reach Index – number of people without a bank account, who could potentially access financial services via a mobile phone: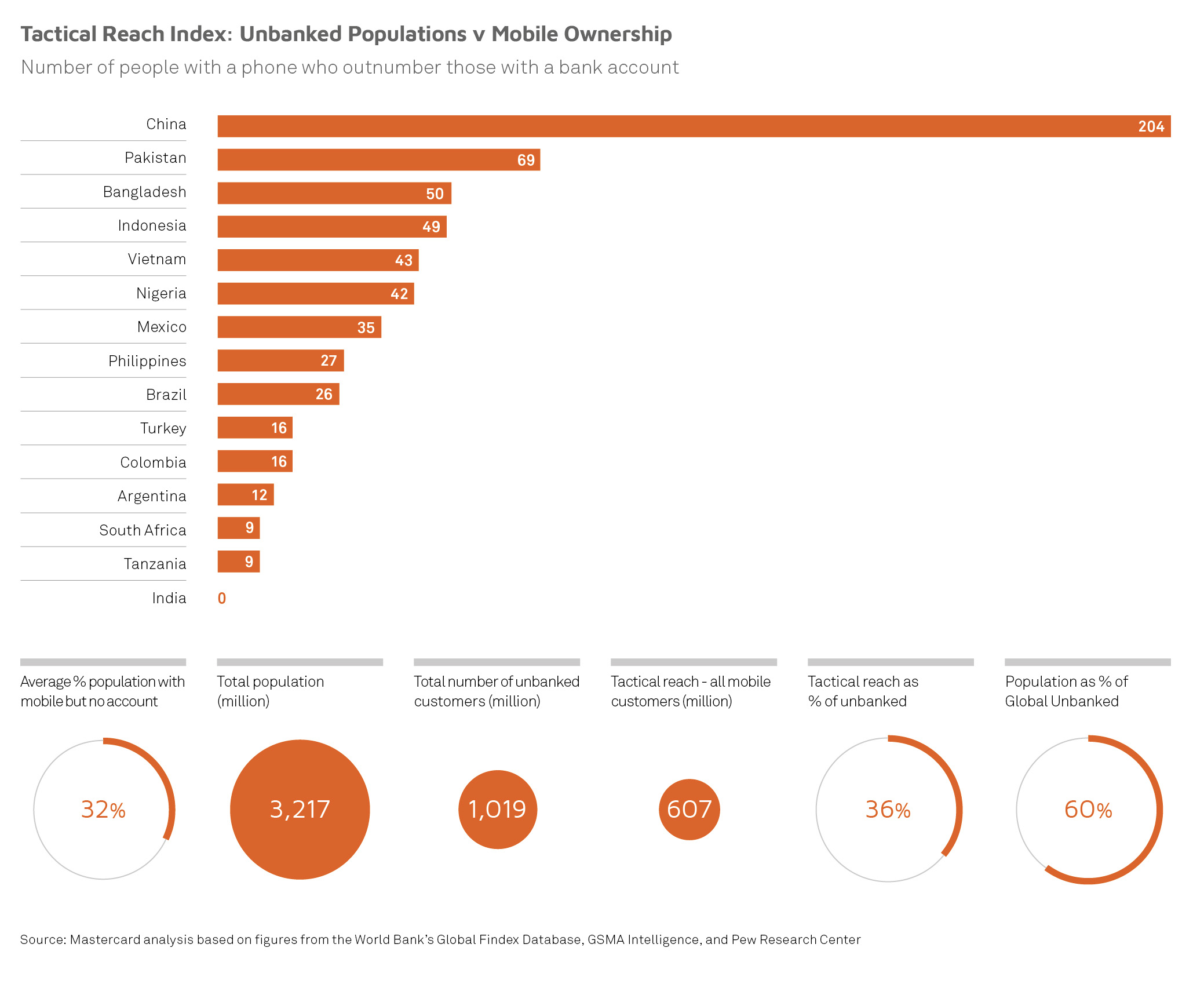 However, Ann Cairns, Vice Chairman of Mastercard emphasises a key finding of the report: "Simply providing access to financial services is not enough. To achieve any real impact, people also need to become active users of financial products." Globally, 20% of people with a bank or mobile money account have not used it for more than a year, and many more people only ever use their account on an occasional basis.

In the absence of banking services, or if financial products are rarely used, people inevitably turn to informal providers, such as neighbourhood savings clubs, local money lenders, and unlicensed remittance services. Most people on low incomes tend to be experienced users of these informal financial products, and to have intricate and well-ordered financial lives. However, they do not have legal protection, face significant risks, and may pay more for a vastly inferior product.

As the report says, "the battle for inclusion is not about creating completely new behaviours or building entirely new markets. Nor is it about providing simple access to the financial mainstream. It is about how bona fide players and regulated providers can do a better job of out-competing the informal sector."
Another important consideration is a deep gender gap, which could be exacerbated if mobile and digital technologies were to become the predominant delivery channel for financial services. In developing countries, for example, there is already an eight-percentage-point gap in account ownership (67% or men have an account compared to 59% of women). This gap extends to double-digits in many countries, such as Morocco and Peru, and reaches 30% some countries, like Pakistan and Bangladesh. Women are much less likely to have made or received a digital payment, more likely to have used informal financial products, and less able to come up with emergency funds in the face of an emergency.

The report, Unravelling the Web, was commissioned by Mastercard and launched at the Financial Inclusion Summit in Oslo on 28 March 2019, arranged by Fintech Mundi, a global fintech accelerator. Speakers included Ann Cairns, Vice-Chairman Mastercard, Greta Bull, CEO of CGAP (World Bank) and James Mwangi, CEO of Equity Bank Kenya.

View the full report and infographic here.
 - Ends -

About Mastercard 
Mastercard (NYSE: MA), www.mastercard.com, is a technology company in the global payments industry. Our global payments processing network connects consumers, financial institutions, merchants, governments and businesses in more than 210 countries and territories. Mastercard products and solutions make everyday commerce activities – such as shopping, traveling, running a business and managing finances – easier, more secure and more efficient for everyone. Follow us on Twitter @MastercardNews, join the discussion on the Beyond the Transaction Blog and subscribe for the latest news on the Engagement Bureau.


Mastercard communications contacts:

Philipp.Brüchert@mastercard.com or James.Thorpe@mastercard.com


About the report

The report, Unravelling the web was commissioned by Mastercard and produced by MagnaCarta Communications. It draws on a wide range of publicly-available analysis, data, research and commentary. This was supplemented by in-depth telephone interviews with financial inclusion specialists, banks, fintechs, and technology investors, conducted in February and March 2019.


About the Financial Inclusion Summit, Oslo

The Financial Inclusion Summit on 28th March 2019 was convened to identify ways in which the Nordic region can contribute to reducing poverty and driving growth by creating a dialogue for a long-term solution to financial inclusion, aided by latest advances in financial technology. The summit – arranged by Fintech Mundi, a prominent fintech accelerator for the Nordic region, involved key government representatives, development agencies and private organisations from across the Nordic region and beyond.