Mastercard Greece Signs 'Diversity Charter'
May 17, 2022 | By Loukia Chorafa
True to its commitment ​​to an inclusive work environment, Mastercard Greece has signed the "Diversity Charter"
True to its commitment to a diverse, inclusive and equitable workplace and to creating pathways for equal access to opportunities for development and limitless possibilities for all its employees, Mastercard, this year signed the "Charter of Diversity".
By signing the Diversity Charter, Mastercard reinforces its longstanding promise to foster an inclusive environment where everyone is welcome, regardless of beliefs, cultures, and backgrounds, one in which welcomes and encourages diversity.
Mastercard's participation in the "Charter of Diversity," is aligned with its core values of decency and inclusion. The brand is focused on enabling an inclusive environment in order to unlock the full potential of its employees, customers, partners, and communities in the more than 210 countries and territories in which they live and work. Mastercard knows that people thrive when they feel they belong, their ideas are valued and they are treated fairly, and as a global corporate citizen, it recognizes that and rises to its responsibility to do well by doing good.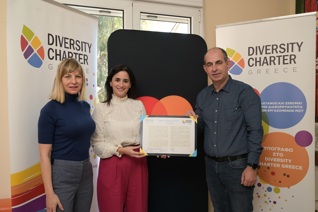 Lοukia Chorafa, Head of Marketing & Communications of Mastercard, for Greece, Cyprus and Malta said: "The signing of the Charter of Diversity reflects the anthropocentric mode of operation of our company, and we are very proud to be part of this effort. Creating a diversity-focused group is only part of the equation. At Mastercard we consider it important to create a culture where employees, in all their diversity, always feel valued and respected. This mutual respect and acceptance, the emphasis on talent and uniqueness are values ​​that are at our core, and we are committed to continuing to actively support them."
Stavros Milionis, President of KEAN and Founder of Diversity Charter Greece added: "Mastercard became a member of the Diversity Charter for Greek companies, as part of the extensive action plan regarding respect for the principles and values ​​of diversity and healthy membership. We welcome them to the large Charter family and promise them that we will be by their side to assist them with our efforts in the implementation of even more initiatives in the direction of accepting and supporting diversity."
The Diversity Charter is an initiative of the European Commission to promote Diversity in Business and aims to act as a commitment tool to implement equal opportunities and diversity in every work environment. In 2019, Greece became the 23rd country to sign the Charter, which, in our country, is implemented by KEAN.