2018 will be the year you wear your wallet
January 9, 2018 | By Ann Cairns
Could this be the year when we say goodbye to the need to dive for your change in pockets or handbags, say so long to the frantic searching for your purse, wallet or card?  Thanks to the incredible speed with which new technologies are adopted, physical wallets could soon be a thing of the past as the world wakes up to wearables.

Wearable devices - once restricted to simple tasks such as counting steps or heart rates – are getting a new lease of life by becoming payment enabled, with forecasters predicting 62 percent of wearables will feature payment functionality by 2020. In 2016 the global sales of smart wearable devices stood at a mighty $16.2 billion – with even more growth and payment adoption to come.

One of largest jumps in the European wearable market was seen in the UK with a 45 percent increase in 2016 when a whopping 13 million devices were sold.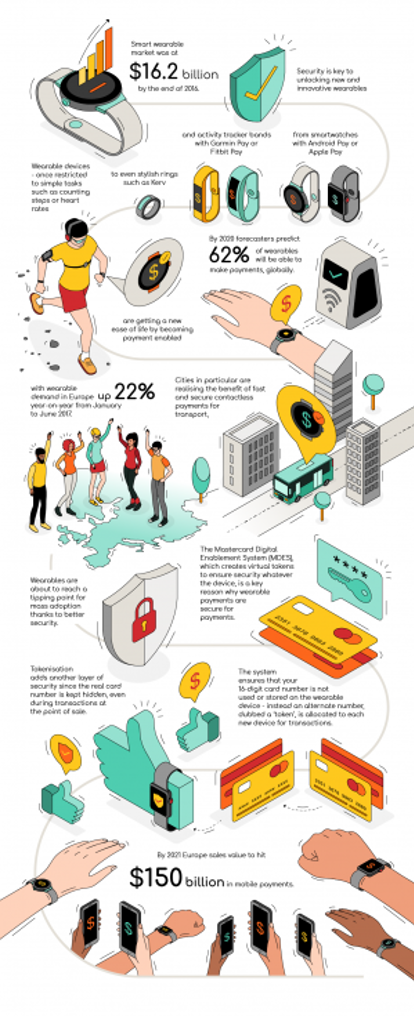 It is confidence in contactless technology that is fueling growth in the wearable market. In the second half of 2015, contactless payments grew across Europe by almost 170 percent year-on-year and in 2016 contactless payments tripled.

Mobile payments in the EU-7 ((UK, France, Germany, Italy, Sweden, Netherlands and Spain) grew to $52 billion at the end of 2015 and are expected to triple in the next five years.

In the same year, £25 billion was spent using contactless payments in the UK and come 2017, approximately the same amount (£23.23bn to be exact) was spent in just six months. This shows just how fast the growth of wearables and uptake of contactless payment is happening.

Cities in particular are realising the benefit of fast and secure contactless payments for transport. Wearables make this easier than ever. These are growing ever more popular with demand in Europe up 22 percent year-on-year from January to June 2017.

While payment speed is important, just as contactless took a few years to fly, wearables are about to reach a tipping point for mass adoption thanks to better security.

Tokenization secure

The Mastercard Tokenization system is a big reason why wearable payments are becoming more secure than ever. The system ensures that your 16-digit card number is not used or stored on the wearable device - instead an alternate number, dubbed a 'token', is allocated to each new device for transactions. This uses similar protection to physical card chip security and applies it to digital payments.

This secure system is possible thanks to the Mastercard Digital Enablement Service (MDES). This works by the user inputting a credit or debit card number into the phone, once, as a provisioning stage. This is then authenticated with a one-time password from the bank, sent to the phone. The user inputs this code, then Mastercard cross-checks that before making the token available on the device. Since this offers a new token for each newly paired device, any lost payment gadget can easily be cancelled from the phone without other devices being disconnected.

Tokenisation also adds another layer of security due to the real credit card number being kept hidden, even during transactions at the point of sale. Since most people feel more comfortable using a digital wallet offered by their own bank, this authentication process makes it easy for people to pay digitally with confidence.

Payments are made secure thanks to the use of a password, PIN or fingerprint already used on a connected smartphone. Although some, like Apple Watch, use persistent identification, meaning the wearable is unlocked and ready to pay until it is detected as removed from the wearer's wrist. But security goes beyond the capabilities of any device. As yet another layer of protection, Mastercard's zero liability provision offers debit or credit cardholders another safeguard for their funds.

A new range of wearables

This security is rapidly unlocking new and innovative wearables from smartwatches with Samsung Pay, Android Pay or Apple Pay to smartwatches with fitness focus like Garmin Pay or Fitbit Pay and even stylish rings. Kerv, a digital ring manufacturer, has created a contactless payment ring for easy payments in a system that is very difficult to lose. This flexibility is making wearables more desirable than the bank card could ever dream of being.

In just two months Fitbit Pay and Garmin Pay have been deployed across a further 10 countries with multiple issuers. This is just the beginning with tokenisation making it potentially possible to turn all sorts of gadgets into secure payment platforms such as cars, TVs and even fridges. Mastercard is working with lots of manufacturers in watch, ring and fitness brands for future wearable payment devices that range from the hundreds of euros to the thousands so there's something for everybody.

Sophie Charara, features editor at Wareable says: "Owners of smartwatches and fitness trackers are becoming more psychologically attached to their wearables - much less abandoning them in drawers as a few years ago - and contactless payments is one of those everyday features which has really helped to increase this stickiness. Being able to tap your wrist to get on the tube or pay for snacks can be a dealmaker addition to both single purposes devices - like running wearables and smart jewellery - and do-it-all flagship smartwatches."

End of an era for pockets?

The future will only bring more innovation as different items become payment enabled.

A number of companies are working on the next step with the likes of Levi's and Jacquard by Google already showing off the Commuter Trucker Jacket that has contactless payment built into the sleeve.

So if your jacket will soon be able to make payments, what are you going to fill your pockets with?