Mastercard collaborates with Mass Rapid Transit Authority of Thailand (MRTA) and Krungthai Bank Public Company Limited (KTB) to launch a contactless Tap and Go for The Metropolitan Rapid Transit (MRT)
February 16, 2022 | Bangkok, Thailand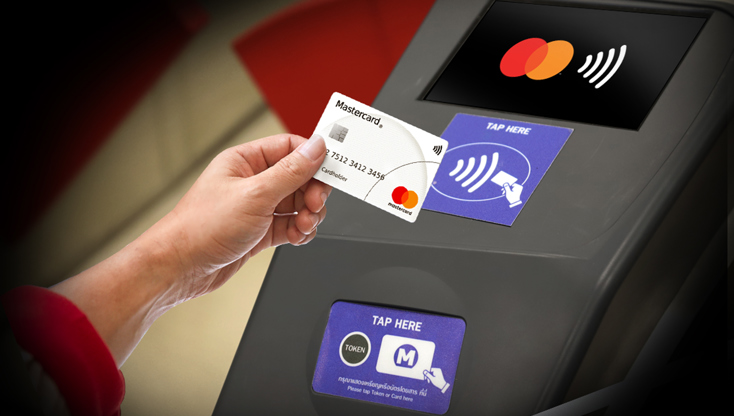 Enhancing passenger journey by simplifying commuting while reducing congestion and minimizing delays
Mastercard cardholders can now pay for their trips on the Bangkok MRT by simply tapping their contactless Mastercard Credit and Prepaid cards at the station gate, eliminating the need to handle cash, buy tickets, and top up their MRT cards. Mastercard contactless, powered by secure EMV technology, is now accepted across a wide variety of transport modes, including on public buses and at toll gates throughout Bangkok.
For over a decade, Mastercard has been building the architecture behind innovative urban mobility solutions that help transit operators address the challenges they face and increase efficiencies. With this latest move, Bangkok joins over 390 cities around the world including Singapore, London, New York, and Milan where Mastercard has helped to implement contactless transit systems.
Prior to the pandemic, Bangkok's two MRT lines saw a combined average of 239,000 passengers per day. With the city's population forecast to exceed 12 million people[1] by the end of this decade, ensuring that people are able to move through public transport networks with minimal disruption will be vital to reducing congestion in the growing metropolis.
In Thailand, Mastercard has been working closely with the Ministry of Transport, Mass Rapid Transit Authority of Thailand (MRTA), Krungthai Bank (KTB), and Bangkok Expressway, and Metro (BEM) as MRTA operator, and other stakeholders to help build the technical infrastructure to allow contactless cards to be used for payments within the Bangkok MRT network. Mastercard's work to bring contactless payments to Thailand's public transit systems forms part of the company's broader commitment to supporting digitalization efforts in line with the government's Thailand 4.0 initiative.
Contactless payments are already a widely accepted technology around the world and in Asia. In the first quarter of 2021 alone, Mastercard saw 1 billion more contactless transactions as compared to the same period of 2020, with particular momentum in Thailand where usage grew by 4X year-over-year[2]. In fact, Thai consumers are readily embracing emerging payment technologies, as a Mastercard survey finding revealed that 93% of Thai respondents had greater access to new payment methods in 2021 compared to the year prior[3].
"Helping cities and communities digitize will be vital to driving economic growth and inclusion. This is why Mastercard is working with public and private sectors in Thailand to help implement solutions that can accelerate the nation's Smart City agenda," said Aileen Chew, Country Manager, Thailand and Myanmar, Mastercard. "Contactless technologies have played a crucial role in helping to reduce friction in the payment process at multiple touch points. With the implementation of this convenient payment method, the city's busy commuters will benefit from a faster, more secure way to pay for their trips across town, while enhancing savings for the transport provider."
In 2020, Thailand's Digital Economy Promotion Agency signed up 40 Thai cities to Mastercard's City Possible program — a global network of 325+ communities, as well as private businesses and academics, that are actively collaborating and sharing knowledge to use digitalization to drive improvements in infrastructure, build on economic inclusion, and foster sustainable growth.
[1] United Nations. The World's Cities in 2018 Data Booklet. 2018
[2] Mastercard Data Warehouse anonymized and aggregated transaction data
[3] Mastercard New Payments Index 2021
- The End -
About Mastercard (NYSE:MA), www.mastercard.com  
Mastercard is a global technology company in the payments industry. Our mission is to connect and power an inclusive, digital economy that benefits everyone, everywhere by making transactions safe, simple, smart and accessible. Using secure data and networks, partnerships and passion, our innovations and solutions help individuals, financial institutions, governments and businesses realize their greatest potential. Our decency quotient, or DQ, drives our culture and everything we do inside and outside of our company. With connections across more than 210 countries and territories, we are building a sustainable world that unlocks priceless possibilities for all. 
Mastercard Communications Contact
Apichaya Thuaksubun, +66 6 5724 9238
Apichaya.Thuaksubun@mastercard.com
Agency Communications Contact
Chanamon Arkaranupappong, +66 8 3699 1046
Chanamon@webershandwick.com