depa joins forces with Mastercard to accelerate Thailand smart cities development
January 20, 2020 | Bangkok, Thailand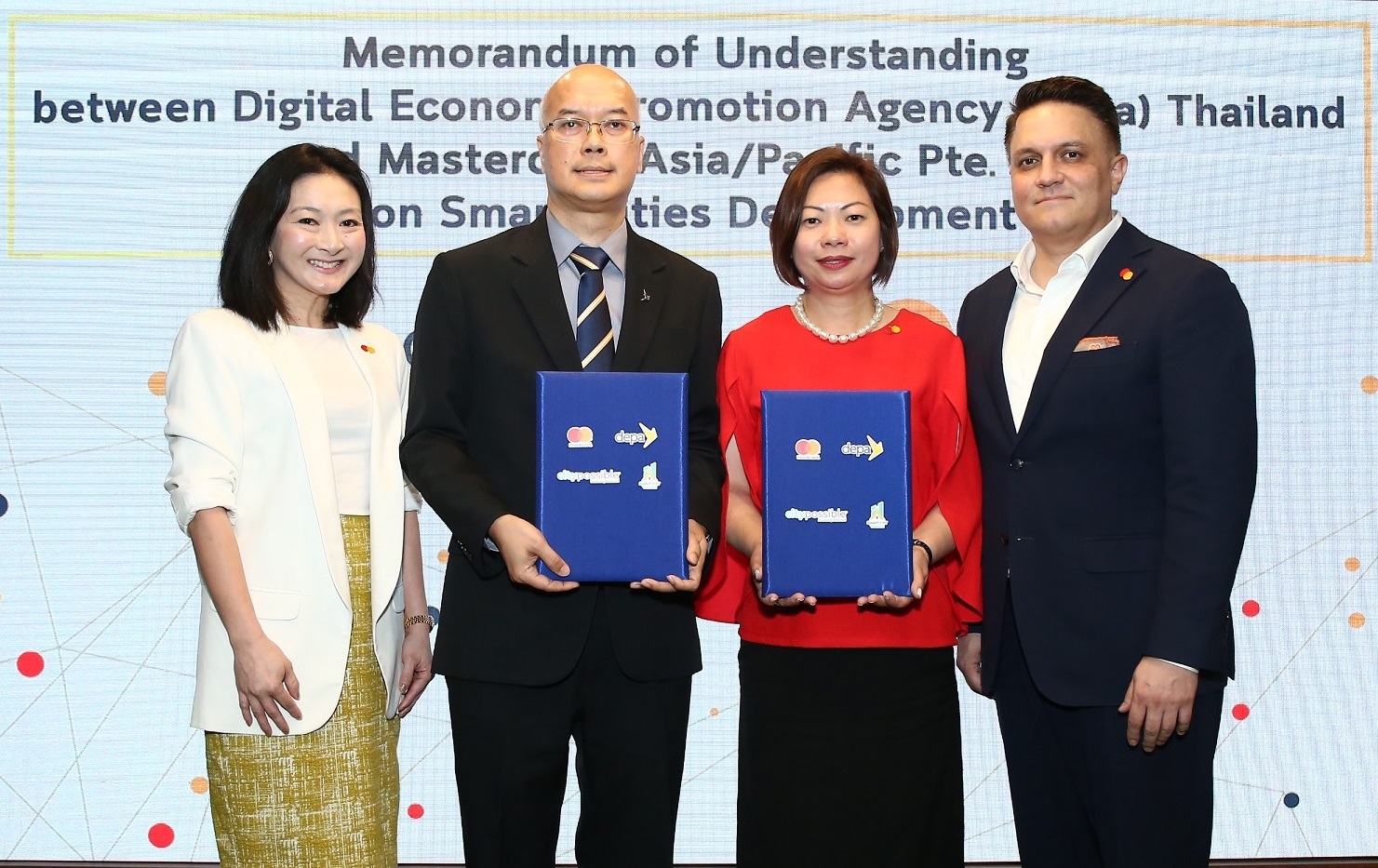 depa, representing 27 Thai 'candidate' smart cities, joins City Possible - a partnership and co-creation initiative pioneered by Mastercard, that enables cities, academia, and the private sector to advance sustainable and inclusive urban development.
The Digital Economy Promotion Agency (depa) today announced a signed MOU with Mastercard, inducting 27 Thai 'candidate' smart cities into the City Possible global network – becoming the largest cohort to join the expanding community of member cities. This marks a major milestone in depa's mission to achieve 100 smart cities by 2022, following the successful pilot projects involving Phuket, Khonkaen, Bangkok and cities in the Eastern Economic Corridor (EEC).

"Last year, 27 enthusiastic cities across Thailand crafted their smart city plans to become depa's smart city promotion zones. 2020 is going to be a year of action to promote these cities. Instead of a single city level partnership, depa is bringing with us the network of 27 cities to City Possible. In addition, it is our honor to be the first national government to join the City Possible network." said Dr Passakon Prathombutr, Senior Executive Vice President of depa.

The focus on smart cities is a core pillar of the government's Thailand 4.0 initiative which aims to transform Thailand into a high-income nation with vastly improved quality of life in urban centers. Many areas within Thailand's 27 'candidate' smart cities are beginning to see transformation across the 7 dimensions of Smart City Thailand namely economy, mobility, energy, living, people, governance and environment.

Pioneered by Mastercard, City Possible is a partnership and co-creation program designed to   #MakeTechWorkForPeople by aligning key stakeholders to address urban issues. City Possible provides members unrivalled access to a global community of urban leaders, businesses, NGOs and academics and are regularly invited to a series of knowledge-exchange forums where participants identify common challenges, exchange learnings and establish holistic urban solutions.

"Cities around the world face similar challenges but they are too often solving in isolation. City Possible connects cities with insights and resources from cities around the world which accelerates progress and enables smart governance," said Miguel Gamiño Jr, Executive Vice President, Global Cities, Mastercard. "Mastercard is thrilled to empower depa's city leaders with global best practices as they seek to launch a 'Chief Smart City Officer' certification program to enable local smart city efforts," he added.

"In Thailand, Mastercard is keen to explore the possible implementation of City Key, a platform launched in partnership with the City of Honolulu, which combines a universal municipal identification with payments functionality, helping cities engage residents more inclusively and cost-effectively. City Key was a direct result of the collaboration and co-creation activities facilitated by City Possible," said Julienne Loh, Executive Vice President, Enterprise Partnerships, Asia Pacific, Mastercard.

As one of the 27 cities, Yala City located in the southernmost province of Thailand is starting to benefit from the mayor's decision to transform the municipality into a smart city. "Inspired by Honolulu's City Key, Yala sees digitization as a powerful way to bring inclusive solutions to communities. When the people of Yala feel proud of the city they live in, it will help attract more residents, businesses and tourists," said Pongsak Yingchoncharoen, Mayor of Yala.

The key to success is ensuring a continuous momentum. Next, depa will partner with Mastercard to bring Public-Private-Partnerships (PPPs) expertise to the smart cities – an initiative led by Mastercard's Government Engagement unit.

Smart cities projects require capital investment to implement.  PPPs are a proven way to leverage private sector funding and expertise in the service of public objectives. "Driving alignment across stakeholders and obtaining investment often stalls many innovative city projects.  Mastercard envisions that partnering with depa to provide PPP training and project development support to Thai cities will help them overcome these hurdles and turn their smart city dreams into reality," said Gerald Sun, Vice President, Government Engagement, Asia Pacific, Mastercard.

In mid-2020, depa will be hosting a World Smart City Showcase, inviting City Possible members to showcase their 'smart city' best practices. All Thai smart cities will be invited to take center-stage and share their transformation journeys while exploring new solutions and partnerships.
Media Contacts
Dr Non A, depa Communications
Chanamon Arkaranupappong, Agency (Weber Shandwick)
About Digital Economy Promotion Agency
Digital Economy Promotion Agency (depa) was established by virtue of the Digital Development for Economy and Society Act B.E. 2560 (A.D. 2017) to take the role of a government agency, designated by the National Smart City Committee as the secretariat of Thailand's smart city promotion. depa's mission is to support and promote digital innovation and transformation in all aspects and to encourage digital infrastructure development for the benefits of Thailand's economy, society, culture and security.
About Mastercard (NYSE: MA)
Mastercard is a global technology company in the payments industry. Our mission is to connect and power an inclusive, digital economy that benefits everyone, everywhere by making transactions safe, simple, smart and accessible. Using secure data and networks, partnerships and passion, our innovations and solutions help individuals, financial institutions, governments and businesses realize their greatest potential. With connections across more than 210 countries and territories, we are building a sustainable world that unlocks priceless possibilities for all.