PRESS RELEASE
Mastercard's Web3 music accelerator drops five new singles as NFTs
July 24, 2023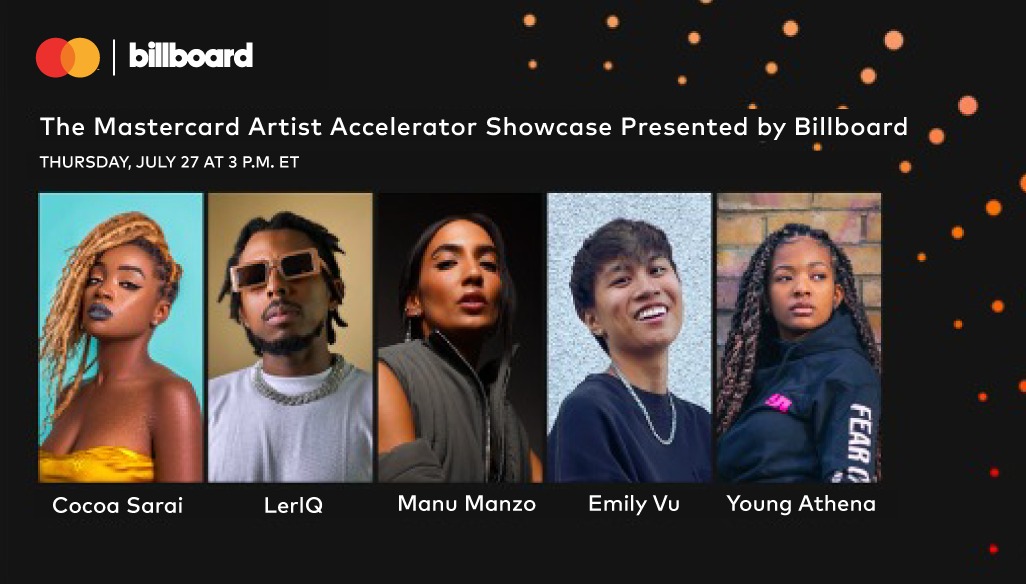 The tracks will be livestreamed during The Mastercard Artist Accelerator Showcase Presented by Billboard on Thursday, July 27 at 3 p.m. ET
NEW YORK, JULY 24: Mastercard's Web3 music program, The Mastercard Artist Accelerator, culminates with a showcase later this month. Featuring five artists from around the world, the livestreamed show marks the debut of the AI-driven singles produced through the Artist Accelerator program, launched to prepare emerging artists with the tools, skills, and access to forge their own musical paths in the digital economy.
Each performed track was created using the AI Music Studio, powered by leading generative AI music technologies company WarpSound. In a fitting end to a community-focused Web3 program—which saw more than 100,000 people mint its limited-edition, multisensory Mastercard Music Pass NFT— each song will be available to claim as an NFT on the OneOf Marketplace on July 27, during the showcase. 
The artists further personalized their tracks by uniquely incorporating the Mastercard sonic DNA and giving creative direction on the cover art for their singles. This was one element of the first-of-its-kind curriculum designed to teach the artists how to build (and own) their brand through Web3 experiences like minting NFTs, representing themselves in virtual worlds and establishing an engaged community.
The inaugural class of the Mastercard Artist Accelerator will participate in the showcase presented by Billboard: 
"We've seen how emerging technology can push creativity to new heights and give us opportunities to connect with people in exciting ways," said Mastercard Chief Marketing and Communications Officer Raja Rajamannar. "Throughout this program, these artists have explored an entirely new space that will have lasting impact on the music industry, and we're thrilled that we were a part of their journey."
The Mastercard Artist Accelerator was announced earlier this year and launched in April with the Mastercard Music Pass, which granted holders exclusive access to the program including its educational materials and AI tools.
To learn more about how you can claim the track on OneOf's Marketplace visit Mastercard.com/ArtistAccelerator.  
You can tune into the Billboard livestream at: https://www.youtube.com/Billboard
About Mastercard (NYSE: MA)
Mastercard is a global technology company in the payments industry. Our mission is to connect and power an inclusive, digital economy that benefits everyone, everywhere by making transactions safe, simple, smart and accessible. Using secure data and networks, partnerships and passion, our innovations and solutions help individuals, financial institutions, governments and businesses realize their greatest potential. With connections across more than 210 countries and territories, we are building a sustainable world that unlocks priceless possibilities for all.  
Follow us on Twitter @MastercardEU and @MastercardNews, read more about our global impact in Perspectives, and subscribe for the latest news from the Mastercard Newsroom.