Payments Trends
Mastercard promotes contactless payments as Japan gears up for a new phase of cashless
July 30, 2021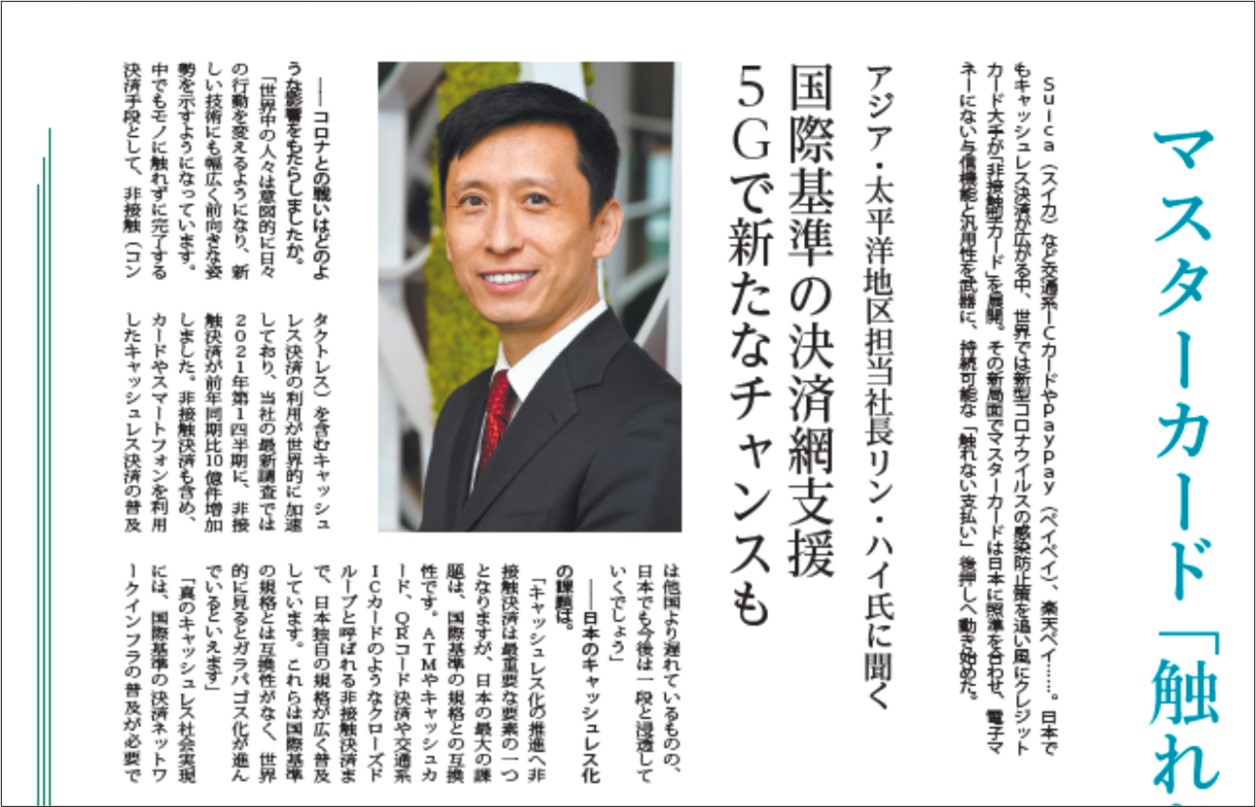 While cashless payments are becoming more popular in Japan, major credit card companies are expanding contactless payment cards around the world, spurred by measures to prevent the spread of COVID-19. In this new normal, Mastercard has set its sights on Japan, and has begun to push for sustainable, contactless payments with credit functions and versatility not found in other electronic payment systems.
Interview with Ling Hai, Co-President, Asia Pacific


On supporting a global standard payment network infrastructure and new opportunities with 5G



What effects did the spread of COVID-19 have on the payment industry?

People around the world have deliberately altered their day-to-day behavior, and a clear enthusiasm for a broader range of payment technologies has emerged. Cashless payments, including contactless payments – which enable purchases without physical contact - are gaining momentum globally. According to our latest study[1], Mastercard saw 1 billion more contactless transactions in the first quarter of 2021 compared to the same period of 2020. While Japan still lags behind other countries in the proliferation of cashless payments, including the use of contactless cards and devices such as smartphones, they will become more prevalent in the future.

What do you see as the issues with cashless payments in Japan?
Although contactless payments will be one of the most important factors in promoting cashless transactions in the future, the main challenge we currently see in Japan is global interoperability. From ATMs and cash cards, to closed-loop contactless payments such as QR-code payments and rail and bus smart cards, standards unique to Japan predominate. These Japanese systems remain popular and widespread, but they are incompatible with global standards. From an international perspective, we are beginning to see "the Galapagos effect" take hold of the country. In order to achieve a truly cashless society, the proliferation of a global standard payment network infrastructure will be required. At Mastercard, the role we can always play is in interoperability, supporting payments both domestically and when money needs to move beyond a country's borders. Mastercard will continue to partner with Japanese companies to co-create innovative solutions that further advance global standard, open-loop payments.
In addition to facilitating cashless payments for consumers, making corporate transactions cashless is also imperative. Mastercard is uniquely positioned to help establish transparency and efficiency through the digitization of expense account settlements. Mastercard has already been driving the implementation of virtual cards, which allow companies to issue unique virtual account numbers to optimize accounts payable efficiency, reconciliation processes and data analysis, which further facilitates B2B payments.
How do you think payments will change due to improving technology?
As a technology company in the payments industry, Mastercard provides interoperable payment solutions worldwide that leverage cutting-edge technological innovations. With 5G as the new high-speed communication standard, many of the various IoT devices connected to the internet will present new payment opportunities for cashless payments. Machine-to-machine (M2M) payments, where devices are interconnected, will enable a more satisfying purchase experience for consumers through internet connectivity. For example, automobiles with internet connections will present new payment opportunities.
How will you utilize AI?
Mastercard already leverages AI to help make informed decisions about whether each of the roughly 1 billion transactions it processes each day is legitimate. Algorithms help determine whether a transaction is potentially fraudulent in just 50 milliseconds.[2] In the future, 5G may help shrink that timeframe, leading to digital purchases that are even faster and more secure.
In February, Mastercard announced plans to bring cryptocurrencies onto our network this year, enabling greater choice for consumers to move money in a way that suits them. Mastercard is working with central banks and governments around the world to explore the technology for digital currencies. In the Bahamas consumers can already pay with digital currencies issued by the Central Bank of the Bahamas, via the Island Pay Mastercard card.
How is Mastercard working to achieve a more sustainable world?
Mastercard has pledged to bring a total of 1 billion people as well as 50 million micro and small businesses into the digital economy by 2025 as part of its commitment to address issues of social and economic inequality. As a leader in financial inclusion for more than a decade, the company reached a global milestone of achieving financial inclusion for 500 million previously unbanked people last year. When COVID-19 spread worldwide in 2020, Mastercard also committed $250 million to supporting the recovery of small businesses globally and $500 million to help close the racial wealth and opportunity gap in the U.S., starting in seven cities.
###


[1] https://www.mastercard.com/news/ap/en/research-reports/mastercard-new-payments-index/
[2] https://partners.wsj.com/mastercard/trust-in-a-digital-world/new-technologies-that-are-growing-the-digital-economy/

This interview first appeared in Nikkei Newspaper on July 30, 2021 in Japanese. The above text is an English translation of the interview.