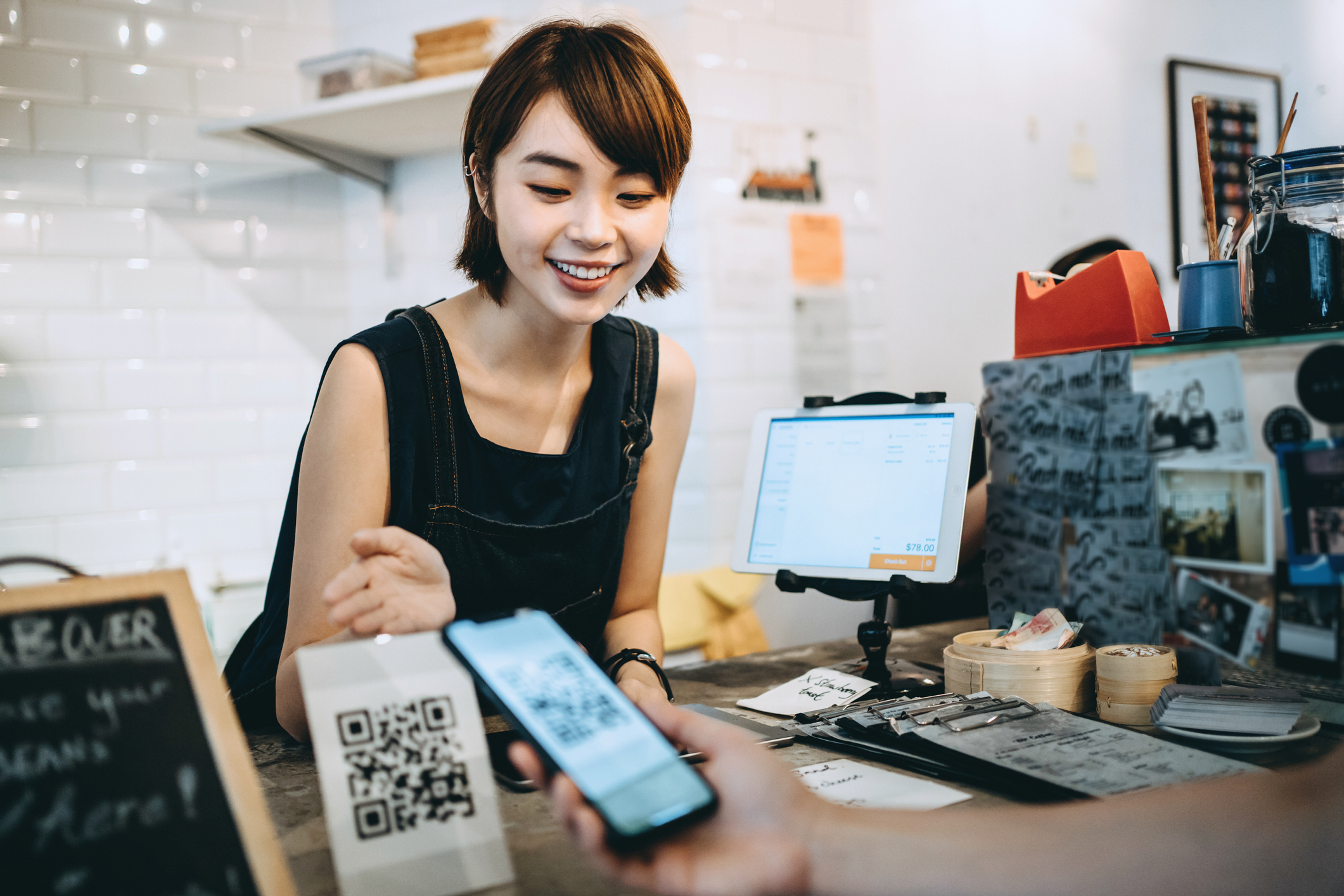 COVID-19 RECOVERY
COVID Effect: APAC Consumers Quick to Embrace QR Codes for Payments
May 4, 2021 | By Sandeep Malhotra
The COVID-19 pandemic has pushed e-commerce technology ahead by two years and driven a revolution in how people pay for things. According to the Mastercard New Payments Index, 94 percent of consumers in the Asia Pacific region say they'll consider using at least one emerging payment technology in the next year.
Nowhere is the shift toward emerging payment trends truer than in this region where 88 percent of people surveyed said they used at least one new emerging payment type in the last year. Among that group, two-thirds (64 percent) said they tried a new payment method they would not have tried were it not for the pandemic.
What the findings from the Mastercard New Payments Index make clear is that consumers want contactless simplicity with an easy interface.
For many, that's meant adopting QR codes. In the Asia Pacific region, QR codes have gained particularly strong traction compared to the rest of the world. Of those who used QR codes for payment, 63% said they used them more frequently in the last year than they had in the past. In both Thailand and India, the number is 64%, above the global average of 56%, according to the new research. Furthermore, majorities of respondents perceive new payment methods like QR codes to be cleaner (76%) and more convenient (71%) for in-person payments.
QR (short for Quick Response) technology isn't new – the codes were invented in 1994 in Japan to help manufacturers track parts on automobile assembly lines – but smartphones are what have driven them into widespread use. It's now easy to scan a code and be directed to a payment, advertising or other gateway online. The technology feels simple and safe as it doesn't require fishing for one's wallet or providing personally identifying information.
As a result, use cases within and beyond payments are proliferating. Fintechs in China, India and other countries have expanded the use of QR codes for peer-to-peer money transfers and as a way for smaller merchants, who traditionally accepted largely cash, to use more digital payments. Larger payments technology companies like Mastercard have created QR codes that offer global interoperability, increasing their accessibility as a way to pay. Adjacent to payments, the technology has become useful for a multitude of purposes ranging from contact tracing for Covid-19 (as it's used here in Singapore), to paying for taxi fares to directing diners to online menus at restaurants.
Small Codes Make a Big Difference for Small Businesses
But for many micro and small merchants (MSMEs) in these and other markets in the region, there are still pain points hindering their adoption of the technology. Many of these businesses rely on home deliveries and transient storefronts to run their businesses. Without counters with room to display a QR code, or POS machines that issue paper receipts, providing a QR code to customers in order to receive payments requires a merchant to print it out and carry it around on a flimsy piece of paper or to display it on a smartphone screen (which not everyone has).
To address this segment of the market, we recently introduced a Mastercard QR on Card solution in India – called ConQR – in partnership with BOB Financial Solutions Limited (BFSL). This patented technology combines the convenience of paying with a credit or debit card and the ease of receiving payments via a QR code in one payments instrument. The innovation creates a portable and safe way for MSMEs to both pay and be paid, does not require a smartphone for them to use it, and is an easy and cost-effective digital payments solution that can help them grow their businesses and establish a credit history.
Technology solutions like these will help small merchants better prepare for post-pandemic life because, quite simply, consumers now value businesses that offer more touchless payment options. As Mastercard's Index revealed, 74 percent of consumers in APAC said they would shop at small businesses more frequently if they offered more payment options. This shows that customers not only like paying with emerging payment methods like QR codes, but they also expect businesses to provide these options and reward those that do with their loyalty.