Small Businesses
In the wake of COVID-19, small business support programs need to deliver at scale
February 28, 2022 | By Alison Eskesen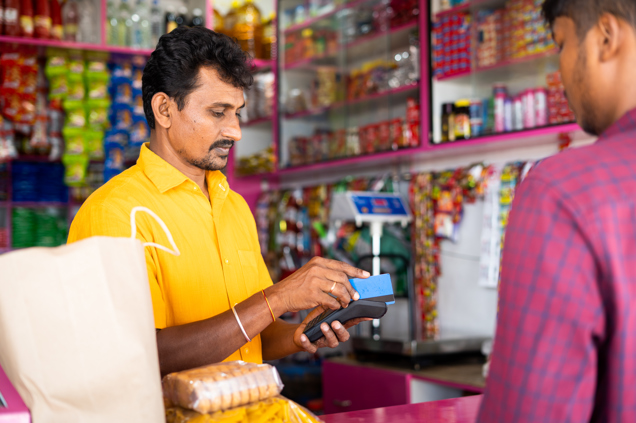 This article was first published on ADB.org on February 23, 2022. 
While not yet through the darkness, the promise of greater vaccine access and better treatments illuminate a future without a crippling global health pandemic. For many, however, the fading health threat of COVID-19 will be replaced with the cruel reality that economic hardship does not recede as easily. The economic aftermath of COVID-19 continues to disproportionately affect the poor. The pandemic has pushed 164 million more people into poverty and recovery continues to look uneven. The Asia Development Bank forecasts a 2022 rebound for developing Asia although the Omnicron variant could derail sustained and equitable growth.
Thus far, the global philanthropic response to the pandemic has been tremendous across all sectors from health to education to economic growth. Corporates and charitable organizations have increased the scale of their giving, granted at record speed and with fewer conditions, and have increased their partnerships with others, such as the creation of the Therapeutics Accelerator. To build back better, multilateral organizations have also come together to co-invest.
However, as the pandemic wears on, this positive momentum risks not being able to match the scale of the pandemic's damage, particularly on small businesses that are struggling to survive the ongoing economic effects caused by COVID-19. It is also unrealistic to hope that governments or even generous philanthropists can and will provide the prolonged financial support required to help the growing number of small businesses that are in-need. The hard truth, unfortunately, is that there aren't enough financial resources available to catalyze social impact at the scale that the world now requires.
As a result, change makers across government, civil society and the private sector are grappling with the question of how to have more impact with the same or even less. Without an unyielding waterfall of money, we need a new approach, a new way of thinking and doing. We need ways to build on economic development best practices and innovate to reach the masses.
Having worked for over 20 years in economic development around the world, I believe that adopting two key priorities can make a transformative difference that results in equitable opportunity and prosperous economies. These are: leverage technology to test and learn in real-time, and accept a different risk-reward ratio over an extended duration.
Priority #1: Leveraging technology to empower entrepreneurs is critical if we want to respond to the magnitude of needs caused by the global pandemic.
Using technology, digital tools, and real-time data facilitates timely course corrections and opens the possibility of rapidly reaching millions of small businesses with key knowledge to help them remain competitive. To optimize this potential, we need to create widely available, easy to understand digital training that is pragmatic. The goal should be to raise business owners' baseline level of knowledge by flooding digital channels with culturally appropriate, self-guided learning opportunities that are always available.
At the Mastercard Center for Inclusive Growth, we collaborate with partners to use technology to build on best practices and research insights. In India, we incorporated actionable, rule of thumb messages into social media videos. We employ AI chat bots and social media channels to provide individualized training support. We invest in digital platforms that enable micro-advice provided by mentors. Our goal is to empower millions of small business owners with the skills and know-how they need to expand their operations and create more jobs in local communities. As COVID-19 changes the way consumers spend and supply chains function, we know that need for upskilling among business owners is only going to increase.
To be sure, training modules and technologies may become obsolete and there is the perennial question of how entrepreneurs will find and sort through publicly available toolkits, but the fact remains that with the digital world comes a new way to reach hundreds of millions
But this is not the whole story. Technology alone is not the panacea. Technology can help raise the baseline for business know-how, but inevitably there are topics which are simply too complex and necessitate in-person support. Applying product development principles, we have used a test-and-learn approach to create data that enables us to learn and pivot faster and to assess when in-person support should complement digital tools. This enables us to be more cost-efficient and allows us to extend our impact from tens of thousands of small businesses to millions.
Priority #2: The traditional risk-return calculation of philanthropy is flawed; we need to adapt. Beyond employing technology, we need to re-think when and how we calculate programmatic success and return on philanthropic investment. Common program management dictates that philanthropic giving is only successful if the intended beneficiaries adopt the desired practice during the limited life of the program. This is short-sighted.
The World Bank concludes that many development programs have been unable to capture the realized impact because the timeframe in which they measured was too short. In our effort to be good fiduciaries of philanthropic investment, we do not allow for the possibility that entrepreneurs may have alternative criteria for deciding when to take risks and when to change their business-as-usual practices. What happens if the training is only available during a life changing event, such as a pregnancy or illness in the family? Or what if the entrepreneur understands the local market cycle and sees a slowdown on the horizon? Is it possible that, in our desire to have effective programs, we inadvertently devalue entrepreneurs' local knowledge?
With new applications of technology, we can create programs that employ digital training tools which live beyond a moment and that honor business owners' local knowledge about what is best for them. In other words, better use of technology empowers small business owners with the dignity to assess different business advice and implement what best matches their risk appetite in that moment. Successfully employing technology in economic development strategies and programs creates evergreen tools that are conveniently accessible to time-poor entrepreneurs. As responsible practitioners, we should adapt our monitoring and evaluation approaches to measure when and how these digital tools support small businesses. The availability of data from these digital tools along with qualitative information can fuel our understanding of how small businesses shift from survival to growth mode – and help us redefine when and how we define a program's success.
As we rise from the aftermath of COVID-19, we must be steadfast in our commitment to scaling solutions from the onset. We do not have the luxury of time, and it is unacceptable to leave millions of small businesses behind because we stubbornly cling to what has worked in the past. We need to innovate — to build on our collective knowledge and accept the ambiguity and risk that comes with trying anything new.
Now more than ever, we are faced with an urgent decision. Shall we be driven by the fear of failure and replicate effective livelihood programs on a small scale? Or shall we be audacious and develop imperfect solutions that leverage technology in new, untested ways? Only the latter will enable us to help millions of small businesses prosper in a world that almost overnight has changed due to COVID-19.