Mastercard Strive Indonesia Welcomes New Partners to Boost Digital and Financial Inclusion
August 31, 2023 | Indonesia, Jakarta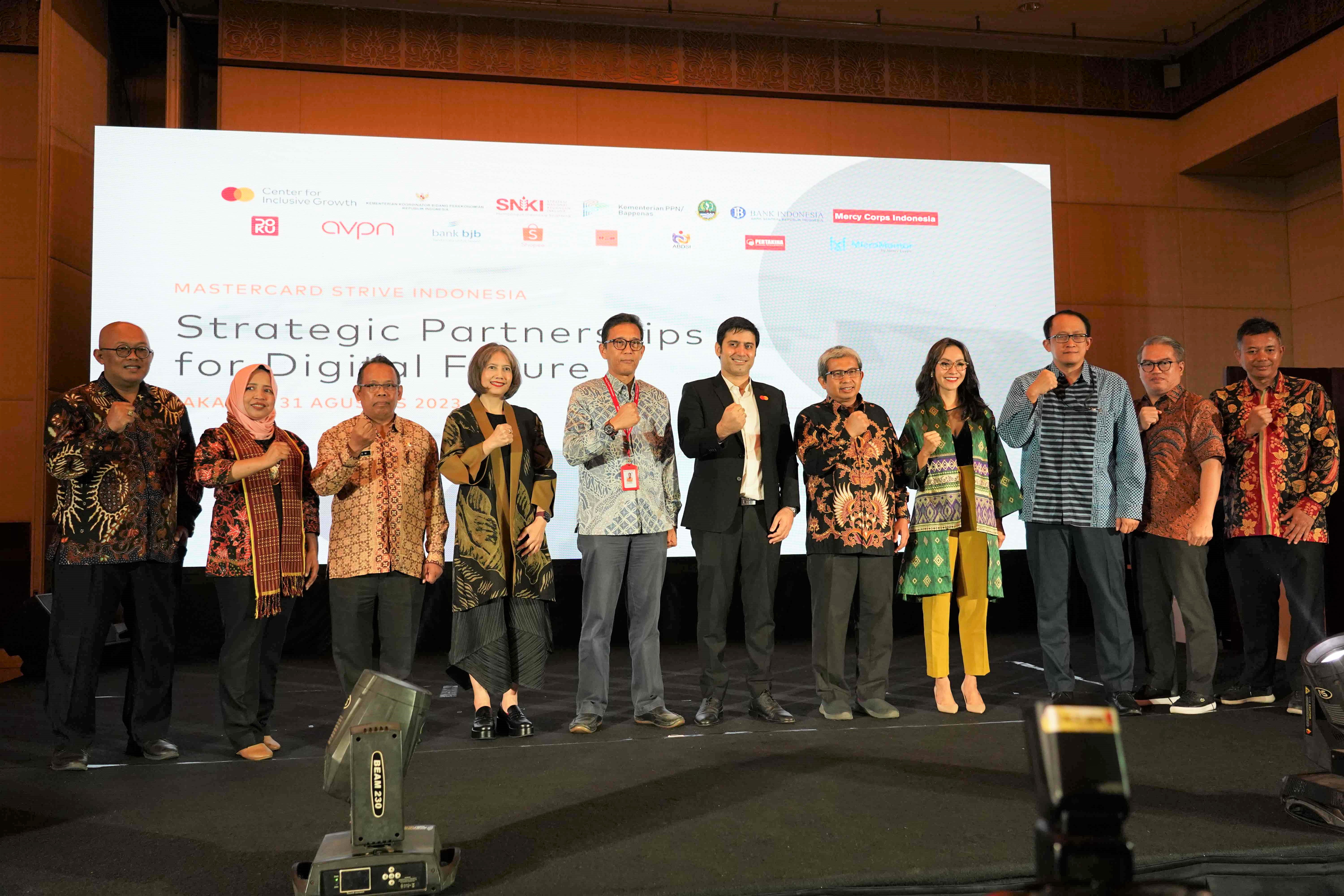 Mastercard Strive Indonesia, an initiative that aims to empower small businesses to succeed in the digital economy, has announced the onboarding of nine new partners that will significantly expand the program's reach. The partners come from industries such as e-commerce, banking, and venture capital, and will work directly with the program's founding partners: The Mastercard Center for Inclusive Growth, Indonesian National Council for Financial Inclusion (DNKI) and Mercy Corps Indonesia.
Launched in April this year, Mastercard Strive Indonesia seeks to support 300,000 local businesses by 2025, with a focus on women-owned businesses. To achieve this, Mastercard Strive Indonesia is welcoming new partners who will bolster different elements of the program:
Shopee and MicroMentor Indonesia, which will help to build digital skills through the utilization of digital tools encompassing information dissemination, training, mentoring, payment processing, and digital marketing.

Payment gateway Doku to accelerate digital adoption for small businesses by enhancing convenient and secure payment options, including digital tools and training programs to expand their business digitally.

Bank bjb, which will offer financial literacy education, digital financial management, and educational resources needed for small businesses with a particular focus on lifting barriers and creating paths to accessing credit.

Research into small business digitalization will be conducted by 60 Decibels, which will inform the works of Asian Venture Philanthropy Network (AVPN) and Ministry of National Development Planning (Bappenas) to establish the Strive Digitalization Learning Networks, a platform for collaboration, knowledge-sharing, and informing policy to support small businesses.

Small business communities Asosiasi Business Development Services Indonesia (ABDSI) and Perwira PMI will provide a network of mentors for small business development.
Mastercard Strive Indonesia is centered around strengthening the small business support ecosystem by addressing three major challenges faced by MSMEs: getting capital, going digital, and growing networks and know-how.
Micro, Small, and Medium-sized Enterprises (MSMEs) play a significant role in Indonesia's economy, numbering 65 million or 99 percent of the total number of national enterprises and contributing 61 percent of the country's gross domestic product (GDP)1.
However, many small businesses are not equipped to thrive in a rapidly changing economic environment. According to a needs assessment of 474 MSMEs in West Java conducted by Mercy Corps Indonesia: 27 percent of respondents expressed a need for marketing and promotional access; 20 percent required better access to credit accessibility; 34 percent identified digital proficiency as an area of concern; and 21 percent said they struggled with insufficient financial record keeping.
 "As the leader of the Digitalization Learning Network, Bappenas is committed to providing valuable insights that align with the focal points of The National Long-Term Development Planning (RPJPN) draft," said Ahmad Dading Gunadi, director of MSMEs and Cooperative Development of Bappenas. "This network will be a valuable addition to our studies, which identify future issues for Indonesian small businesses over 10-20 years. Moreover, Bappenas can utilize this approach to formulate strategic planning to enhance the adaptability and resilience of MSMEs in the future."
"Together with Mastercard Strive Indonesia, DOKU is committed to supporting Indonesian MSMEs. By combining the use of digital tools and training programs such as Juragan DOKU, we will support MSMEs to accelerate their business presence and expand it digitally," said Nabilah Alsagoff, chief operating officer, Doku.
Ade Soekadis, executive director, Mercy Corps Indonesia, said, "Strive Indonesia's initiative to collaborate with multi-stakeholders is a testament to Mercy Corps Indonesia's strategic approach towards creating economic opportunities to support inclusive growth. Through this collaboration, Mercy Corps Indonesia will ensure Micro and Small Enterprises (MSEs), especially women-led or owned businesses, are empowered through digitalization and inclusive financial services. Moreover, we are committed to fostering policy change to support the MSEs' ecosystem with the establishment of the Digital Learning Network, which will be actively involved in the Roundtable Discussions and Knowledge Sharing events."
Subhashini Chandran, vice president, Social Impact, Asia Pacific, Mastercard Center for Inclusive Growth, said, "Indonesia's e-commerce market has emerged as the largest in Southeast Asia comprising nearly 50 percent of the region's market and forecasted to touch US$ 95 billion by 2025. Yet only 29 percent of the nation's MSMEs have utilized e-commerce to access markets and grow. Mastercard Strive Indonesia will work to create the enabling environment through partnerships to help MSMEs join the digital economy and thrive."
Mastercard believes in building a more inclusive and sustainable digital economy for everyone, everywhere, and that collaboration can bring about exponential progress. Aside from Mastercard Strive Indonesia and Mastercard Academy 2.0, Mastercard has been actively working with private and public sector partners in Indonesia to develop initiatives that promote financial and digital inclusion for the community.
- ENDS -
1https://www.ekon.go.id/publikasi/detail/5318/dorong-umkm-naik-kelas-dan-go-export-pemerintah-siapkan-ekosistem-pembiayaan-yang-terintegrasi#:~:text=Sektor%20UMKM%20memberikan,keseluruhan%20unit%20usaha
Media Contacts
C. Yudha Danujatmika, Mastercard Strive Indonesia
Puspa Amelia W.S, Mastercard
Vinsensius Anantyo, Weber Shandwick
About Mastercard Strive Indonesia
Mastercard Strive Indonesia is part of a portfolio of philanthropic programs – supported by the Mastercard Center for Inclusive Growth – aimed at helping small businesses around the world thrive in the digital economy.  Additional Strive programs are in place across the globe — with flagship programs in the U.S., the UK, Mexico, and Czechia. Collectively, Strive programs aim to provide support to more than 10 million small businesses around the world. In the Asia Pacific region, Indonesia is the first country to launch a Strive flagship program. Building on the success of Mastercard Academy 2.0 in driving the digitalization of Indonesian small businesses and offering bespoke support, especially to women entrepreneurs, Mastercard Strive Indonesia will empower small businesses through these strategies: Go Digital, Get Capital, and Ecosystem Strengthening.
About Mercy Corps Indonesia
Mercy Corps Indonesia (www.mercycorps.or.id) is a local non-profit organization based in Jakarta. Mercy Corps Indonesia (MCI) helps people to recover from the crisis they are facing and then turns it into an opportunity to improve their quality of life. Based on local needs, our programs provide tools and support for communities across Indonesia. Mercy Corps Indonesia has 3 program focuses, namely: (1) Climate change adaptation and disaster risk reduction, (2) Economic empowerment, and (3) Disaster emergency response.
One of MCI's focuses is developing economic opportunities. MCI seeks market-based creative solutions that help farmers, entrepreneurs, and communities to achieve economic growth. Through support for small businesses, entrepreneurship training and mentoring, and increasing access to financial and market services, MCI supports the emergence of an effective market system to alleviate poverty. We encourage access to finance while building financial literacy and business management skills.
In April 2023, Mercy Corps Indonesia and Mastercard Center for Inclusive Growth entered into agreement to run Mastercard Strive Indonesia program. This initiative aims at empowering 300,000 Indonesian small businesses to succeed in the digital economy by helping them get capital, go digital, and grow their networks and know-how, as well as by strengthening the small business support ecosystem in the country - by the end of 2025.
About Mastercard (NYSE: MA)
Mastercard is a global technology company in the payments industry. Our mission is to connect and power an inclusive, digital economy that benefits everyone, everywhere by making transactions safe, simple, smart and accessible. Using secure data and networks, partnerships and passion, our innovations and solutions help individuals, financial institutions, governments and businesses realize their greatest potential. With connections across more than 210 countries and territories, we are building a sustainable world that unlocks priceless possibilities for all.