Mastercard launches Mastercard Strive Indonesia to empower small businesses to succeed in digital economy
April 4, 2023 | Jakarta
Program aims to reach 300,000 small businesses by 2025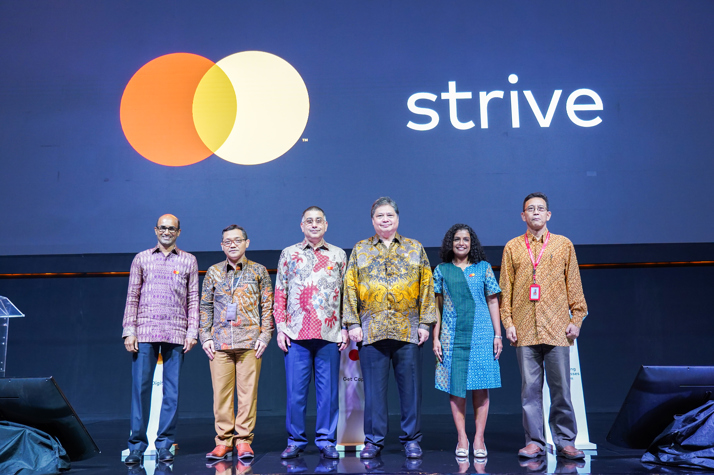 [L-R]: Navin Jain, President Director, PT Mastercard Indonesia; Ferry Irawan, Deputy Minister for Macroeconomic and Financial Coordination - Coordinating Minister for Economic Affairs, Republic of Indonesia; Safdar Khan, Division President, Southeast Asia, Mastercard; Airlangga Hartarto, Coordinating Minister for Economic Affairs, Republic of Indonesia; Subhashini Chandran, Vice President, Social Impact, Asia Pacific, Mastercard Center for Inclusive Growth; and Ade Soekadis, Director Executive, Mercy Corps Indonesia.
Today, Mastercard, in collaboration with the Indonesian National Council for Financial Inclusion (DNKI) and Mercy Corps Indonesia, launched Mastercard Strive Indonesia, a three-year initiative that aims to empower 300,000 Indonesian small businesses to succeed in the digital economy.
Small businesses are vital engines of economic growth. By helping them get access to capital, go digital, and grow their networks and know-how, as well as by strengthening the small business support ecosystem, the Strive Indonesia program aims to catalyze inclusive and sustainable growth in the country.
Airlangga Hartarto, Coordinating Minister for Economic Affairs Republic of Indonesia, said, "Congratulations on the launch of Mastercard Strive Indonesia. We hope that the program will succeed in advancing financial inclusion and digitalization of small businesses and empower the community's economy."
Mastercard Strive Indonesia is part of a portfolio of philanthropic programs – supported by the Mastercard Center for Inclusive Growth – aimed at helping small businesses around the world thrive in the digital economy.  Additional Strive programs are in place across the globe — including in the U.S., the UK, Mexico, and Czechia. Collectively, they aim to provide support to more than 10 million small businesses. In the Asia Pacific region, Indonesia is the first country to launch the Strive program.
In Indonesia, Micro, Small, and Medium-sized Enterprises (MSMEs) play a significant role in the country's economy, reaching 64 million or 99% of the total number of national enterprises and contributing 61% of the country's gross domestic product (GDP)1. However, only about 17.5 million MSMEs are entering the digital ecosystem2. In addition, around 18 million MSMEs in Indonesia still need access to formal financing, and 46 million MSMEs still require additional financing for business capital and investment3.
"Digitalization can help small businesses save costs, make more money, weather volatility and increase productivity. However, in order to take advantage of the benefits of digitalization, they need the right support," said Payal Dalal, Senior Vice President, Social Impact, International Markets at the Mastercard Center for Inclusive Growth. "Strive Indonesia is designed to build demand for digitalization and lower barriers to adoption to enable small businesses to tap into the power of digital technology to build resilience and grow."
Building on the success of Mastercard Academy 2.0 in driving the digitalization of Indonesian small businesses and offering bespoke support, especially to women entrepreneurs, Mastercard Strive Indonesia will focus on three goals:
Go digital and grow networks and know-how – Build demand and lower barriers to technology adoption through peer mentoring and addressing the cost of digitalization.
Get capital – Work closely with bank and non-bank institutions to further democratize access to credit for small businesses, especially for women-led or owned businesses.
Strengthening the small business support ecosystem – Establish a learning network and conduct research on small business digitization to share best practices and insights, co-create initiatives to address systemic bottlenecks, provide the ecosystem with rich quantitative data, and trigger positive shifts.


Ade Soekadis, Executive Director, Mercy Corps Indonesia, said "One of programmatic focus areas for Mercy Corps Indonesia is increasing economic opportunities and access to financial services. Through entrepreneurship digital training and mentoring, improving access to financial and market services, and supporting the ecosystem, Mercy Corps Indonesia supports the emergence of effective market systems to address the needs of Micro and Small Enterprises (including women and youth). Mercy Corps Indonesia is honored to implement the Strive Indonesia program in collaboration with the Mastercard Center for Inclusive Growth and National Financial Inclusion Council (DNKI)."
Navin Jain, President Director, PT Mastercard Indonesia, said, "Small businesses are the backbone of the Indonesian economy, and the Indonesian government has been striving to expand the coverage of digitalization of MSMEs, one of the strongest pillars of the Indonesian economy. Mastercard is delighted to partner with Mercy Corps Indonesia and DNKI to launch Strive Indonesia to assist Indonesian small businesses in improving their financial resilience and business growth through increased digitization and access to credit. The initiative will also enhance small businesses' cyber resilience by improving their cybersecurity awareness and skills. This partnership strengthens Mastercard's commitment to supporting the government's effort to help 30 million MSMEs transition into the digital ecosystem by 2024. When small businesses thrive, our local communities and economies thrive. By working together, Mastercard believes it can help strengthen small businesses and unleash their full potential to advance inclusive economic growth."
Mastercard believes in building a more inclusive and sustainable digital economy for everyone, everywhere, and that collaboration can bring about exponential progress. Aside from Strive Indonesia and Mastercard Academy 2.0, Mastercard has been actively working with private and public sector partners in Indonesia to develop initiatives that promote financial and digital inclusion for the community. For instance, in collaboration with Mercy Corps Indonesia, Mastercard and Bank Commonwealth launched the MicroMentor program (MMI), a mentoring platform that connects small businesses with business mentoring and cybersecurity training in Indonesia.
- The End -
1 https://www.ekon.go.id/publikasi/detail/3016/optimalisasi-produktivitas-umkm-melalui-go-digital-dan-go-legal
2 https://www.ekon.go.id/publikasi/detail/4065/coordinating-minister-airlangga-government-continues-to-encourage-strengthening-economic-foundations-by-establishing-digital-transformation-of-msmes-as-one-of-the-priorities 
3 https://setkab.go.id/en/govt-to-maintain-msmes-role-as-economic-backbone/ 
Media Contacts
Ika Yanuarini, Weber Shandwick
Information Services of the Coordinating Ministry for Economic Affairs
Diberu Karina, Mercy Corps
Puspa Amelia W.S, Mastercard
About the National Council for Financial Inclusion (DNKI)
The formation of the National Financial Inclusive Council (DNKI) is an implementation of Presidential Regulation Number 114 of 2020. The DNKI has a function as a guideline for Ministers and Heads of Institutions in establishing sectoral policies related to National Strategy for Financial Inclusion (SNKI) as outlined in strategic plan documents in their respective fields of work as part of the The National Medium Term Development Plan (RPJMN) as well as a guideline for Governors and Regents/Mayors in establishing regional policies related to SNKI at the provincial and district/city levels. As an effort to open access to formal finance for the community, the DNKI is tasked with coordinating and synchronizing the implementation of the SNKI, regulating steps and policies in solving problems and obstacles in the implementation of the SNKI, as well as monitoring and evaluating the implementation of the SNKI. In carrying out its duties, the DNKI is assisted by the Working Group and the Secretariat.
About Mercy Corps Indonesia and MicroMentor Indonesia
Mercy Corps Indonesia is a local non-profit organization based in Jakarta that helps communities recover from crisis and build resilience to create a world of opportunity. Our programs help people across Indonesia with the tools and support they need to build secure, productive and just communities. Mercy Corps Indonesia is part of Mercy Corps, a global team of humanitarians working on the front lines of today's biggest crises to create a future of possibility, where everyone can prosper. In 2020 alone, we were able to reach more than 29 million people in more than 40 countries around the globe through our work. MicroMentor Indonesia is a free online business mentoring platform adopted from the global MicroMentor platform, a program of Mercy Corps.
About Mastercard (NYSE: MA)
Mastercard is a global technology company in the payments industry. Our mission is to connect and power an inclusive, digital economy that benefits everyone, everywhere by making transactions safe, simple, smart and accessible. Using secure data and networks, partnerships and passion, our innovations and solutions help individuals, financial institutions, governments and businesses realize their greatest potential. With connections across more than 210 countries and territories, we are building a sustainable world that unlocks priceless possibilities for all.