Mastercard debuts LUMA, a new gastronomic venture in the heart of Hong Kong's iconic landmark, 1881 Heritage
June 28, 2023 | Hong Kong SAR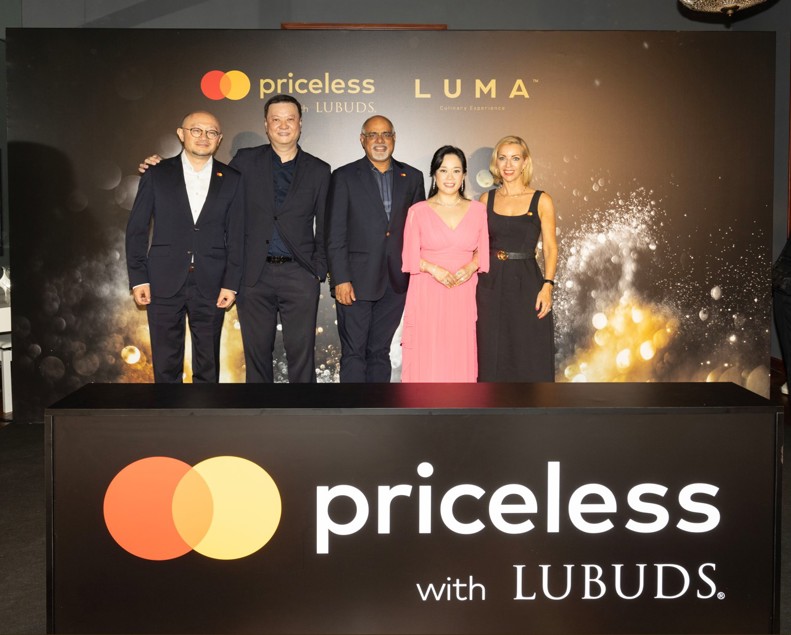 In partnership with LUBUDS, Mastercard introduces its first concept restaurant in the Asia Pacific region
Hong Kong's economic revival is in full swing, with residents keeping their social calendars busy—and the city welcoming back global visitors. Against this backdrop, Mastercard and distinguished local F&B group LUBUDS, today announced the launch of LUMA, a new restaurant occupying a prime location at 1881 Heritage, a historical landmark that has been transformed into a luxury lifestyle hub in the vibrant Tsim Sha Tsui district.
Opening exclusively to Mastercard cardholders beginning June 29, diners at LUMA can look forward to enjoying a tantalizing multi-course fusion tasting menu that will be designed – and constantly refreshed – by a rotating roster of LUBUDS Group's acclaimed chefs. As masters of their craft, they will interpret the radiance and distinct flavors of Asian, Chinese and European favorites and signature dishes in their own unique styles.
"At Mastercard, we strive to bring people closer to their passions – and each other," said Raja Rajamannar, chief marketing & communications officer, Mastercard. "Food transports us to new places, delivering unforgettable experiences as we explore different cultures and regions through taste. This is why we are thrilled to extend our culinary footprint with LUMA in Hong Kong, bringing truly special experiences to cardholders from around the world."
The name LUMA – an amalgamation of the words LUBUDS and Mastercard – is at once uplifting and easy to pronounce by speakers of many languages. A derivative of the word luminous, LUMA evokes light, radiance, and illumination. It's an apt name for a venue designed to spotlight the mastery of Hong Kong's homegrown culinary talents while it also welcomes the electric energy that guest chefs will contribute, starting with the Michelin-starred Bjoern Alexander in August 2023.
"Since teaming up with Mastercard, it has been an honor to welcome Mastercard cardholders to dozens of LUBUDS venues across Hong Kong to enjoy special dining privileges, surprises, and priceless culinary experiences," said Louie Chung, founder and chief executive officer, LUBUDS Group. "Mastercard and LUBUDS are passionate about supporting Hong Kong's economic and cultural revival and making a distinctive contribution to its dynamic food scene. With the launch of LUMA, we're taking our collaboration to the next level to give culinary connoisseurs from around the world more of what they crave – the finest food and novel experiences in a stunning venue."
The LUMA complex houses multiple spaces: an elegant, intimate dining room that seats up to 60 people, a cocktail bar, a dedicated art space, and a breezy balcony overlooking Hong Kong's spectacular skyline.
"In LUBUDS, Mastercard has found a collaborator who is as passionate about designing and delivering priceless experiences for their customers as Mastercard is," said Helena Chen, managing director, Hong Kong & Macau, Mastercard. "At a time when the majority (69%) of consumers across the Asia Pacific region are prioritizing experiences over material possessions1, and diners in Hong Kong are fueling a rapid rebound in restaurant spend that has already reached 88% of Q1 2019 levels2, the launch of LUMA couldn't come at a better time."
Today's unveiling of LUMA marks the second phase of the alliance between Mastercard and LUBUDS, operator of nearly 50 restaurants including the award-winning ODDS, MIÁN, YUE, and The Steak Room. Earlier this year, the two companies announced a new partnership aimed at offering priceless experiences and exclusive dining privileges for Mastercard cardholders at LUBUDS outlets across Hong Kong. Current information about these Priceless Experiences, Priceless Specials and Mastercard Travel Rewards can be found in the Appendix.
LUMA is also the latest extension of Mastercard's global strategy of forging deeper, more memorable connections with consumers through multisensory brand experiences. By tapping all five senses – sight, sound, smell, touch, and taste – Mastercard deepens its engagement with consumers as it connects across passions, such as entertainment, music, travel, art, philanthropy, and the environment.
In the culinary space, the launch of LUMA follows Mastercard restaurant openings in Rome, Italy, Mexico City, Mexico and São Paulo, Brazil. In 2022, just one year after launch, Notiê Priceless in São Paulo was named Best Brazilian Restaurant by VEJA São Paulo Comer & Beber, the most recognized restaurant award in Brazil, while Chef Onildo Rocha, who leads the restaurant, won Chef of the Year.
Experience LUMA for Yourself
Starting June 29, 2023, Mastercard cardholders can make reservations at LUMA online, via OpenRice.com, or by calling the restaurant at (+852) 3988-0088. To book a priceless experience at LUMA, please visit priceless.com/hk.
LUMA is open Monday through Sunday. Last orders are taken 30 minutes before the end of each service.
Lunch

: 12:00-15:00

Tea

: 15:00-18:00

Dinner

: 18:00-23:00
###
1Mastering the Art of Experiences, February 2022
2As of Q1 2023, spending on dining in Hong Kong rebounded to 88% of Q1 2019 levels, according to Mastercard's analysis of Census and Statistics Department data.
###
APPENDIX: Priceless with LUBUDS privileges for Mastercard cardholders
Priceless Specials are available from now until December 31, 2023. For details of all promotions at 30+ LUBUDS venues, please visit the Priceless Specials website (English) (Chinese). Do check back periodically as the list of privileges will be updated on an ongoing basis.
Mastercard Travel Rewards are available from now until December 31, 2023. Enjoy cash rewards and unlock additional online offers reserved for our cardholders. View the details here.
Priceless Experiences such as these are available for booking from now until December 31, 2023. For details and availability of all priceless experiences, please visit priceless.com.
Priceless Experience
Highlights

1881 Heritage Tour + East-Meets-West Tea Set

LUMA
July 15, 2023, 14:00-16:00
Aug 19, 2023, 14:00-16:00
Sept 24, 2023, 14:00-16:00

Embark on a guided journey through the storied past of 1881 Heritage, followed by a gourmet East-Meets-West tea set at LUMA in 1881.

The immersive walking tour takes you around the century-old Former Marine Police Headquarters, exploring preserved relics of the historical site and memories of a bygone era.

Afterwards, participants will enjoy a sumptuous East-Meets-West tea set against the backdrop of magnificent gardens and a rich heritage-filled ambience.

More on this here.

Relish in a fusion of Canton x Huaiyang Dinner Tasting Menu

Available daily: YUE

Experience a new menu inspired by the LUBUDS Executive Chef Team's two-month culinary tour of Wuxi and Huaiyang cuisine

This exclusive dinner menu features an inspired collection of delicacies that embody the essence of both Cantonese and Huaiyang cuisines.

Known as two of the four Great Traditions in Chinese cuisines, the menu promises to deliver a tantalizing journey, heroing the freshest ingredients and unique cooking approach.

More on this here.

360° Seaview Rooftop Picnic

Available daily: PANO

Savor an exquisite afternoon tea set with exclusive rooftop access and spectacular views • Experience the ultimate in al fresco luxury dining with an unforgettable afternoon tea picnic on PANO's private rooftop.

This area is the perfect backdrop for indulging in a sumptuous Asian-French fusion delicacy-filled picnic hamper, prepared by Executive Chef Ken Lau.

The deluxe hamper features a delectable array of sandwiches, pastries, and mouth-watering treats, each crafted with the finest ingredients to satisfy even the most discerning palate.

More on this here.

Enjoy a Hidden Menu Selection by Celebrity Chef Shao

Available daily: MIÁN

Experience Chinese cuisine at MIÁN, where they blend traditional culinary heritage with creative flair.

Opportunity to meet and greet Chef Shao himself. Get insider tips and tricks and learn more about the inspiration behind his dishes.

Dine under a masterpiece of nature, the one and only historical White & Pink Shower Tree in Hong Kong.

Indulge in the full Chinese culinary experience while enjoying the prime photo-taking spot under the shade of this magnificent tree.

More on this here.

An Evening of European Flair and Indulgence with Chef Ken Lau

June 29, 2023: Palco
September 7, 2023: Palco

Enjoy the theatrical spectacle of Chef Ken Lau as he prepares his signature dish right at your table.

Savor his Signature Spaghetti 24 Months Parmesan Cheese with Black Truffle Paste – perfect for cheese-lovers!

Experience an evening of wining and dining at one of the best harbor view restaurants.

More on this here.

Multisensory Japanese Dining Journey

Available daily from 6pm: ODDS

With priority seats at the Head Chef sushi bar, guests can interact with the Chefs, and catch an up-close view of their culinary skills in action.

An evening of sensory highlights, with cocktails and elevated dining to tantalise your tastebuds.

Bespoke set menu, featuring off-menu delicacies and the finest premium ingredients imported from Japan.

Delicacies include specialties such as Bluefin Tuna, Japanese Spiny Lobster, Saga Wagyu, and more.

More on this here.

Priceless Exclusive Bluefin Tuna Menu and Cutting Live Show

July 5, 2023: ANA Gura

Watch a live demonstration as expert sashimi masters demonstrate how to cut bluefin tuna, with precision and exceptional care, showcasing their fine knife skills.

Take photos and talk with the sashimi masters.

Following the demonstration, enjoy a sumptuous menu, showcasing the delicious bluefin tuna, including rare cuts such as the cheek, joint and noten.

More on this here.
About LUBUDS Group
LUBUDS® Group was established in 2006 with the launch of its first Japanese outlet. The group has since introduced Modern Japanese, European, Vietnamese, Specialty Coffee, Thai, Cantonese, Korean and Sichuanese over 14 different cuisine types, 34 F&B brands across Hong Kong, including Central, Wan Chai, Tsim Sha Tsui, Causeway Bay, TaiKoo, Kowloon Tong, Olympian City, Shatin, Yuen Long, Tuen Mun, Tseung Kwan O, West Kowloon Cultural District, Nam Cheong and Mongkok. We also manage a boutique hotel in House 1881, a well-known heritage in Hong Kong since 2020. LUBUDS has a fast growing footprint in Hong Kong and Macau, honing a team of over 1,300 staff and nearly 50 outlets as it continues to establish its presence in the food scene.
About Mastercard (NYSE: MA)
Mastercard is a global technology company in the payments industry. Our mission is to connect and power an inclusive, digital economy that benefits everyone, everywhere by making transactions safe, simple, smart and accessible. Using secure data and networks, partnerships and passion, our innovations and solutions help individuals, financial institutions, governments and businesses realize their greatest potential. With connections across more than 210 countries and territories, we are building a sustainable world that unlocks priceless possibilities for all.