Mastercard Forms Five Year Strategic Partnership with Wakayama Prefecture
January 13, 2022 | Singapore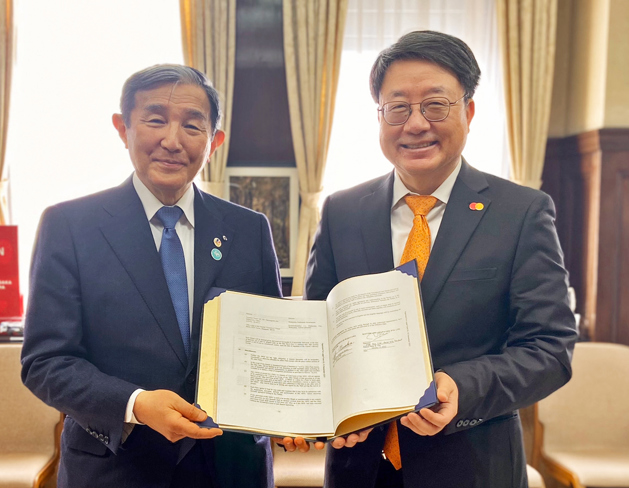 Yoshinobu Nisaka, Governor of Wakayama Prefecture and Yunsok Chang, Division President of Mastercard Japan
First Mastercard Memorandum of Understanding with a Japanese prefecture
Leveraging the global standard payment network to bolster tourism, promote digitalization, and increase cashless payments in Wakayama
Mastercard today announced that it has signed a Memorandum of Understanding (MOU) with Wakayama Prefecture (Governor: Yoshinobu Nisaka), leveraging its global standard payment network to support the growth of the tourism sector and accelerate the digital transformation and cashless transaction infrastructure for small and medium businesses in the prefecture. This is the first time Mastercard has signed an MOU with a local government prefecture in Japan.
This partnership will play a critical role in revitalizing the local tourism industry, which was hard hit by the outbreak of COVID-19. In preparation for the 2025 Osaka-Kansai World Exposition, which is expected to trigger a resurgence in inbound tourism, the MOU will promote the digitization of payments to create an enhanced experience for inbound tourists. Mastercard, a global technology company with an international standard payment network, and Wakayama Prefecture, home to globally renowned World Heritage Sites, will work together to create an infrastructure that enables overseas visitors to make seamless, cashless payments in regional cities. Work will be done to expand the implementation of global standards in Wakayama, with the aim of promoting cashless transactions and digital transformation in payment and settlement operations among small and medium-sized businesses in the prefecture. The two parties will also develop marketing content to attract tourists to the prefecture and its tourist attractions.
"I am pleased to announce that Wakayama Prefecture is the first local government in Japan to sign a partnership agreement with Mastercard, one of the world's leading technology companies, to attract domestic and overseas visitors and to increase consumption in the prefecture," said Yoshinobu Nisaka, Governor of Wakayama Prefecture. "We are looking forward to promoting Wakayama's colorful tourism resources, developing attractive contents, and promoting the cashless payment system in anticipation of the end of the COVID-19 pandemic. We are confident that Mastercard, with its rich knowledge of international travel and consumer trends and its extensive network of overseas credit card companies, will be a strong partner for our prefecture. Through this MOU, we will work closely together to promote tourism and other sectors in our prefecture, and to ensure the sustainable development of both parties."
"The spread of COVID-19 has increased demand for contactless payments around the world, and the shift to digital and cashless payments is accelerating. As border restrictions ease, inbound tourism demand is expected to surpass pre-pandemic levels, and Mastercard is looking forward to working with Wakayama Prefecture to build a new model for attracting tourists," said Yunsok Chang, Division President of Mastercard Japan. "In order to increase Japan's reputation as a successful tourist destination, I believe it is essential to avoid the 'Galapagos effect'. This partnership will contribute to the further development and revitalization of Wakayama Prefecture, and the region, through the provision of highly convenient, international standard payment infrastructures and data-based solutions that can be used, stress-free, by overseas tourists. It will also promote the digital transformation (DX) of payment operations, aiding firms in the tourism sector, as well as other small and medium-sized businesses in the prefecture, in improving their operational efficiency and competitiveness by becoming cashless. By combining Mastercard's resources and experience as a leading international payment technology company with Wakayama Prefecture's tourism resources, I am confident the initiatives set out in this MOU will be highly impactful."
 The MOU covers four key areas:
Initiatives to Attract Inbound Tourists
In addition to its payment network services, Mastercard offers an analytics platform and consulting service that provides consumer behavior insights based on global data from 2.5 billion credit cards and 36.8 billion transactions per year.  Wakayama Prefecture and Mastercard will leverage Mastercard's insight on global tourism and consumption trends to collaborate on initiatives to attract inbound tourists. Furthermore, Mastercard will support Wakayama Prefecture in raising its profile as a tourist destination by collaborating with Mastercard's overseas offices.
Measures to Increase Spending by Domestic and Foreign Tourists
Wakayama Prefecture and Mastercard will utilize Mastercard Travel Rewards, a cash-back program available to Mastercard cardholders worldwide, to attract foreign tourists to stores in the prefecture, and to encourage increased spending. Under the program, cardholders automatically receive cash rewards on eligible purchases at select merchants. The program should be effective in gaining interest from overseas tourists as it is available to cardholders in more than 30 markets, with many overseas banks and card issuers participating. For domestic tourists, Wakayama and Mastercard will work to increase consumer spending by promoting the prefecture's numerous attractions.
Development of Tourism Content and Benefits
Wakayama Prefecture and Mastercard will use tourism resources, such as the World Heritage sites of Koyasan and Kumano Sanzan, to jointly develop unique experience-based rewards program for Mastercard cardholders, with such initiatives being used to promote the prefecture to domestic and overseas visitors.
Promote Cashless Payments and Digital Transformation for Payment Processes among SMBs
In cooperation with Mastercard card issuers,  Wakayama Prefecture and Mastercard will promote the implementation of international standard cashless payments systems, including the introduction of contactless payments using IC cards and smart phones. In addition, both parties will promote efficient payments operations at companies in the prefecture through the use of technologies such as virtual cards, which allow companies to issue unique virtual account numbers with set usage conditions to optimize accounts payable efficiency, reconciliation processes and data analysis. This is expected to streamline billing operations, reduce the risk of uncollected payments, and expand sales opportunities to new customers.


Overview of MOU Signing Ceremony
Date:       11:00am - 12:00pm JST, Thursday, January 13, 2022
Location:Governor's office

Attendees:
Wakayama Prefecture
Governor: Yoshinobu Nisaka
Planning Department, Executive Director: Shinji Toba
Director of Commerce, Tourism, and Labor Department: Masaya Teramoto
Mastercard
Division President, Japan: Yunsok Chang
Senior Vice President, Government Engagement, Asia Pacific: Kok Kee Lim (joined online from Singapore)
###
About Wakayama Prefecture
The two sacred sites of Koyasan and Kumano Sanzan, registered on UNESCO's World Heritage List as "Sacred Sites and Pilgrimage Routes in the Kii Mountain Range," have been worshipped as spiritual centers since ancient times. With its beautiful coastline, lush green mountains, clear streams, scenic views of unique shaped rocks and huge stones, diverse hot springs, and gourmet cuisine, Wakayama Prefecture is blessed by nature with many attractions that cannot be experienced anywhere else. Welcome to Wakayama, the land of rejuvenation, where your body and soul will be refreshed by prayers and blessings.
About Mastercard (NYSE: MA), www.mastercard.com 
Mastercard is a global technology company in the payments industry. Our mission is to connect and power an inclusive, digital economy that benefits everyone, everywhere by making transactions safe, simple, smart and accessible. Using secure data and networks, partnerships and passion, our innovations and solutions help individuals, financial institutions, governments and businesses realize their greatest potential. Our decency quotient, or DQ, drives our culture and everything we do inside and outside of our company. With connections across more than 210 countries and territories, we are building a sustainable world that unlocks priceless possibilities for all.
Mastercard Communications Contact
Yoshiko Yeomans, Manager, Area Marketing
+81 (3) 5728 5239 l Yoshiko.Yeomans@mastercard.com
Agency Communications Contact
Hitomi Nakashima, Lilika Okita, Ayako Ishii
+81 03-5572-7334 I mastercard@vectorinc.co.jp