EZ-Link and Mastercard® team up to extend EZ-Link Wallet acceptance globally, and drive digital payments with enhanced user experience and rewards
April 28, 2022 | Singapore
The launch of the new Pay by Account-enabled product sees EZ-Link expand to the open payment ecosystem, empowering users with greater digital payments capabilities.
EZ-Link Pte Ltd, pioneer of contactless payments in Singapore, today announced the launch of its enhanced EZ-Link Wallet. Developed in collaboration with global payment technology company, Mastercard, the new Pay by Wallet with Mastercard® feature is the first digital wallet product globally to leverage Mastercard's Pay by Account technology for making contactless and e-commerce payments including recurring payments at Mastercard accepting merchants worldwide.

"As consumers' lifestyles continue to evolve with increasing digitalization, we will transform alongside them to serve their everyday needs. Pay by Wallet will empower consumers with greater flexibility and convenience when making domestic and cross border payments digitally," said Nicholas Lee, CEO, EZ-Link.

Enabling more convenient and inclusive digital payment services for all Singaporeans
When users activate Pay by Wallet
, they can use their EZ-Link Wallet to make online and in-store contactless payments at over 92 million Mastercard merchants worldwide. This means that they can use
Pay by Wallet
to shop online, as well as manage subscriptions for services like Netflix, Disney+, Spotify, gym membership, ride-hailing and more. Users will also be able to add
Pay by Wallet to
Google Pay[1]
to make contactless mobile payments for both retail and transit[2]
transactions.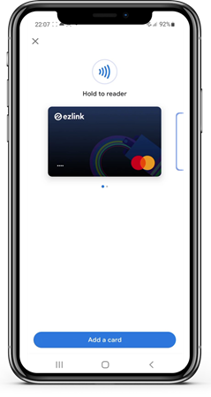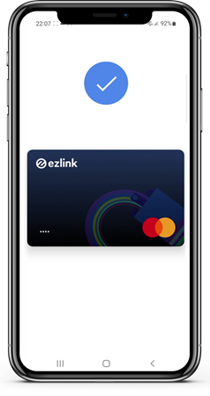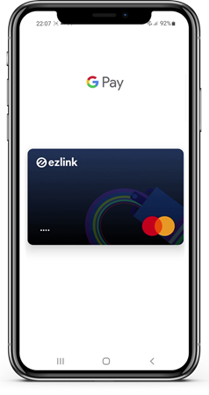 Adding EZ-Link Wallet to Google Pay
This expansion of the EZ-Link Wallet's acceptance points comes off the back of EZ-Link's ongoing strategy to strengthen its ecosystem of digital services and capture the digital payments market. With e-commerce on the rise, consumers are increasingly turning to digital wallets to fuel their online transactions. The introduction of Pay by Wallet aims to empower more consumers across all walks of life to access digital payments capabilities in line with their needs, and participate in the digital economy.
"With Pay by Wallet, users can eliminate hassle and enjoy greater convenience and rewards throughout their daily lives. At EZ-Link, we have built a strong anchor in transportation, and will continue to build on that success by steadily penetrating the digital marketplace to enable more inclusive digital payment services for Singaporeans," said Nicholas Lee, CEO, EZ-Link.
Rewarding consumers' everyday payments with winning offers
Through EZ-Link and Mastercard's partnership, Pay by Wallet users will also see greater value and rewards. Users can earn EZ-Link Rewards points with every transaction[3] and redeem them for benefits from over 200 merchants on the EZ-Link Rewards platform, which range from F&B, retail, motoring and more. Pay by Wallet users will also be entitled to exclusive offers across Mastercard's Priceless™  Specials, a curated list of offers that cut across key passion pillars of Eat, Play, Shop and Stay.
 "Mastercard is delighted to partner EZ-Link to power the growth of the digital payments ecosystem in Singapore," said Deborah Heng, Country Manager, Singapore, Mastercard. "With the value of digital wallet transactions expected to grow, this innovative Pay by Account technology is timely and will allow EZ-Link to expand its reach by offering 5 million users the ability to transact anywhere and anytime, leveraging Mastercard's comprehensive global acceptance."
"According to a survey[4] commissioned by Mastercard, 71% of global customers prefer transacting on a single all-in-one integrated payments solution to satisfy their payment needs. This strategic partnership is aligned with our efforts to enable payments that are safe, secure, and seamless for the everyday consumer," she added.
Sign-up bonus and lucky draw prizes to be won
As part of the launch, EZ-Link is offering a sign-up bonus to the first 20,000 users who activate Pay by Wallet on their EZ-Link App. They will receive S$5 credit upon sign-up, and an additional S$5 cashback on their first spend[5]. This campaign runs until 31 July 2022. During the same period, users who pay with EZ-Link Pay by Wallet will automatically be enrolled in a lucky draw[6], and stand to win prizes including 2D1N staycation packages at Resorts World Sentosa and Universal Studios Singapore One-Day tickets. More information on these campaigns as well as upcoming promotions can be found at bit.ly/pbwpromo.
EZ-Link Wallet users can activate Pay by Wallet through their EZ-Link App, and perform an instant sign-up securely and seamlessly via SingPass.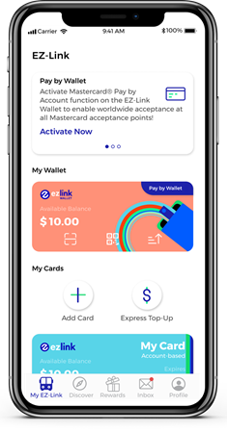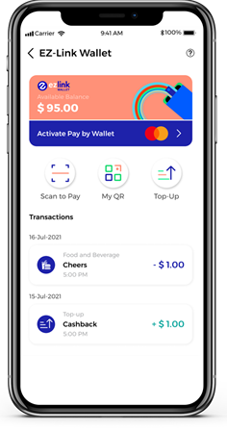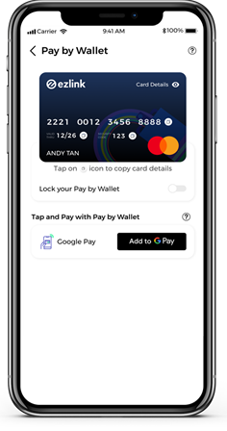 Pay by Wallet activation process on the EZ-Link App
The EZ-Link Wallet was first introduced in 2020 to deliver a more seamless and rewarding experience for users' transport and retail transactions, and can be used for payments at local SGQR and overseas Alipay+ acceptance points.
Android and iOS users can also top-up their EZ-Link transit and motoring cards on-the-go, and receive direct cashback and reward credits in their accounts when they spend with the EZ-Link Wallet. As of 22 April 2022, there have been more than 165,500 activations.
The EZ-Link Wallet is accessible via the EZ-Link App, which is available for download at Apple's App Store, Google Play Store and Huawei AppGallery.

[1] Applicable for Android Users only.
[2] Aside from the existing EZ-Link card, consumers can also register their EZ-Link Pay by Wallet digital card under SimplyGo to use it for public transport via contactless mobile payments.
[3] Every S$0.10 spent will earn one EZ-Link Rewards point.
[4] A joint survey was conducted by Mastercard and research firm AnswerLab on multi-rail solutions with 1,793 participants from 7 countries from 2020 – 2021.
[5] Cashback will be credited into users' EZ-Link Wallet one day after their transaction of minimum S$10 (to be made within 30 days of signing up).
[6] Every successful transaction of a minimum S$80 will qualify for 1 chance in this lucky draw.
About EZ-Link Pte Ltd
Established in 2002, EZ-Link is a pioneer in contactless payments in Singapore with the EZ-Link card being its core product offering. EZ-Link remains the top choice for contactless prepaid card payment in Singapore with more than 40 million cards issued to date. Synonymous with transit payments in Singapore, EZ-Link has since expanded its offerings and is widely used for shopping, dining, private transport, government services and community services at more than 30,000 acceptance points across the island. EZ- Link continues to be at the forefront of digital inclusion, bringing all Singaporeans, young and old, onto the nation's cashless journey. For more information, please visit www.ezlink.com.sg.
About Mastercard (NYSE: MA)
Mastercard is a global technology company in the payments industry. Our mission is to connect and power an inclusive, digital economy that benefits everyone, everywhere by making transactions safe, simple, smart and accessible. Using secure data and networks, partnerships and passion, our innovations and solutions help individuals, financial institutions, governments and businesses realize their greatest potential. With connections across more than 210 countries and territories, we are building a sustainable world that unlocks priceless possibilities for all.