Singapore Tourism Board and Mastercard® Launch Marketing Partnership to Boost Domestic Tourism
November 22, 2021 | Singapore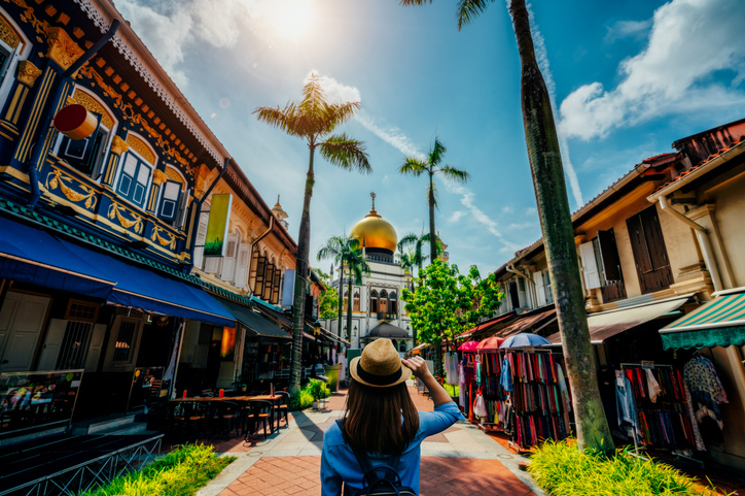 Domestic campaign will see the launch of 16 new and exclusive "Priceless Experiences" including sailcations, staycations, movie experiences, local adventures, and gin creation workshops for locals ahead of upcoming holiday season.
The Singapore Tourism Board (STB) and Mastercard have jointly launched a range of 16 new and exclusively-curated local tourism and lifestyle experiences, just in time for the year-end holiday season. The experiences are part of their new domestic marketing campaign, to encourage locals to continue exploring the city and rekindle connections with their loved ones.
Bringing together SingapoRediscovers[1] campaign and Mastercard's Priceless Singapore platform[2], the Rediscover Priceless® Singapore campaign will support domestic tourism businesses and promote local brands that embody the Singapore spirit of turning possibilities into reality.
The campaign is based on consumer insights jointly developed by STB and Mastercard. Two audience segments – Families and Young Professionals – have been identified, as they make up more than half of local cardholders. During COVID-19, domestic spending by Families held steady with around 30 per cent of their spend channeled towards dining, retail, attractions, and accommodation categories. Young Professionals' domestic spend grew by 14 per cent, with around 30 per cent of their spend going towards dining, retail, and accommodation categories.
Using these insights, STB and Mastercard curated 16 diverse experiences across these categories to provide opportunities for locals to rediscover and share priceless moments and spend quality time with family and friends. Some of the experiences feature Made With Passion[3] brands, for instance, sampling gins and creating a personalized bottle of gin at Brass Lion Distillery or being the first to savour Straits Preserves' Ginger Garden Tea, alongside the brand's signature marmalade and nut butters. Mastercard cardholders will also get to enjoy a wide range of Priceless Specials, with over 100 deals across dining, retail, attractions, and accommodation categories, including 1-for-1 promotions, discounts, and value-added gifts.
Lynette Pang, Assistant Chief Executive (Marketing Group) of the Singapore Tourism Board, said: "We are delighted to team up with Mastercard to support Singapore brands and help locals reconnect with their family and friends. The pandemic has transformed human relationships on many levels, and we hope these exclusive experiences, based on real data and insights, will encourage all of us to rediscover our city safely – and create priceless moments with our loved ones."
Deborah Heng, Country Manager, Singapore, Mastercard, said: "Mastercard is proud to be working with the STB on an initiative that will lift the spirits of locals, and the health of the local economy. Whether enjoying fine dining, a staycation, or a guided trip through a nature reserve, these diverse experiences offer something truly priceless for those looking to rediscover Singapore's tourism and lifestyle offerings."
The 16 experiences will run till 31 January 2022[4]. Price ranges from $45 to $5,992 (inclusive of GST) and experiences can be purchased at www.priceless.com/RediscoverSG. 
The Rediscover Priceless® Singapore is a first-of-its-kind marketing partnership between STB and Mastercard, where a domestic campaign is developed based on anonymized consumer insights on spending behavior and trends. Next year, STB and Mastercard will deepen their collaboration by launching international campaigns to attract visitors to Singapore. More details will be shared later.
- The End -
About the Singapore Tourism Board
The Singapore Tourism Board (STB) is the lead development agency for tourism, one of Singapore's key economic sectors. Together with industry partners and the community, we shape a dynamic Singapore tourism landscape. We bring the Passion Made Possible brand to life by differentiating Singapore as a vibrant destination that inspires people to share and deepen their passions.
More: www.stb.gov.sg or www.visitsingapore.com | Follow us: 
facebook.com/STBsingapore or https://www.linkedin.com/company/singapore-tourism-board/mycompany/
 About Mastercard (NYSE: MA), www.mastercard.com
Mastercard is a global technology company in the payments industry. Our mission is to connect and power an inclusive, digital economy that benefits everyone, everywhere by making transactions safe, simple, smart and accessible. Using secure data and networks, partnerships and passion, our innovations and solutions help individuals, financial institutions, governments and businesses realize their greatest potential. Our decency quotient, or DQ, drives our culture and everything we do inside and outside of our company. With connections across more than 210 countries and territories, we are building a sustainable world that unlocks priceless possibilities for all.
[1] The SingapoRediscovers domestic campaign was launched by STB, Enterprise Singapore (ESG) and Sentosa Development Corporation (SDC) in July 2020 to support lifestyle and tourism businesses by encouraging locals to explore different sides of Singapore.
[2] Mastercard's Priceless Singapore platform is available exclusively to Mastercard cardholders and provides access to unforgettable experiences and valuable everyday discounts in the cities where one lives and travels. Cardholders in Singapore have access to both virtual and in-person experiences, while those living overseas can enjoy virtual experiences.
[3] A joint initiative by the Singapore Brand Office and the Singapore Tourism Board and supported by Enterprise Singapore, Made With Passion is a national marketing initiative to promote consumer awareness and appreciation for our local lifestyle brands by showcasing the many facets of passion that go into creating the products we enjoy today.
[4] These experiences are subject to prevailing COVID-19 safe management measures.
Mastercard Communications Contact
Joey Ong, +65 6390 6933
Joey.Ong@mastercard.com
Agency Communications Contact
Nina Kaur, +65 6825 8043
nkaur@webershandwick.com
Singapore Tourism Board Communications Contact
Stephanie Chailert
Stephanie_CHAILERT@stb.gov.sg