Mastercard Partners with Leading Digital Currency Companies Across Asia Pacific to Launch the Region's First Crypto-Linked Payment Cards
November 8, 2021 | Singapore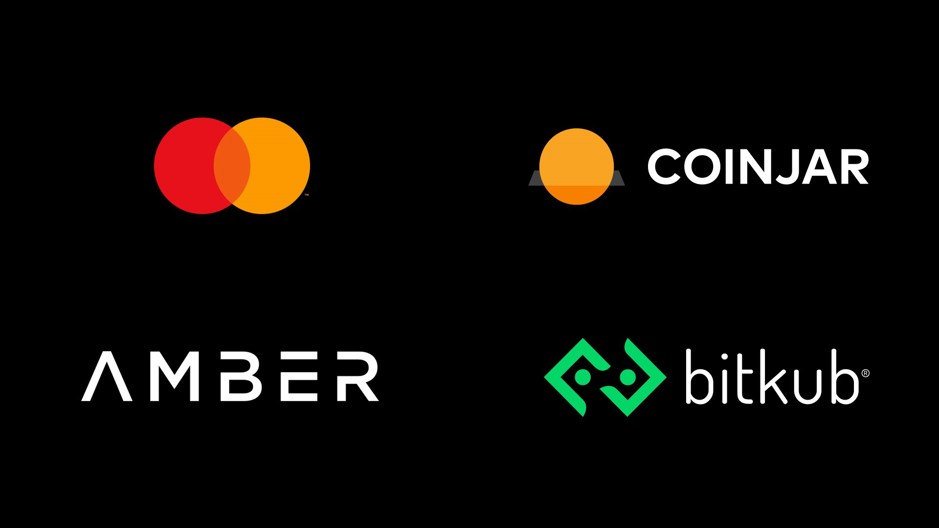 The trio of partnerships with Amber, Bitkub and CoinJar make it easier for consumers and corporates to spend cryptocurrency on physical or digital Mastercard payment cards
In partnership with Mastercard, three leading cryptocurrency service providers in Asia Pacific will be launching crypto-funded Mastercard payment cards. For the first time, consumers and businesses in the Asia Pacific region will be able to apply for crypto-linked Mastercard credit, debit or pre-paid cards that will enable them to instantly convert their cryptocurrencies into traditional fiat currency, which can be spent everywhere Mastercard is accepted around the world.
The three digital asset service providers that Mastercard is partnering with are Amber Group, Bitkub in Thailand, and CoinJar in Australia, all of which offer cryptocurrency purchase and exchange services in their respective domestic markets. These companies are the first APAC-based cryptocurrency platforms to join Mastercard's global Crypto Card Program which was designed to make it simpler and faster for crypto firms to bring secure, compliant payment cards to market, as consumers increasingly seek to fund everyday transactions securely and efficiently with digital currencies.
While some merchants already accept payments in digital currencies such as Bitcoin or Eth, this form of acceptance is not widespread. Rather than directly transferring cryptocurrencies to a merchant, cardholders will now be able to instantly convert their cryptocurrencies into traditional fiat currency which can be spent everywhere Mastercard is accepted around the world, both online and offline. Currency will always enter Mastercard's network as traditional fiat currency.
This announcement comes at a time when interest in cryptocurrencies is at an all-time high across the Asia Pacific region. According to the latest Mastercard New Payments Index, 45 percent of those surveyed in APAC say they are likely to consider using cryptocurrency in the next year – a huge jump over the 12 percent that already used it in the last year, and higher than the global average of 40 percent. 
"Cryptocurrencies are many things to people—an investment, a disruptive technology, or a unique financial tool. As interest and attention surges from all quarters, their real-world applications are now emerging beyond the speculative," said Rama Sridhar, Executive Vice President, Digital & Emerging Partnerships and New Payment Flows, Asia Pacific, Mastercard. "In collaboration with these partners that adhere to the same core principles that Mastercard does – that any digital currency must offer stability, regulatory compliance and consumer protection – Mastercard is expanding what's possible with cryptocurrencies to give people even greater choice and flexibility in how they pay."
The Crypto Card Program is part of Mastercard's strategy in the digital assets space to help provide customers, merchants and businesses with more choice in how they move digital value. As part of the Crypto Card Program, Mastercard supports participating fintech companies by reducing barriers to entry, streamlining the onboarding process and offering access to dedicated fintech and digital asset experts, and in-market teams to accelerate their growth and execution.
Mastercard is committed to applying its innovation, experience and scale to emerging cryptocurrency and digital currency partners, building global ecosystems to modernize payments and transform the way people and businesses transact.
Partner Quotes
"Amber Group is committed to serving clients with best-in-class technology and innovative product offerings. By joining forces with Mastercard, we will leverage our combined technology, solutions, and expertise to offer users in applicable jurisdictions a more streamlined digital finance experience," said Michael Wu, Founder and CEO of Amber Group.
"Thailand is one of the most crypto-oriented markets in Asia Pacific, and so turning that broad asset ownership into something which is usable in an everyday context is a major step forward for Bitkub and our customers," said Jirayut Srupsrisopa, Founder and Group CEO of Bitkub. "To make this happen, we are very pleased to be connected to Mastercard via our valued payments partner 2C2P to create a sophisticated card solution that allows crypto users to make payments by converting cryptocurrency to traditional fiat currency. I believe that our strong partnership will accelerate consumers' use of crypto as a means of commerce, making payments more efficient and facilitating new economic activity for businesses worldwide." 
"As one of the world's longest-running crypto exchanges, we're thrilled to partner with a global giant like Mastercard to make cryptocurrency more accessible and useful than it's ever been before," said Asher Tan, CEO of CoinJar.
- The End -
About Amber Group
Amber Group is a leading digital asset service provider, operating globally with twelve offices on three continents. To date, Amber Group has raised a total of $128 million in funding from the world's best investors including Tiger Global Management, DCM Ventures, Paradigm, Pantera Capital, Coinbase Ventures, Blockchain.com, Polychain Capital, Dragonfly Capital, and Fenbushi Capital. For more information, please visit www.ambergroup.io or contact at contact@ambergroup.io.
About Bitkub Capital Group Holdings Co., Ltd. (BCGH) https://www.bitkubcapital.com/
Founded in February 2018, Bitkub Capital Group Holdings Co., Ltd. (BCGH) holds the title as the startup with the largest seed investment in Thai startup history. Bitkub Capital Group Holding Co., Ltd. consists of four main business units – the digital asset exchange platform, consulting and development of blockchain technology for enterprises (both government and private sector), education in blockchain technology and digital assets, and algorithmic trading. Those units are operated by different companies, with Bitkub Online Co., Ltd. taking care of the digital asset exchange platform and is one of the four cryptocurrency firms in Thailand who has been granted the first digital asset business licenses by Thailand's Ministry of Finance; Bitkub Blockchain providing ICO advisory services; Bitkub Blockchain Academy holding education workshops in blockchain; and Bitkub Capital acting as a venture capital firm taking care of investments.
About CoinJar
CoinJar is the simplest way to buy, sell and spend cryptocurrency. Founded in 2013, and operating in both Australia and the UK, our mission is to create best-in-class apps and products that make it easy for customers to use and invest in cryptocurrencies such as Bitcoin, Ethereum and more. This includes our market-leading CoinJar app and our recently launched CoinJar Card, the first Australian Mastercard to let you spend your crypto like cash.
About Mastercard (NYSE: MA), www.mastercard.com
Mastercard is a global technology company in the payments industry. Our mission is to connect and power an inclusive, digital economy that benefits everyone, everywhere by making transactions safe, simple, smart and accessible. Using secure data and networks, partnerships and passion, our innovations and solutions help individuals, financial institutions, governments and businesses realize their greatest potential. Our decency quotient, or DQ, drives our culture and everything we do inside and outside of our company. With connections across more than 210 countries and territories, we are building a sustainable world that unlocks priceless possibilities for all.
Mastercard Communications Contact
Sarah Guldin, +65 6390 6199 
sarah.guldin@mastercard.com