Mastercard, Australia Post and Deakin University Continue Work to Enable Seamless Digital Identity
November 26, 2020 | SYDNEY
Pilot builds on previous Deakin, Mastercard tests and integrates with Australia Post's Digital iD™

Paves the way for a simple, secure and scalable approach to verifying identity digitally

As a result of the pandemic, people and businesses have increasingly adopted a more digital life, particularly for shopping and sending money. But, the opportunities for greater convenience and security don't stop with payments.
This month, Mastercard, Australia Post and Deakin University expanded tests of ID, Mastercard's digital identity service, to verify students taking exams online. The platform represents an opportunity to create new ways for people to confirm their identity without having to handover any physical documents when completing an application, accessing benefits, booking accommodations and more.
This latest pilot builds on previous tests[1] at Deakin University, now exploring how ID can securely connect and integrate with services from other providers like Australia Post's Digital iD™. Connecting with these trusted third-party platforms extends the value and use of the service to more providers and partner organisations in Mastercard's ID network.
"The rising demand for, and myriad challenges of, premium online education is accelerating the implementation of new solutions for the global higher education sector," said William Confalonieri, Chief Digital Officer at Deakin University. "Being able to pilot this emerging digital identity technology with our students aligns with Deakin's digital-first strategy and keeps us at the forefront of the innovation wave to deliver a superior experience for students, while bolstering the integrity and confidence of identity verification systems that are safe, secure and accurate.Making it Simple and Secure
The pilot saw students create a digital identity in Australia Post's Digital iD™ app and use it to gain access to Deakin University's exam portal. Integrated into both organisation's platforms, ID successfully orchestrated the sharing of verified identity data between the two parties – sending only the specific personal information required to permit entry using its highly secure network. For more details, watch the video here.
"As the number of online transactions grows, so does the need for individuals and organisations to have access to a safe, convenient and uniform way to verify a person's identity in both the physical and digital worlds," said Christian Seely, General Manager, Identity Products and Services, Australia Post. "By collaborating with other industry leaders such as Mastercard, we can help grow adoption of digital identity in Australia, tackle fraud and improve trust in online interactions."
"Digital identity must be built on a framework of trust, partnership and consumer choice. Demonstrating this level of interoperability points to the huge potential for more partners across more sectors – such as telecoms, retail, banking and government – to provide greater value and impact. Integrating with ID's highly secure network enables these services to extend the reach of their existing offering, while enabling consumers to stay in complete control over where their identity data is stored and how it is used," said Richard Wormald, Division President, Australasia, Mastercard.


Creating New Opportunities
ID offers businesses, governments and educational institutions an end-to-end solution for creating, validating and using a digital identity. The expanded Deakin pilot program is the latest development for the platform, as the university explores potential uses both on and off campus.
Mastercard also recently announced a partnership with Optus, one of Australia's most trusted telco brands, to provide its customers a simpler and more secure way to prove their identity online and in-store. Elsewhere Mastercard has partnered with The Government of the Republic of North Macedonia to design a new national digital identity service to help advance the country's digital economy aspirations.
As a leader in secure technology, Mastercard is focused on creating a digital identity service that is global in scope, sensitive to local needs, reusable and interoperable between institutions and sectors, while ensuring that consumers are the guardians of their own data. Mastercard has announced partnerships with national and international technology players including Samsung and Microsoft, and will continue to collaborate with like-minded organisations in developing digital identity solutions around the world.
Please visit www.idservice.com to learn more about Mastercard's vision for digital identity. For more information on Australia Post's Digital iD™, please visit www.digitalid.com.
[1] Previous pilots explored how ID could be embedded into a Deakin University mobile app, with domestic and international students using Mastercard's service to enroll their digital identity.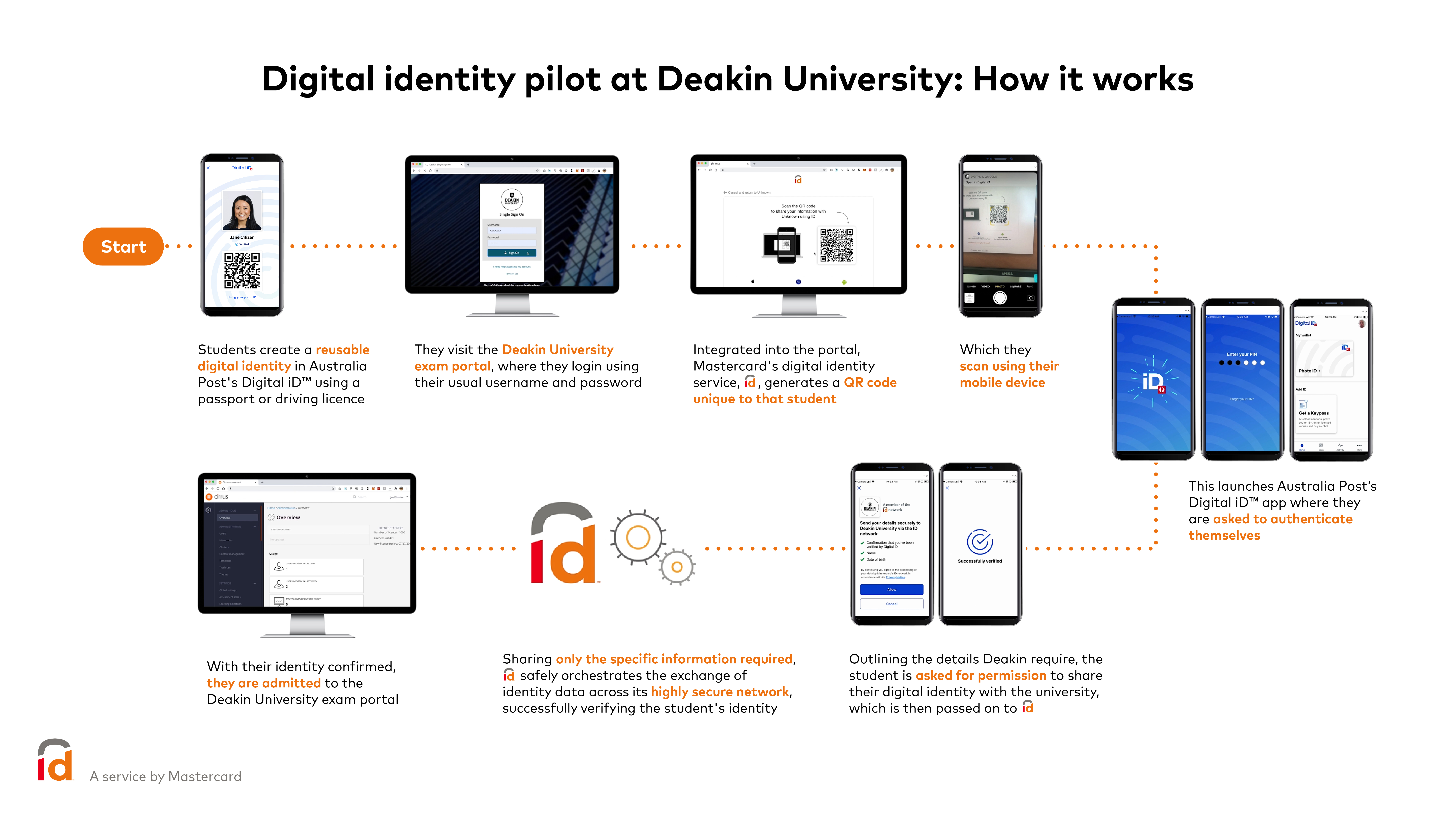 Media Contacts
Luke McClelland, Mastercard
Caelyn Evans, Agency (Eleven)