Grab Everything Online: Grab releases digital-first GrabPay Card in the Philippines powered by Mastercard
June 3, 2020 | MANILA, Philippines | By Barkha Patel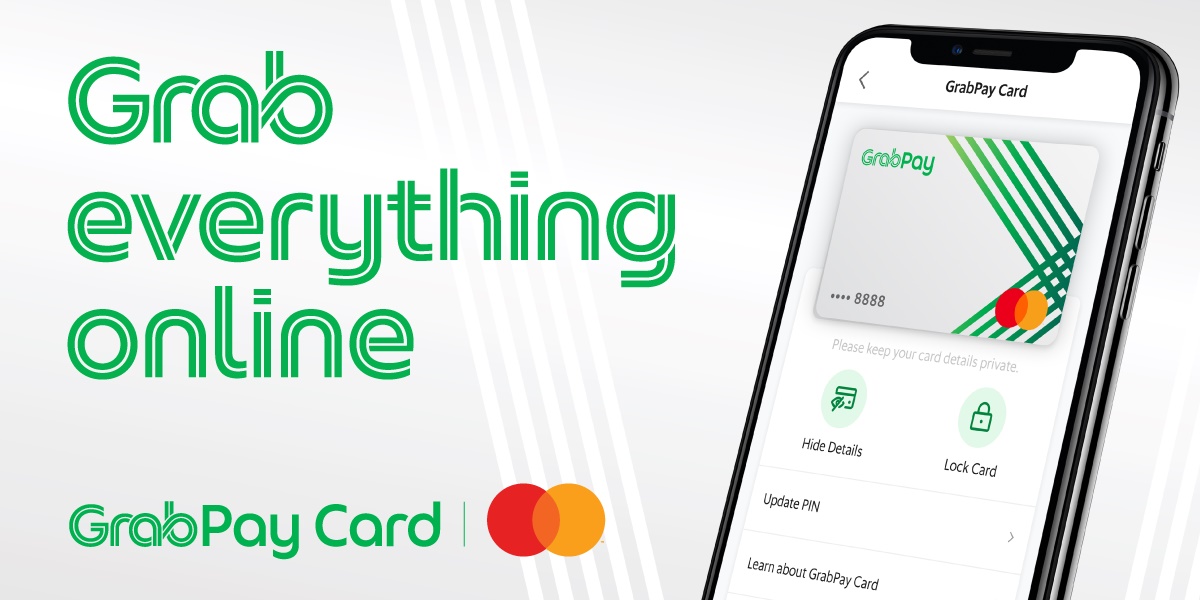 Grab, Southeast Asia's leading everyday super app, launches the GrabPay Card in the Philippines, a digital-first prepaid card powered by Mastercard that extends GrabPay's reach globally with unparalleled card security, hassle-free online payments and expanded rewards ecosystem to bring the convenience of cashless payments to more Filipinos.

In a survey[1] conducted by Mastercard in the Philippines in April 2020, 40% of Filipino consumers are now using contactless payments more often in light of the COVID-19 pandemic. The introduction of the GrabPay Card in the Philippines supports Grab's direction to promote safer payments by doubling down on cashless services that help curb the spread of the virus.

The GrabPay card launches today in the Philippines with a digital version that gives the user complete control via the Grab app.

"As cities slowly get back on their feet after months of lockdown brought about by the COVID-19 pandemic, digital payments become the critical enabler to embrace this new reality. The launch of the digital GrabPay Card powered by Mastercard supports our mission of providing safer transactions and bringing more cashless opportunities to Filipinos not only for local transactions but also everywhere in the world," said Jonny Bates, Head of GrabPay Philippines.

"Mastercard is pleased to further expand the partnership with Grab in Southeast Asia with the launch of GrabPay Mastercard in the Philippines. Now Filipino Grabpay users can enjoy a seamless digital payment experience through the GrabPay Mastercard. This partnership also gives GrabPay users access to an e-wallet that is now accepted worldwide, unlocking a whole new world of possibilities for them," said Rowell del Fierro, Country Manager, Philippines, Mastercard.

The GrabPay Card is a culmination of Grab's ongoing partnership with Mastercard that aims to bring financial inclusion to the millions of underbanked and unbanked in Southeast Asia.

Digital GrabPay Card Features


Pay for everything online. The GrabPay digital card vastly expands Grab's online merchant ecosystem, allowing users, regardless of whether they have a bank account, to transact securely and easily online at nearly 53 million merchants worldwide that accept Mastercard cards.
Safe and secure cashless payments. As a digital-first card, the GrabPay card details are stored securely within the Grab app. It has an in-app card lock function enabled by Face ID and fingerprint biometric security, and PIN-protection that allow users to instantly suspend payments in case of lost cards or suspicious transactions.
More ways to earn GrabRewards. Whether you are using the GrabPay Card to purchase an item online, pay for digital subscriptions, or transact locally and globally, users can earn GrabRewards points for transactions made in millions of merchant-partners that accept Mastercard.
Unique benefits for GrabPay Card users. GrabPay Card users get Mobile protection insurance allowing them to pay for mobile postpaid phone bills using the GrabPay Card and receive protection against accidental damage or theft. The card is also equipped with E-commerce protection that allows users to receive coverage for online transactions in the event that a wrong and/or defective item is delivered, and incomplete or non-delivery of the item.1

Regulated by the Bangko Sentral ng Pilipinas (BSP), GrabPay is a mobile wallet that can be used to transact within and outside the Grab app safely and securely. With a 24/7 fraud detection engine, users are assured that their personal information and payment transactions remain encrypted and protected. To use the GrabPay Card, simply upgrade the GrabPay wallet by following the in-app verification process.

No fuss and no fees— activating the GrabPay Card is simple and easy:

1. Tap 'Payment' icon at the bottom of your Grab homescreen

2. Ensure you have activated and upgraded your GrabPay Wallet

3. Tap 'Get your GrabPay Card now' to access your card details

4. Enter your PIN to secure your card

5. Start using your digital GrabPay Card details for your online transactions

With social distancing and less physical interaction becoming the new normal, users with the GrabPay Card can easily adapt by having a smarter and safer way for cashless transactions both here and abroad. Enjoy the everyday cashless convenience of the GrabPay Card by upgrading your GrabPay Wallet today! For more information, visit https://www.grab.com/ph/pay/grabpaycard/.

[1]  Mastercard Impact Studies 2020, The Black Swan Series
Media Contacts
Krhizzy Pasigan, Public Relations Manager (Grab)
About Grab
Grab is the leading super app in Southeast Asia, providing everyday services that matter most to consumers. Today, the Grab app has been downloaded onto over 185 million mobile devices, giving users access to over 9 million drivers, merchants and agents. Grab offers the widest range of on-demand transport services in the region, in addition to food, package, grocery delivery services, mobile payments and financial services across 339 cities in eight countries.
About Mastercard (NYSE: MA)
Mastercard is a global technology company in the payments industry. Our mission is to connect and power an inclusive, digital economy that benefits everyone, everywhere by making transactions safe, simple, smart and accessible. Using secure data and networks, partnerships and passion, our innovations and solutions help individuals, financial institutions, governments and businesses realize their greatest potential. With connections across more than 210 countries and territories, we are building a sustainable world that unlocks priceless possibilities for all.