Mastercard and Payswiff Partner to Accelerate Acceptance of Digital Payments in Tier 2 and 3 Cities
June 10, 2019 | New Delhi, India | By Barkha Patel
Low-cost, easy to use solution to make merchant onboarding quick and completely paperless

Multifaceted distribution strategy to ensure last mile reach


With the aim to speed up acceptance and adoption of digital payments in India, Mastercard and Payswiff have signed a strategic alliance that will cut across non-traditional distribution channels to promote low-cost payments acceptance solutions beyond the top eight cities in the country.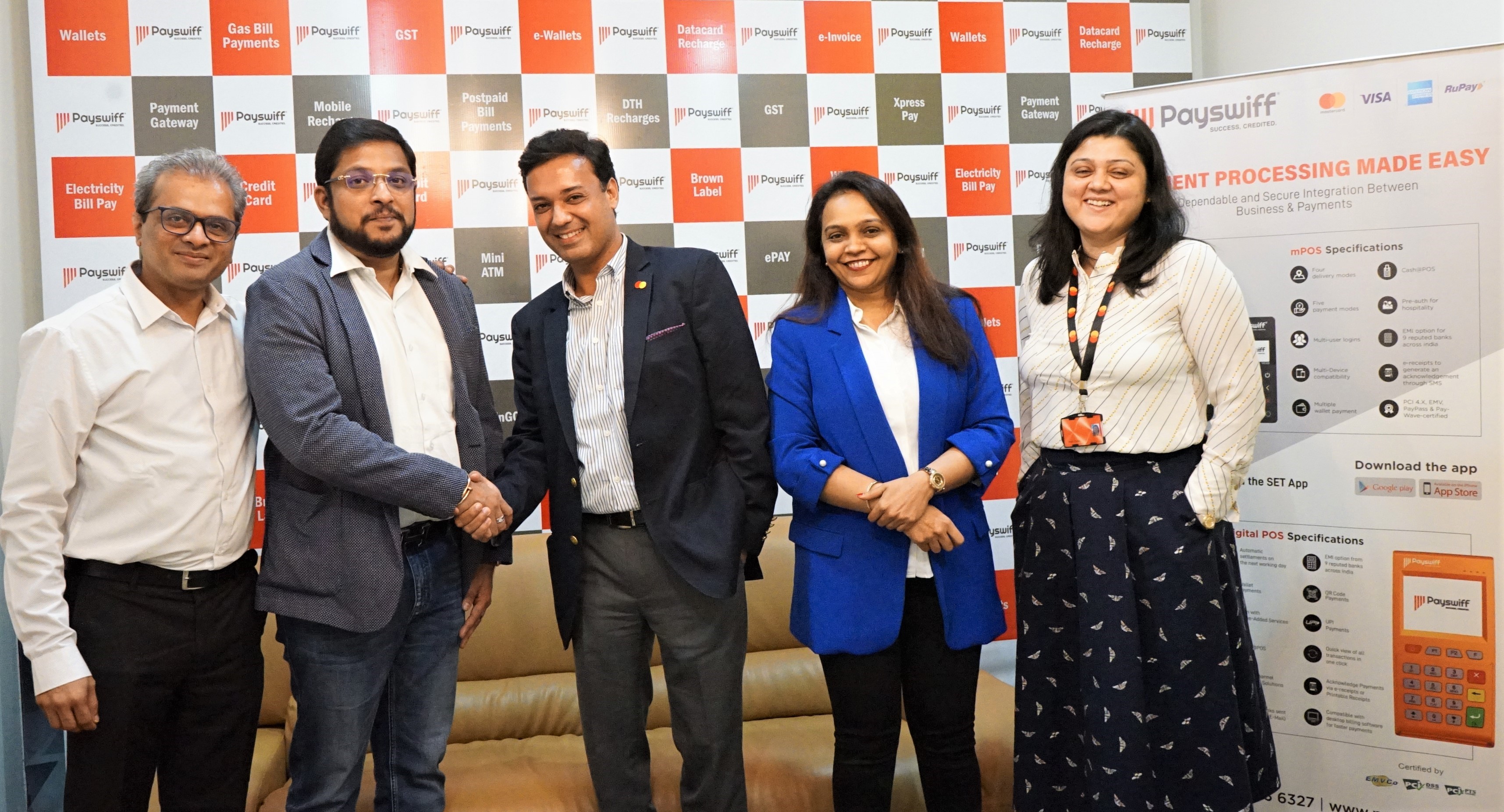 Payswiff's SET, a simple mobile application is at the core of this alliance. It allows individuals and business owners to accept payments using more than 60 payment options, including credit cards and debit cards, e-wallets, e-payment links, UPI, Bharat QR, multi-bank EMI, etc. The application can be downloaded on Google Playstore as well on Apple's App Store. Payswiff SET offers paperless merchant onboarding in less than 15 minutes on all Point-of-Sale (PoS) devices.

Mastercard will work with Payswiff on an omnichannel distribution strategy to provide the app, services and support in regional languages, especially in areas where Point-of-Sale (PoS) machines are not easily accessible. The partners will also focus on innovation and addition of new functionalities such as 'same-day' and 'instant' merchant settlements. This will hugely benefit the micro merchants in small cities as they will be able to unlock additional revenue streams using embedded features in the app such as mobile recharges, utility bill payments, and bus ticketing etc. Over 40 percent of Payswiff's business comes from tier 2, 3 and 4 towns and cities. Payswiff plans to expand its services to over 3,000 locations in rural India, up from 1700 locations as of now.

Talking about Payswiff SET and the partnership with Mastercard, Priti Shah, Co-founder & CEO, Payswiff Solutions Pvt. Ltd. said, "At Payswiff, our continuous endeavor is to make payment transactions simple by developing innovative and user-friendly solutions to address industry pain points. SET is another attempt to fulfill this objective. It encourages individual business owners, small retail stores, cab drivers, quick service restaurants and several other businesses to accept digital payments. We are excited to partner with Mastercard to bring these people to the formal economy and pave new avenues for their growth."

Rajeev Kumar, senior vice president, Market Development, South Asia, Mastercard said, "Merchants and small business owners are a vital part of India's cash-to-digital journey. Mastercard aims to empower merchants across the country, especially in small towns and villages, with digital payments acceptance infrastructure. Mastercard's partnership with Payswiff is a vital step in this journey. It will allow millions of small merchants across the country to experience the convenience, safety and security of digital payments and bring about a behavioral shift in society."

Aided by the Government's push towards Digital India, Mastercard  recently announced an ambitious goal of bringing 10 million merchants into the fold of digital payments by 2020. To achieve this goal, Mastercard has been working on education and awareness programs for merchants, co-development of low-cost acceptance solutions, and merchant onboarding through accelerator programs.
About Payswiff
Founded in 2013 by Prabhu Ram, Priti Shah, Ravi Kiran, Anil Bharadwaj, Krishna Kishore and Maulik Shah, Payswiff (formerly Paynear Solutions) is an omnichannel payment processing and tax-compliance solutions provider. With over 1.5 Lakh devices deployed with merchants in the enterprise and SMB (Small and Medium Business) space, Payswiff has significant reach in the country with presence across over 1700 locations. Payswiff has 450+ associates in 12 countries.
About Mastercard (NYSE: MA)
Mastercard is a global technology company in the payments industry. Our mission is to connect and power an inclusive, digital economy that benefits everyone, everywhere by making transactions safe, simple, smart and accessible. Using secure data and networks, partnerships and passion, our innovations and solutions help individuals, financial institutions, governments and businesses realize their greatest potential. With connections across more than 210 countries and territories, we are building a sustainable world that unlocks priceless possibilities for all.