Asians are Romancing their Valentines Like Never Before: Mastercard Love Index
February 13, 2019 | Singapore | By Barkha Patel
The latest findings from the Mastercard annual study shows Asians are spending 33 percent more on their Valentine than in 2016 to create the perfect romance

Whoever said Asians are not romantic may now have to sing a different tune. The 2019 "Mastercard Love Index" reveals that Asia Pacific leads the world when it comes to increases in sentimental spending for Valentine's Day – total spend during the Valentine's Day period has risen by 33% since 2016, with the overall number of transactions up 37%. In comparison, sentimental spending in the US dropped by 8% during the same time period.

The annual "Mastercard Love Index" was created by analyzing credit, debit and prepaid card transactions over a three-year period (11-14 February, 2016-2018). Sentimental spending represents all spending during this Valentine's Day period in the following categories: restaurants, hotels, transportation, books and records, jewelry and stationery.

The top three Asian markets with the highest increase in sentimental spending are:



Interestingly, while Cupid's arrows seem to strike more frequently in Asia Pacific, the largest percentage of Asians are waiting till the last minute to buy that special gift – 29 percent made their purchases on February 14. This lack of planning hasn't impacted Chinese consumers, however, where 40% of purchases took place on February 12. Last-minute gift purchases may also account for the fact that more Asians still purchase their gifts in person (86 percent) rather than online (10 percent).

When it comes to splashing out on their Valentine, Asians still believe the way to a loved one's heart is still through their stomachs. In 2018, 68 percent of all Valentine's transactions were made in restaurants. This also represents a 41 percent increase in transaction numbers made in restaurants over the past three years. Leading this charge were Indians, who increased restaurant spending by 54 percent.

Asians are also looking to delight their beloved with unforgettable experiences. The data shows the number of transactions on hotel accommodation rose by 27 percent; in the region's two largest markets – China and India – hotel transactions increased by 142 percent and 73 percent respectively. While most Asians continue to spend on transportation, with Filipinos recording a whopping 164 percent increase in 2018, Australians bucked the trend by recording a 66 percent decrease in the number of transactions.

Growth in spending on classic gifts, such as flower bouquets and jewelry, indicate that these continue to be strong expressions of love and affection in Asia. Overall spend on flowers increased by 89 percent in 2018 compared to 2016, and jewelry transactions increased by 32 percent since 2016.

Summary of consumer spending habits during Valentine's Day in Asia Pacific (2016-2018)


Asia Pacific increased sentimental spending by 33% in 2018 from 2016 and volume of transactions increased by 37%.
Increases in spend value and transaction numbers were seen in all purchase categories, with the most significant increases seen in flower purchases: 89% higher in spend value in 2016 and 73% more transactions.
Transactions in transportation (travel by car, coach, train, plane etc.) saw an increase of 25 percent in 2018, accounting for 24 percent of total spend during the Valentine's Day period.
Majority of the Valentine's transactions (29%) take place on Valentine's Day itself (5.8 million transactions).
The share of contactless transactions has increased by 60%, and the value of these transactions increased by 63%.
There was a 32% increase in the number of e-commerce transactions between the 2016 Valentine's Day period and the same in 2018.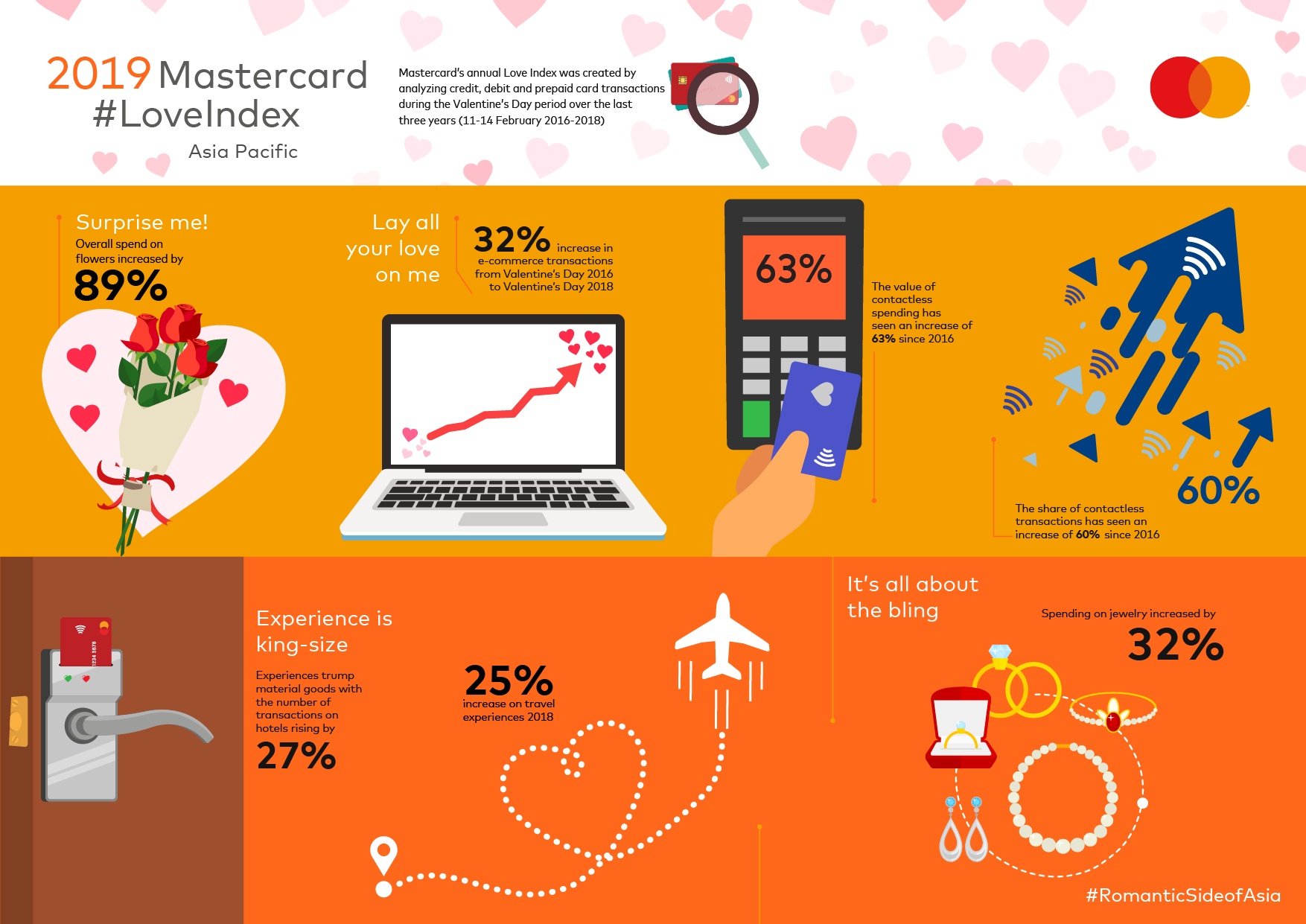 Media Contacts
Daniel Oppitz, Mastercard
Ashleigh Nghiem, Agency (Weber Shandwick)
About Mastercard (NYSE: MA)
Mastercard is a global technology company in the payments industry. Our mission is to connect and power an inclusive, digital economy that benefits everyone, everywhere by making transactions safe, simple, smart and accessible. Using secure data and networks, partnerships and passion, our innovations and solutions help individuals, financial institutions, governments and businesses realize their greatest potential. With connections across more than 210 countries and territories, we are building a sustainable world that unlocks priceless possibilities for all.