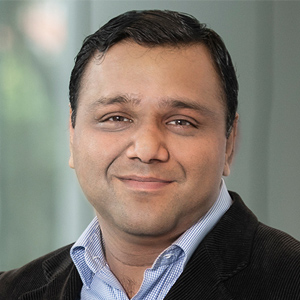 Gautam Aggarwal
Senior Vice President, Regional Chief Technology Officer, Operations and Technology
Gautam acts as Regional Chief Technology Officer (CTO) for Mastercard and is responsible for leading the technology and service operations of Mastercard's network in Asia Pacific (AP) and leading the innovation and delivery of AP-specific technology solutions that are globally scalable. As a member of Mastercard's AP leadership team, he is spearheading Mastercard's $1 billion+ technology investments across Asia. The most current accomplishments under him include:
Driving the delivery of the first PBOC-certified bankcard clearing switch developed by a foreign network that will enable Mastercard's domestic market entry in China; 

Overseeing development and execution of a regional hub for real-time payments; and;

Delivering various on-soil processing flavors in India, Indonesia, Japan, and Vietnam.
Prior to this, Gautam was Group Head of Domestic & Real-time Payments (RTP) responsible for Mastercard's partnerships with domestic schemes to provide RTP technologies in AP. As a thought leader to policy makers and regulators, he created strong pull for RTP technology adoption in the region and executed on Mastercard's RTP and multi-rail strategy by creating a strong sales pipeline. He crafted and led the negotiations of a long-term commercial agreement with BancNet, Philippines's domestic switch, to provide technology, stand-up and manage operations for new national payments infrastructure – the largest and fastest executed deal in Mastercard's RTP history.

Gautam joined Mastercard in late 2014 as Vice President of Global Strategy & Corporate Development. He was the architect of the multi-rail strategy that led to Mastercard's $1 billion+ acquisition of UK-based Vocalink, the leading provider of RTP technology globally. In addition, he formulated Mastercard's country strategy that propelled Mastercard to commit over $1 billion in investments for India; designed a framework and playbook to respond to growing nationalism in payments by taking a partnership-led approach with domestic schemes, and shaped Mastercard's Digital Identity strategy.

Prior to joining Mastercard, Gautam was an Engagement Manager in the Corporate Finance & Strategy practice of McKinsey & Company, New York, where he worked in various industries. He started his career at Deem, a valley start-up, where he spent over 8 years in product development and was instrumental in securing $100 million in Round-D financing from Chase Capital and American Express.

Gautam holds an MBA from The Wharton School at the University of Pennsylvania where he graduated with honors. He also holds a master's and bachelor's degree in computer science from Cornell University and Manipal Institute of Technology (India), respectively. During his MBA, he spent a summer at Bain & Company, New York. After roughly 19 years working in the US, Gautam moved to Singapore in June 2018.