Inclusion
Revolutionizing the increasingly cashless SME Ecosystem
June 27, 2023 | By Maria Barreiros de Juste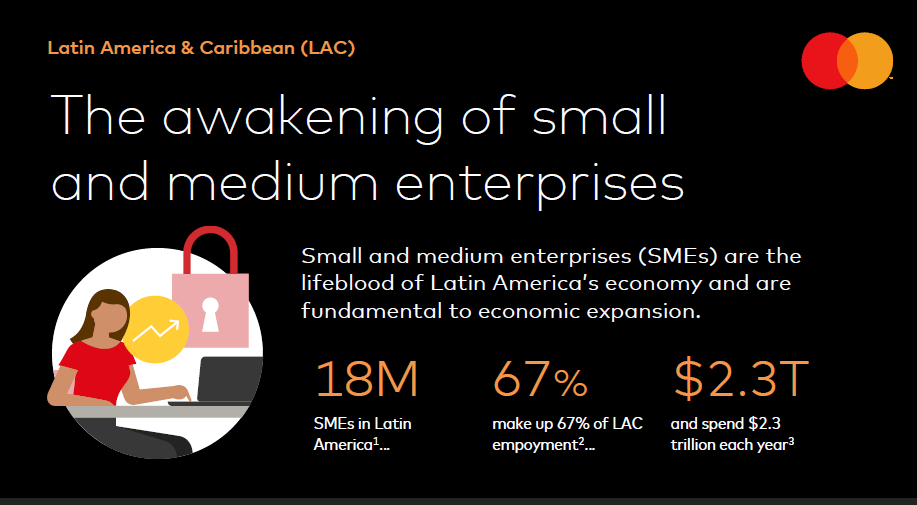 In the realm of financial services, small and medium-sized enterprises (SMEs) are increasingly recognized as a driving force behind economic growth and financial inclusion. In Latin America, estimates suggest that they comprise as much as 99.5% of all businesses in the region.
As we recognize their contributions on Micro-, Small, and Medium-sized Enterprises Day on June 27th, it's also an important time to acknowledge the pivotal role small businesses play in advancing financial inclusion and to advocate for tailored solutions that support their growth.
A time for tailored solutions
As the backbone of many economies, SMEs require a comprehensive suite of services from their financial providers to effectively manage, grow, and protect their businesses. While payment cards remain a crucial aspect, SMEs are seeking "business-in-a-box" solutions tailored to their specific industry needs. As the financial service industry strives to meet the contemporary needs of SMEs, understanding their requirements and offering specialized services becomes paramount.
While certain features are foundational and benefit all businesses, SMEs today demand tailored solutions that cater to their specific business segments. This emphasis on customization has paved the way for the rise of fintechs, which have gained significant traction by offering vertical-specific offerings. By adopting a strategy that enables SMEs to select industry-specific services, financial providers can deliver value-added solutions that address the unique requirements of businesses operating in different sectors.
Earlier this year, Mastercard leaned heavily into its insights to support women entrepreneurs with products and solutions that address owner's daily challenges. As a result, it developed a new value proposition that not only benefits women entrepreneurs, but also improves the responsiveness of card-issuing banks.
Learning from success stories
By examining successful case studies, we can understand the importance of tailored offerings for SMEs. For instance, in the Dominican Republic, SME importers and exporters historically faced challenges with cumbersome check payments or risky cash transactions for their freight costs. Mastercard, in collaboration with multinational logistics company Dubai Ports (DP) World and Banco Popular, transformed this process by digitizing the port and launching a co-branded DP World Trade Card.
This initiative streamlined the payment process, reduced steps, and provided access to credit, enabling SMEs to participate more effectively in global trade. Such success stories underscore the immense value of addressing industry-specific pain points and offering tailored financial solutions.
There also is a growing collection of research showing gaps and opportunities for serving women-owned SMEs. By looking at the example of Banco Pichincha, the largest private financial institution in Ecuador, Mastercard's market and solutions analysis revealed products and services that would bring the bank an additional annual profit of $10 million per year. This case underscores how other institutions can engage in analyzing portfolio data by gender, to strengthen their support for this ambitious segment of the economy.
SMEs' strong role in financial inclusion
While discussions surrounding financial inclusion often center on consumer adoption, no discussion of micro, small and medium-sized enterprises can be complete without a discussion of their contributions to financial inclusion. Indeed, digital financial products are useless to consumers if they don't have anywhere to use them. In regions like Latin America, where the formal economy is relatively small and unemployment levels remain high, self-employment and micro-entrepreneurship thrive.
Our latest research reveals that a majority small businesses surveyed (92%) reported accepting some kind of digital payment. By far, the leading payment method accepted is P2P or bank transfer (82%), followed by online marketplace (33%) and QR code (32%) in third place. Still, these numbers also suggest large levels of informality and the use of personal accounts, as the platforms mentioned do not require that the business be formalized.
Forward-thinking financial service providers have achieved success by designing services for industries such as construction, professional practices, retail, technology, and gig economy workers. In return, by embracing digital payments, SMEs experience benefits such as speed, convenience, increased sales, and enhanced safety.
To truly empower SMEs and understand how to the industry can best meet their needs, Mastercard commissioned two studies, surveyed more than 10 thousand SMEs, interviewed industry experts, and turned to our own SME advisors for recommendations on how financial institutions can deepen their SME relationships. Read some of the key findings in our infographic, and learn more in our latest "Small and medium enterprises are big business" report.