PRESS RELEASE
Mastercard is the official sponsor of the Cricket West Indies and the West Indies Teams
Kingston, Jamaica | June 29, 2023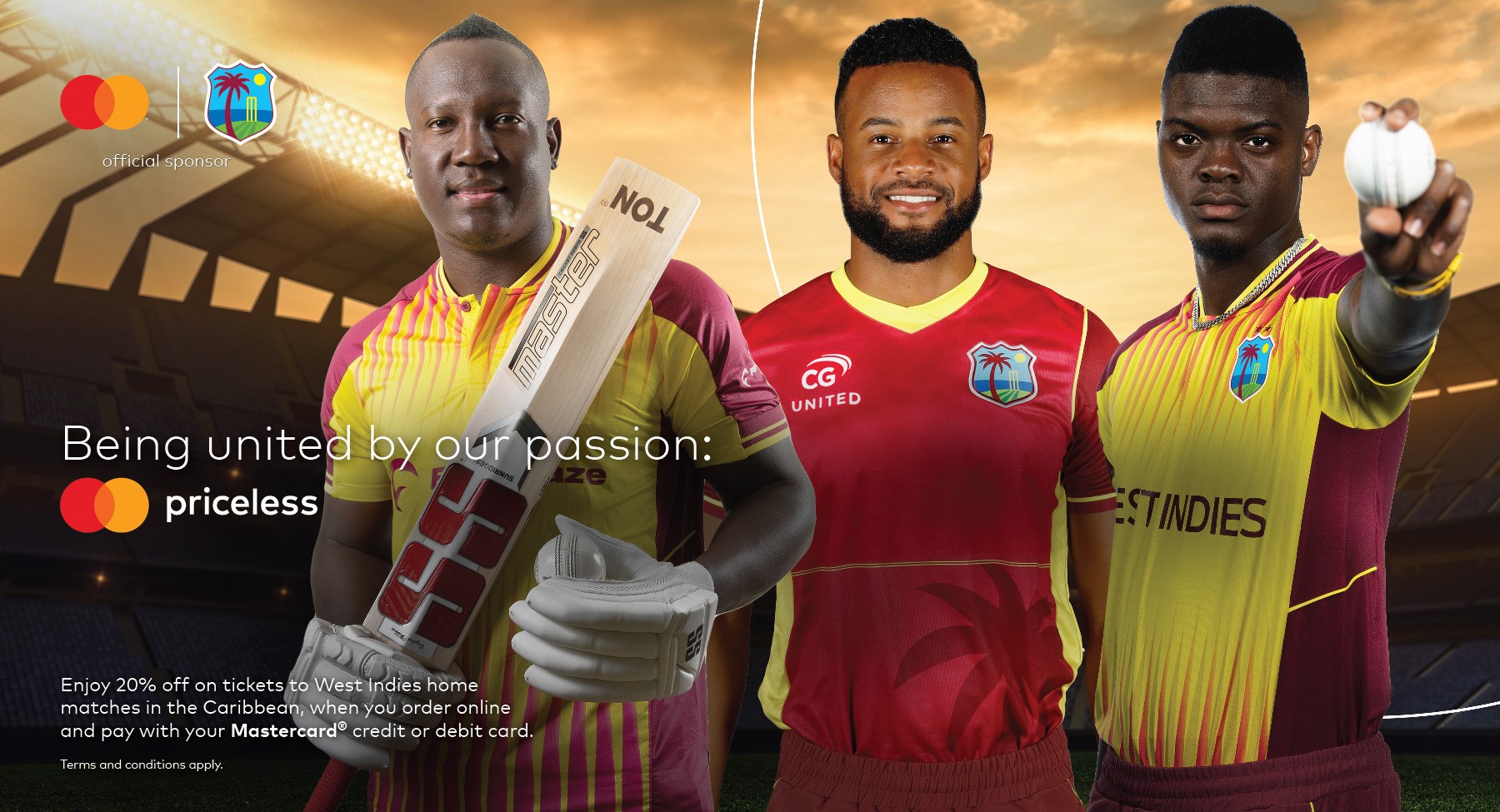 Mastercard keeps fostering sports in the Caribbean as it continues sponsoring all Cricket West Indies (CWI) Men's and Women's Home Internationals and Super50 Cup games for a third consecutive year. As part of its sponsorship, Mastercard will use its assets to help cardholders get closer to the games and athletes they love.
From July to December 2023, Mastercard customers and cardholders will have the opportunity to live curated Priceless experiences around the passion for Cricket on top of an exclusive 20% off promotion on tickets to West Indies home matches in the Caribbean when ordering online and paying with Mastercard credit or debit cards, accessible through an exclusive Mastercard link to the Windies Tickets service.
This continued partnership with CWI and the West Indies teams extends Mastercard's commitment to sports across the Latin American and Caribbean region. Cricket is a true Caribbean passion, and securing this long-term agreement reflects Mastercard's dedication to deepening its connection with the region.
"We're excited that Mastercard's sponsorship with Cricket West Indies will provide this exclusive promotion for many West Indies fans who are Mastercard credit and debit card holders," said Dominic Warne, CWI director of Commercial, Marketing and Communications. "We're sure this will lead to more fans attending the games and supporting the West Indies in 2023."
For more than two decades, Mastercard has partnered with prominent organizations in sports and entertainment to enable cardholders to further tap into their passions through exclusive access, unique experiences, and one-of-a-kind fan engagement opportunities. The CWI and Super50 Cup games are the latest properties to join Mastercard's impressive roster of premier partners.
"Through our continued sponsorship of the CWI and Super50 Cup games, Mastercard reinforces its steadfast dedication to connecting our customers and fans with priceless possibilities, fostering unforgettable experiences deeply intertwined with the region's vibrant culture," said Dalton Fowles, country manager for Jamaica, Trinidad and Tobago, Barbados, and the Eastern Caribbean. "Cricket is not just a sport but a cherished way of life for the English-speaking Caribbean community. We are thrilled to continue this exciting journey, elevating the game throughout the season and bringing fans closer to their passions."
Media Contacts
Sabrina Alvarez, Communications Manager, Mastercard Latin America and the Caribbean
About Cricket West Indies
Cricket West Indies (CWI) takes great pride and responsibility in growing, guiding, and organizing cricket throughout the English-speaking Caribbean countries which form the West Indies, represented internationally by the West Indies men's, women's, and age-group teams. The West Indies international team is unique in cricket and international sport. It is the only team in cricket that represents a group of nations, drawing on the strength, skills, and passion of each nation to unite through cricket and take on the world. CWI is the governing body for all professional and amateur cricket in the region, from the West Indies international teams and home series to regional tournaments such as the West Indies Championship (4-Day), the one-day CG United Super50 Cup and the women's T20 Blaze. www.windiescricket.com
About Mastercard (NYSE: MA)
Mastercard is a global technology company in the payments industry. Our mission is to connect and power an inclusive, digital economy that benefits everyone, everywhere by making transactions safe, simple, smart and accessible. Using secure data and networks, partnerships and passion, our innovations and solutions help individuals, financial institutions, governments and businesses realize their greatest potential. With connections across more than 210 countries and territories, we are building a sustainable world that unlocks priceless possibilities for all.  
Follow us on Twitter @MastercardEU and @MastercardNews, read more about our global impact in Perspectives, and subscribe for the latest news from the Mastercard Newsroom.