PRESS RELEASE
Mastercard and the Caribbean Association of Banks Inc. sign a Memorandum of Understanding
Miami, Florida | June 12, 2023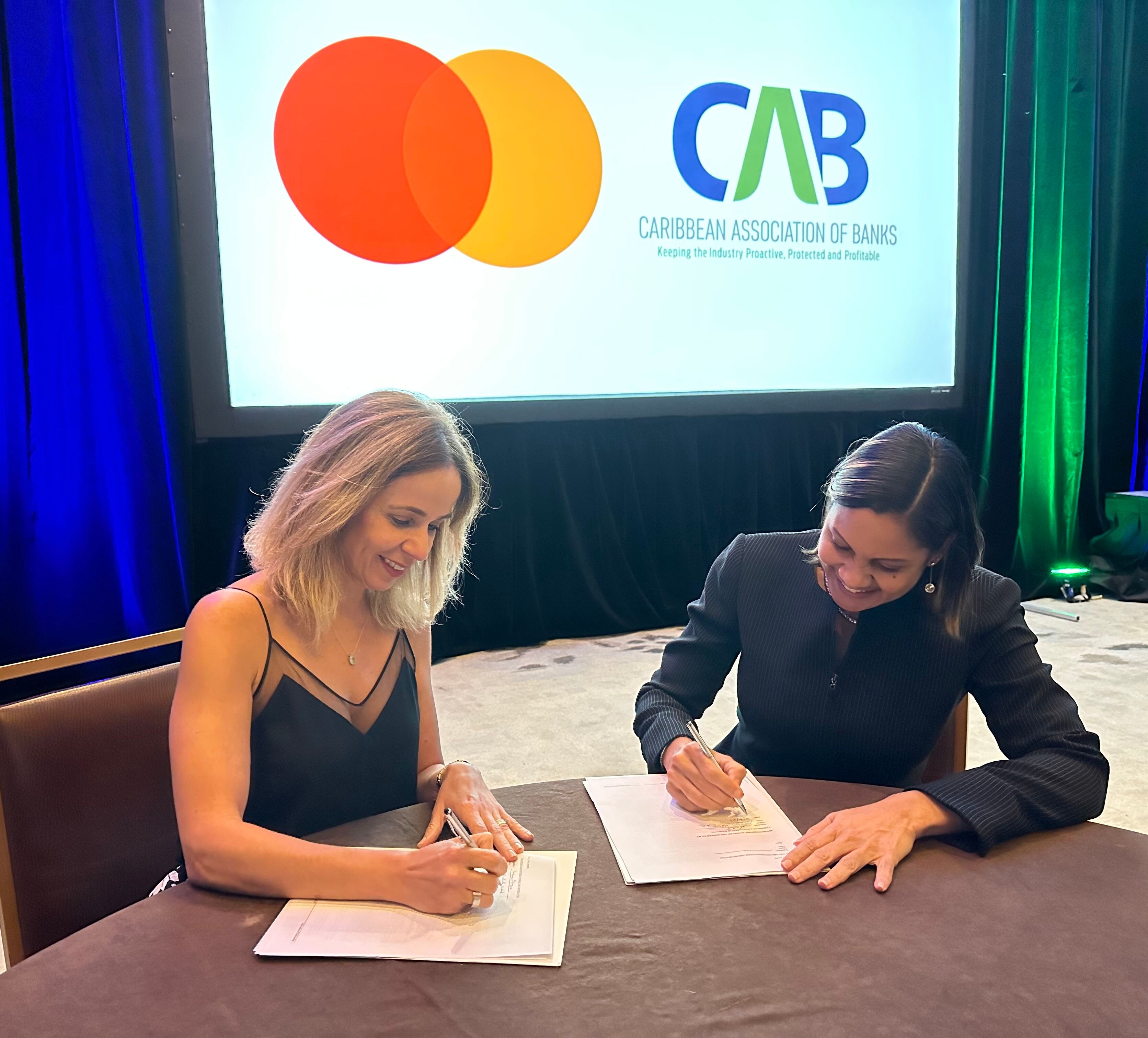 This agreement will focus on enabling intra- and inter-regional payments and expanding financial inclusion in the Caribbean.
Mastercard, a global technology company in the payments industry, has announced the signing of a Memorandum of Understanding (MoU) with the Caribbean Association of Banks Inc (CAB), the representative body and recognized voice for banks and other financial institutions in the Caribbean.
The partnership's central objective is to enable cross-border payments across all CAB member jurisdictions, as a powerful tool to tend to the region's unbanked and underbanked populations and bolster financial inclusion and economic growth. As part of its commitment, Mastercard will activate its technology, resources, and expertise to help banks successfully integrate this innovative solution into their product offerings, as well as share its knowledge and educational platforms to raise awareness among citizens and small business owners on the benefits of this service and other digital financial tools that can help them reach their fullest potential and improve their living standards.
"We are thrilled to enter into this partnership with the Caribbean Association of Banks Inc, which will drive the region's digitalization and offer customers across various sectors, including consumers, SMEs, government agencies, B2B, and commercial entities, a safer, easier, and more convenient way of transferring money across borders," said Mayra Vivacqua, cluster lead for Mastercard Caribbean (West & Dutch, Jamaica & East Caribbean, and Puerto Rico). "The knowledge and data we will leverage from this collaboration will enable us to advance financial inclusion and stimulate economic growth in the Caribbean region."
Mastercard Cross-Border Services help banks modernize and optimize their global payments business to deliver an experience for people and businesses that is secure, seamless, and certain. Ultimately, the collaboration between Mastercard and the Caribbean Association of Banks Inc will provide unbanked and underbanked populations in the English Caribbean access to modern financial services, allowing them to enjoy the benefits of the digital economy and providing them with priceless payment experiences.
"I am profoundly satisfied with the successful execution of this Memorandum of Understanding. Cognizant of the immense challenges faced by the region, concerning intra and inter-regional payments, primarily as a result of the onslaught of de-risking activity, this is certainly a step in the right direction and exemplifies the tireless efforts of the CAB to identify innovative solutions to the challenges of present," said Wendy Delmar, chief executive officer of the Caribbean Association of Banks Inc. "The CAB acknowledges the increasing costs and complexity related to the transfer of funds among jurisdictions and is pleased to provide an option to the public via our member banks that are cost-efficient and underpinned by the adoption of technology."
This partnership is part of Mastercard's commitment to offering solutions that respond to specific market needs, benefiting millions of people in the Caribbean and taking a significant step towards achieving financial inclusion in the region.
Media Contacts
Sabrina Alvarez, Manager, Communications
About Mastercard (NYSE: MA)
Mastercard is a global technology company in the payments industry. Our mission is to connect and power an inclusive, digital economy that benefits everyone, everywhere by making transactions safe, simple, smart and accessible. Using secure data and networks, partnerships and passion, our innovations and solutions help individuals, financial institutions, governments and businesses realize their greatest potential. With connections across more than 210 countries and territories, we are building a sustainable world that unlocks priceless possibilities for all.  
Follow us on Twitter @MastercardEU and @MastercardNews, read more about our global impact in Perspectives, and subscribe for the latest news from the Mastercard Newsroom.