Press Release
Binance and Mastercard launch prepaid crypto card in Brazil, one of the world's largest crypto markets
January 30, 2023 | São Paulo
Brazil is among the top 10 markets for Binance globally becomes the second country in the region to release the product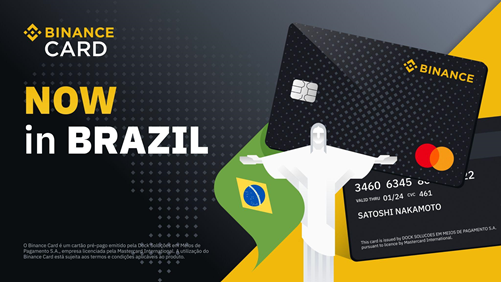 São Paulo, January 30, 2023 - Binance, the world's leading blockchain and cryptocurrency infrastructure provider, and Mastercard announce the launch of Binance Card in Brazil. Brazil is among the top 10 markets for Binance globally and becomes the second country in Latin America to have the product, following its release last year in Argentina. The prepaid card is part of the ongoing efforts toward evolving the bridge between existing financial services and the growing crypto ecosystem. The card is in a testing phase and will be widely available in the coming weeks.
The Binance Card issued by Dock will allow all new and existing Binance users in Brazil with a valid national ID to make purchases and pay bills with cryptocurrencies, including Bitcoin and BNB, at over 90 million Mastercard merchants worldwide, both in-store and online. Users can enjoy a seamless transaction in which their cryptocurrencies are converted to fiat currency in real-time at the point of purchase. One of the perks includes up to 8% cashback in crypto on eligible purchases and zero fees* on ATM withdrawals.
Binance cardholders will be able to manage their cards through the card dashboard on the Binance App and website. Users will also be able to view their transaction history and access customer support via the card dashboard. By using the Binance Card, merchants continue to receive fiat and the users pay in any cryptocurrency they choose across 14 supported currencies. 
"Brazil is an extremely relevant market for Binance and we will continue to invest in new services for local users, as well as contributing to the development of the blockchain and crypto ecosystem in the country. Payments is one of the first and most obvious use cases for crypto, yet adoption has a lot of room to grow. We believe the Binance Card is a significant step in encouraging wider crypto use and global adoption, and the openness of Brazilians to innovation makes the country a great market for this release", said Guilherme Nazar, General Manager at Binance for Brazil.
The 2022 Mastercard New Payments Index, a global survey of more than 35,000 respondents, found that Brazil is one of the top markets in crypto interest across the world: 49% of Brazilian consumers have done at least 1 crypto related activity in the past year in comparison with the global average of 41%.
Brazilians are eager to embrace crypto beyond an investment asset. Today is an exciting step in our crypto journey, which draws on the strengths of both our trusted global network and Binance's infrastructure to support consumer choice in payments,
Binance Card holders in Brazil will be able to pay by using 14different currencies, including the Brazilian Real, BNB, BUSD, USDT, BTC, ETH, Santos fan token, ADA, DOT, SOL, SHIB,  XRP, MATIC e LINK. Users can select in the app or platform the preferred currencies they intend to use. Payments with BRL are zero fee*, while there's an applicable 0.9% conversion fee on payments using cryptocurrencies.
In addition to supporting additional cryptocurrencies, Binance plans to continue to expand the card into new markets around the world.
*Please note that third-party services and network fees may apply.
Media Contacts
Andrea Denadai, Mastercard
About Binance
Binance is the world's leading blockchain and cryptocurrency infrastructure provider with a financial product suite that includes the largest digital asset exchange by volume. Trusted by millions worldwide, the Binance platform is dedicated to increasing the freedom of money for users and features an unmatched portfolio of crypto products and offerings, including trading and finance, education, data and research, social good, investment and incubation, decentralization and infrastructure solutions, and more. For more information, visit https://www.binance.com.
About Mastercard (NYSE: MA)
Mastercard is a global technology company in the payments industry. Our mission is to connect and power an inclusive, digital economy that benefits everyone, everywhere by making transactions safe, simple, smart and accessible. Using secure data and networks, partnerships and passion, our innovations and solutions help individuals, financial institutions, governments and businesses realize their greatest potential. With connections across more than 210 countries and territories, we are building a sustainable world that unlocks priceless possibilities for all.  
Follow us on Twitter @MastercardEU and @MastercardNews, read more about our global impact in Perspectives, and subscribe for the latest news from the Mastercard Newsroom.