• U.S., Canada, U.K, Panama and Colombia top the list of most visited destinations among those living in Latin America and the Caribbean.
MIAMI – May 18, 2022 – After a turbulent two years, new research from the Mastercard Economics Institute reveals that global leisure and business flight bookings1 have surpassed pre-pandemic levels. Released today, Travel 2022: Trends and Transitions delivers critical insights across 37 markets about the global state of travel in a post-vaccine and less restricted chapter of the pandemic era.
Importantly, according to the Mastercard Economics Institute analysis, if flight booking trends continue at the current pace, an estimated 1.5 billion more passengers globally will fly in 2022 compared to last year. If the same trends continue in the Latin America and Caribbean region, an estimated 120 million more passengers in Latin American and the Caribbean (LAC) will fly this year, compared to last year. Drawing on a unique analysis of publicly available travel data2, as well as aggregated and anonymized sales activity in the Mastercard network3, the report dives into key elements of the traveler journey. Key findings through April 2022 include: 
Leisure and many business flights surpass pre-pandemic levels:
Travel recovery has been a key area of focus for much of the pandemic. By the end of April, global leisure flight bookings surpassed 2019 levels by 25%; global short- and medium-haul leisure flight bookings were up 25% (compared to 70% in LAC) and 27% (compared to 69% in LAC), respectively. In addition, global business flight bookings exceeded pre-pandemic levels for the first time in March. In Latin America & the Caribbean, short-haul travel had fully recovered by early 2021, medium haul by September 2021, and long haul still yet to fully recover.
Hard-hit transportation industries see spending rebound:
Recent spending levels point to greater comfort with group travel. Global spending on cruises gained 62 percentage points from January to the end of April, though remains below 2019 levels. Buses are back at pre-pandemic levels, while passenger rail spend remains 7% below. Meanwhile, car road trips maintain their appeal, with spending on tolls and auto rentals up nearly 19% and 12%, respectively.
Travel spending shifts back to experiences4 over things:
For the better part of a year, international tourists spent more on experiences (amusement parks, museums, concerts, and other recreational activities) instead of souvenirs when in destination. Global experiential spending is now 34% above 2019 levels; the areas seeing the largest spending increases are bars and nightclubs (72%) and amusement parks, museums, concerts and other recreational activities (35%). In Brazil, spending on experiences is up almost 40% compared to 2019, while spending at various retail stores and outlets is down more than 11%.  
Loosening of restrictions recalibrates tourism map for 2022:
Not surprisingly, people chose their travel destinations based on their mobility restrictions. This was clear in popular destinations for U.S. travelers, who travelled to the Dominican Republic, Jamaica, and other markets, where restrictions were less stringent. In fact, bookings from the U.S. to the Dominican Republic, Mexico, Jamaica, and Puerto Rico are up nearly 84%, 73%, 65%, and 56%, respectively, compared to 2019. These same countries also were among the Top 10 destinations for American travelers, where a concerted push to attract "remote workers" and "digital nomads" have spurred an influx of tourists. Meanwhile, the U.S., Canada, U.K, Panama and Colombia were top destinations of choice among Latin American travelers by the end of March.
La flexibilización de las restricciones reorganiza el mapa del turismo para el 2022:
Naturalmente, la posibilidad y la conveniencia de viajar han sido factores determinantes a la hora de seleccionar los destinos. Esto se hizo evidente en los destinos populares para los viajeros norteamericanos, que viajaron a República Dominicana, Jamaica y otros destinos donde las restricciones eran menos estrictas. De hecho, las reservaciones desde Estados Unidos hacia República Dominicana, México, Jamaica y Puerto Rico aumentaron casi 84%, 73%, 65% y 56% respectivamente, en comparación con 2019. Estos mismos países figuran entre los 10 destinos preferidos por los viajeros norteamericanos, por el impulso de los "trabajadores remotos" y los "nómades digitales", que provocó la afluencia de turistas. Mientras tanto, los destinos más elegidos por los latinoamericanos hacia fines de marzo eran Estados Unidos, Canadá, Reino Unido, Panamá y Colombia. 
Auto rentals see spending rebound:
Road trips maintain their appeal, with global spending on tolls and auto rentals up nearly 19% and 12%, respectively. As Latin American and the Caribbean countries began to ease travel restrictions in the spring of 2021, cross-border spending on auto rentals has begun to accelerate and has reached the pre-pandemic levels by May 2021.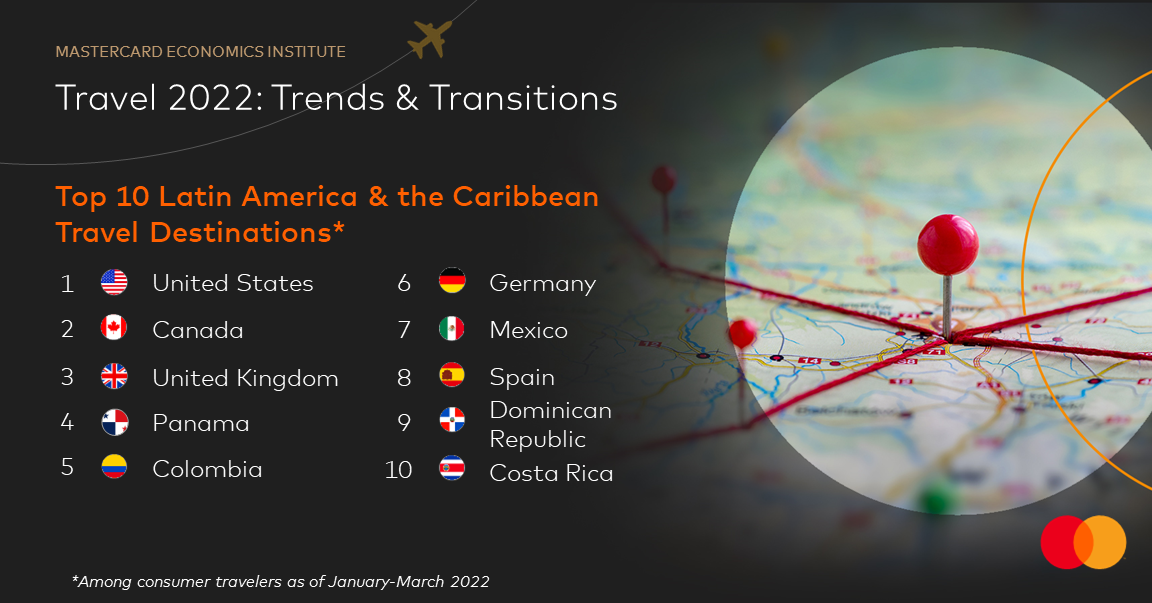 Like any flight, the travel recovery has faced both headwinds and tailwinds. As the 'Great Rebalancing' takes place around the world, this mobility is critical to a return to pre-pandemic life. The resilience of the consumer to return to 'normal' and make up for lost time gives us optimism that the recovery will continue directionally, even if there are bumps along the way.
Comprehensive Support to Travelers & Tourism Sector
Mastercard delivers peace of mind, convenience and value for consumers and businesses of all sizes as they adjust to the return of travel. Whether their journey is near or far, consumer, corporate and T&E cardholders have access to an expanding list of programs, platforms and partnerships. Mastercard Travel & Lifestyle Services provides travel planning, offers, booking, guarantees and 24/7 hands-on concierge support. While in destination, Priceless.com gives travelers access to once-in-a-lifetime experiences, benefits and offers like Mastercard Travel Rewards. And, for small business travelers, Mastercard Easy Savings offers discounts and purchasing power at digital business service providers, fine-dining restaurants and international retailers and hotels.
Mastercard is also dedicated to helping the global tourism sector recover and welcome travelers through a range of services, from market analysis and high-frequency data insights that help make sense of changing consumer trends to marketing solutions and consumer engagement strategies that drive brand loyalty and maximize bookings. Most recently, the Tourism Innovation Hub in Spain was launched to develop tailored products and solutions to support a sustainable, inclusive return to travel through innovation, research and
You can view the full Travel 2022: Trends and Transitions here. Other reports from the Mastercard Economics Institute can be found here.  
--
1 Corresponds with the number of flight bookings made during reference period relative to the same time in 2019. Based on aggregated & anonymized flight booking data provided by third party partners, sourced by Mastercard Economics Institute.
2Google Community Mobility Reports, IATA passenger data, and macroeconomic indicators from various national statistics reporting agencies.
3 Based on aggregated & anonymized Mastercard switched volumes (nominal US dollars unadjusted for FX), sourced by Mastercard Economics Institute.
4"Experiences" includes tourists spending at restaurants, amusement recreation activities, casinos, nightclubs, bars and other events, while "Things" includes convenience store chains, apparel, cosmetics, sporting goods, jewelry, footwear, bookstores, electronics, toys and department stores. Excludes transportation and lodging spend. Represents analysis of aggregated & anonymized aggregated & anonymized Mastercard switched volumes (nominal US dollars unadjusted for FX) for leisure travelers while in-destination.
Media Contacts
Andrea Denadai, Mastercard
Disclaimer 
This presentation and content are intended solely as a research tool for informational purposes and not as investment advice or recommendations for any particular action or investment and should not be relied upon, in whole or in part, as the basis for decision-making or investment purposes. This presentation and content are not guaranteed as to accuracy and are provided on an "as is" basis to authorized users, who review and use this information at their own risk. This presentation and content, including estimated economic forecasts, simulations or scenarios from the Mastercard Economics Institute, do not in any way reflect expectations for (or actual) Mastercard operational or financial performance. 
About Mastercard Economics Institute
Founded in 2020, the Mastercard Economics Institute draws on unique, high-frequency and actionable economic measurement to give leaders in business and government the insights needed to make thoughtful decisions with better outcomes. ​ 
About Mastercard (NYSE: MA)
Mastercard is a global technology company in the payments industry. Our mission is to connect and power an inclusive, digital economy that benefits everyone, everywhere by making transactions safe, simple, smart and accessible. Using secure data and networks, partnerships and passion, our innovations and solutions help individuals, financial institutions, governments and businesses realize their greatest potential. With connections across more than 210 countries and territories, we are building a sustainable world that unlocks priceless possibilities for all.  
Follow us on Twitter @MastercardEU and @MastercardNews, read more about our global impact in Perspectives, and subscribe for the latest news from the Mastercard Newsroom.