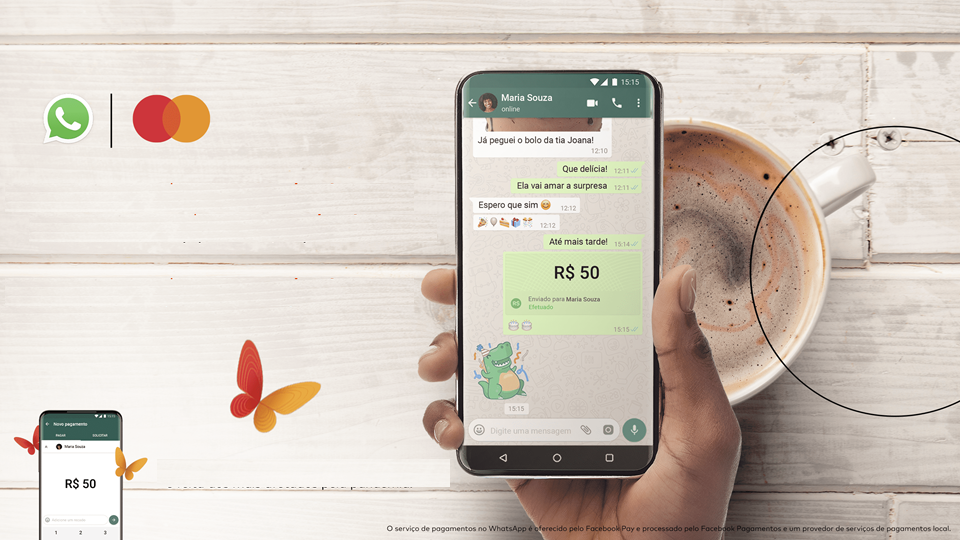 Mastercard cardholders can now send and receive money using WhatsApp in Brazil
WhatsApp users in Brazil can quickly, conveniently, and securely transfer money directly on the app
São Paulo, May 4th, 2021 – Starting today, Mastercard cardholders in Brazil can send and receive money to and from friends and family through WhatsApp. Mastercard debit cardholders with cards issued by Banco Inter, Itaú, Nubank and Sicredi will be able to use the innovative P2P WhatsApp service. The payments service on WhatsApp is enabled by Facebook Pay and processed by Facebook Pagamentos and Cielo.
The announcement comes after the Brazil Central Bank officially granted a Payment Initiator license to Facebook Pagamentos do Brasil Ltda and approved Mastercard's new transfer scheme. Additional banking partners are expected to join the program soon.
The service leverages Mastercard Send™ to enable real-time* payments for millions of WhatsApp users in Brazil who can now transfer money to friends and family in a fast, simple and secure manner. Mastercard Send is part of Mastercard's multi-rail proposition, and enables people and organizations to send and receive money how, where and when they choose, across both card and real-time payments rails, providing increased choice, access and financial control.
Every payment made on WhatsApp is protected by multiple layers of security. Mastercard tokenization solutions leverage the bank authentication to ensure the WhatsApp user is the card owner. Tokenization protects the cardholder's information by replacing the original 16-digit card number with a unique alternative number, or 'token', which is associated with the individual debit card number for each WhatsApp user and will not work elsewhere. Consumers create the token, then enter their Facebook Pay security PIN or device biometrics whenever they want to make a transaction.
In a survey on real time payment methods conducted by Mastercard, about 75% of Brazilians would like to be able to make payments in real time, regardless of the financial service provider, while 53% would like to make this type of payment using messaging or social media apps.
"This partnership with Facebook illustrates our ability to offer new and innovative ways to send and receive money in Brazil, with the needs of our customers at the core of our business strategy. By 2030, 55% of Brazilians expect all financial transactions to be made in real time (with funds available immediately). To make this possible, we will continue to work on developing interoperable solutions and standards focused on efficiency and user experience", said João Pedro Paro Neto, Mastercard President for Brazil and the Southern Cone.
"We are excited about the availability of this service. Facilitating the sending and receiving of money safely could not be more important at this time, as it not only decreases people's exposure to the pandemic, but also helps loved ones stay connected, broadens access to financial services and enables more people to participate in the digital economy," said Matt Idema, WhatsApp's Chief Operating Officer.
"Inter's goal is to simplify every aspect of daily life, where payments play an important role. We believe in easy and safe ways to provide payments solutions to our clients and using WhatsApp to do this is a great user experience", says Ray Chalub, Inter COO.
"Nubank always believed in reducing complexity in people's lives. Using technology, we shortened the barriers that left millions of Brazilians without access to financial services. With this partnership, our customers will have another option to make payments as easily as they talk to friends and without paying anything extra for it," says Cristina Junqueira, cofounder of Nubank.
"This is another solution that creates convenience for our more than five million members, as WhatsApp is an application that is already very present on people's day and now also adds the transfer feature in a simple and safe way", comments Gisele Rodrigues, Superintendent of Payment Solutions at Sicredi.
By enabling payments between people on WhatsApp, Brazilians will now be able to send and receive amounts conveniently and securely by registering their debit card in the country's most loved messaging app, minimizing the risks and inefficiencies associated with other payment methods, including cash.
Learn how to use the new service here: www.whatsapp.com/payments/br
*Actual posting times for approved transactions will depend on the receiving financial institution.
Join in: Start Something Priceless
Launched in June 2020, the "Join in: Start Something Priceless" movement has already donated more than 5 million meals to people in socially vulnerable situations in Brazil. With the launch of transfers between consumers via WhatsApp, the movement inaugurates a new stage. Now, for each transaction made in the application with Mastercard, the company will donate 2 cents to support those most affected by the Covid-19 pandemic.
About Mastercard Send™
Mastercard Send™ allows people and organizations to send and receive money how, where and when they choose. Mastercard Send™ plays a key role in diversifying Mastercard's payment flows and enhancing payment experiences for customers.
About Mastercard (NYSE: MA)
Mastercard is a global technology company in the payments industry. Our mission is to connect and power an inclusive, digital economy that benefits everyone, everywhere by making transactions safe, simple, smart and accessible. Using secure data and networks, partnerships and passion, our innovations and solutions help individuals, financial institutions, governments and businesses realize their greatest potential. With connections across more than 210 countries and territories, we are building a sustainable world that unlocks priceless possibilities for all.  
Follow us on Twitter @MastercardEU and @MastercardNews, read more about our global impact in Perspectives, and subscribe for the latest news from the Mastercard Newsroom.