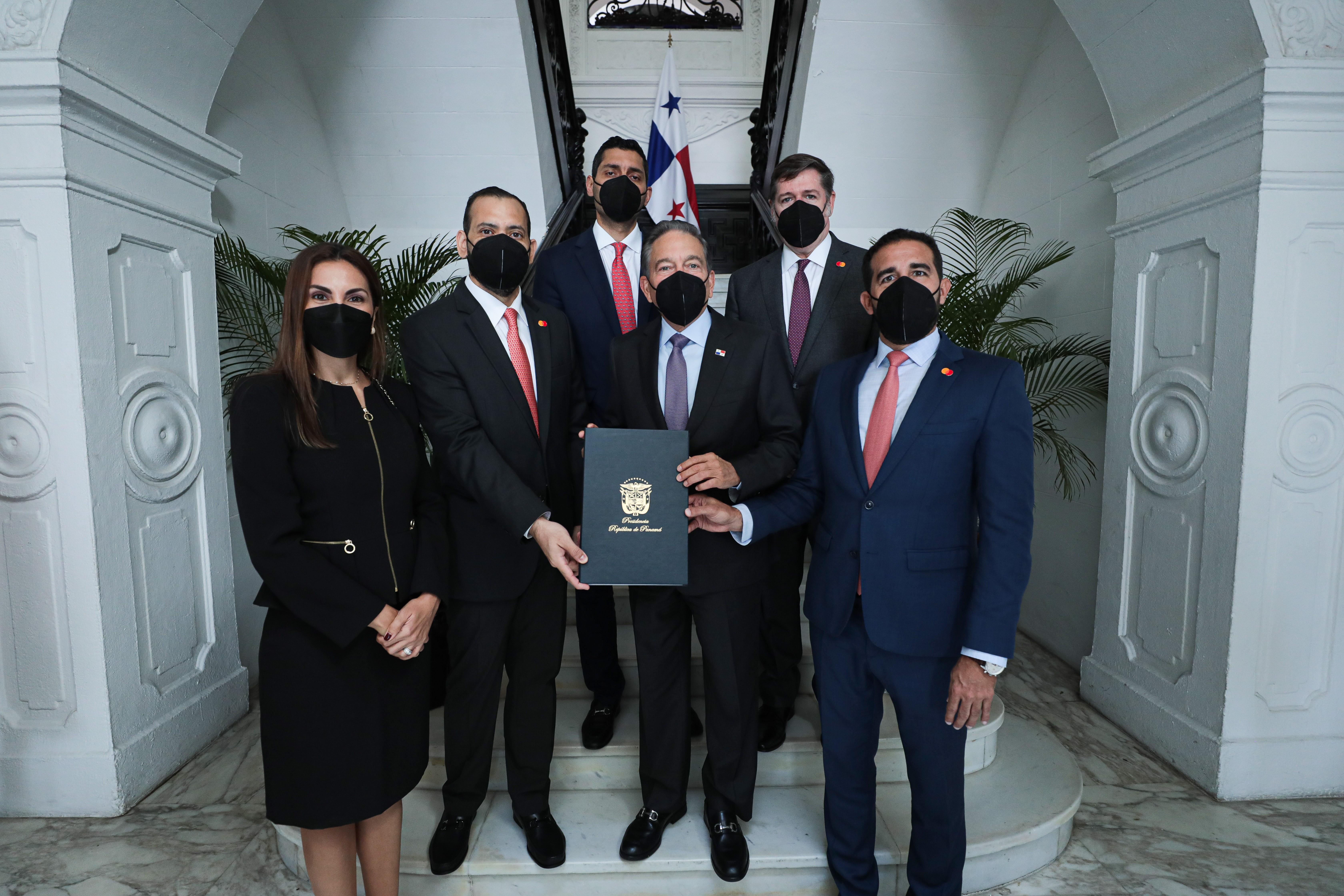 Panama becomes the first country in Latin America and the Caribbean to sign a Digital Country Partnership focused on promoting the Government's Digital Agenda
The agreement describes a series of initiatives focused on digitizing payments, financial inclusion, and economic development, with programs that include direct benefits for its citizens.
Mastercard is committed to working with the Panamanian Government Innovation Authority (AIG), to provide access to cybersecurity solutions and Mastercard Digital ID*, as well as to create an education strategy for the national cybersecurity plan.
In Panama, Mastercard has emerged as a strategic ally in the development of the government's digitization agenda, providing its knowledge and extensive experience as an innovative leader in payments, digital infrastructure, security, and solutions for cyber fraud. With this partnership, Mastercard will support the government's efforts to provide training and continuous education to its citizens and small business owners, on topics such as digital security and electronic payments, which will result in a wide range of benefits for Panamanians.
"At Mastercard, we know the power and economic value of digital payments, especially at a time when Panamanians require flexible financial tools that empower them to boost their businesses amidst digital transformation. This partnership, the first of its kind in Latin America, will combine Mastercard's capabilities and experience as an industry leader, to drive a program that facilitates digital acceleration in areas such as commerce, social benefit sharing, transportation, tourism, and economic development for small and medium-sized companies, thus creating a future in which technology acts as an inclusive enabler of national progress," stated Michael Froman, Vice Chairman and President of Strategic Growth for Mastercard.
Key benefits of the agreement:
Financial inclusion: In support of the government's digital transformation process, which seeks in part to bank those citizens who do not have any type of formal bank account that allows them to make purchases, including online purchases, Mastercard will provide innovative digital payment options to enable payments or top-ups through the government´s integrating platforms. Explore opportunities for cooperation with the national banking system to implement Social Benefit Programs with an offer of instant digital cards (with the option of also having physical cards), associated to the government's integrated platform of electronic payments, to make purchases at thousands of merchants nationwide, with secure transactions and obtaining benefits, discounts and promotions from Mastercard in many establishments.
Small Businesses: Mastercard will make its Digital Allies platform available to micro, small, and medium-sized companies, including those in the agricultural and industrial sectors, as well as a financial education plan through AMPYME, in order to ensure greater acceptance rates for digital payment solutions, even in remote and hard-to-reach areas.
Transit: Support for the modernization of payments in the public transportation system creating efficiencies through payments in METRO and MIBUS enabling multi-modal access cards. Also, Mastercard, in alliance with the PANAPASS toll system, will offer users digital top-ups with cards, in an efficient, fast and secure way; through a promotional campaign to minimize dependence on cash as a form of payment.
Tourism Recovery: Promote and increase tourism activity, at the right time. Provide data and analytics that help identify new trends in the tourism sector and, thus, promote the tourism market, enabling digital payment solutions for local and international promotion programs, as well as the launch of a tourist welcome card enabled with contactless payment technology.
For the National Government, any policies and programs that help democratize access to technology and digital payments are key to a prosperous and inclusive economic recovery, which will provide well-being, security, and a better quality of life for all Panamanians.
"Mastercard is committed to Panama because we understand the significant progress made in digital government through the implementation of initiatives for the simplification, standardization and modernization of government processes. Our contribution by promoting electronic payments helps strengthen the economy through the introduction of efficient and reliable financial inclusion solutions with tangible benefits for citizens." said Germán Rosón, Mastercard Country Manager for Panama and El Salvador.
By signing this agreement, one of the most important companies in this sector will support the National Government and its institutions, in the implementation of the projects that support the government's digital agenda, including plans such as solutions for Digital ID*, cybersecurity, and the banking and financial inclusion plan.
****The signing of this agreement was made possible thanks to the joint efforts of the National Government, AIG and Mastercard.  The agreement was signed by the Administrator of the Government Innovation Authority (AIG), Luis Oliva and the Country Manager of Mastercard, Germán Rosón, who were present at the event. Also present at the event were the President of the Republic, Laurentino Cortizo Cohen, who served as a witness of honor, and Michael Froman, Vice Chairman and President of Strategic Growth for Mastercard, who was present via videoconference.
*** Digital ID - Mastercard's digital identification service. For us, digital identity is a set of data that defines an individual. This data set, when linked to an individual, is verified and made accessible via secure means, while remaining under the user's control; this forms the essence of digital identity. Its main goal is not only to identify someone, but, above all, to confirm their right to access a service or perform a specific task.