Mastercard Launches Digital Acceleration Platform to Support Small Businesses in Latin America & the Caribbean
MIAMI, FL | July 8, 2020
Through a new platform, the company and its partners will provide benefits and free services to small businesses in LAC

As businesses seek to draw customers, Mastercard is launching new initiatives to support them. Today, the company introduced its Small Business Digital Acceleration Platform, a resource for small business owners looking to expand their business digitally. The platform provides small companies a pathway to expand their online presence, protect their online operations, and adapt to the new business environment. 


Expanding Digitally with Speed and Safety Prioritized

Amidst stay-at-home guidance, many consumers have turned to online shopping, and these behaviors won't quickly shift. Small businesses looking to accommodate evolved customer behaviors and drive new revenue streams are turning to supplementary online channels. To help this expansion, Mastercard has launched its Small Business Digital Acceleration Platform, an initiative to deliver new services, benefits, and resources that small business owners need to get online quickly and safely.


From allowing small business owners to quickly establish an online presence, to understanding how to market their companies in the digital space, these resources enable business owners to focus on their day-to-day and their future.
Some of the top benefits and partners include the following:
E-commerce Enablement: Now, more than ever, small businesses are looking to sell their products online, and they are seeking technology and tools that can help them in this transition. Partners offering benefits in this space include Mercado Libre, Linio (Chile), Stripe (Mexico and Brazil), GuruHotel (Central America and Mexico), MiTienda (Peru), Nidux (Central America), and Nuvemshop (Brazil).

Business tools: Small businesses need the right tools to continue operating their business remotely as several markets remain in lockdown. Because of this, Mastercard has partnered with Cisco to deliver solutions such as Webex to help small businesses stay connected with their staff and customers remotely.

Foreign Trade Consulting: Businesses seeking to increase their revenues by exporting will be able to take advantage of free foreign trade consulting by international trade experts RGX. 

Digital Marketing:  For small businesses, establishing an online presence has never been more critical. To that end, Mastercard has partnered with Leafgrow to help small businesses develop, manage and track marketing campaigns through social media.

Education: These days, small businesses need information and data to adapt their operations to navigate the new environment. For that reason, Mastercard is teaming up with multiple organizations across the region to provide free online training and mentorships. Examples include free access to INCAE's educational resources and Virtual Accelerator program, SheWorks, and Alianza Empreendedora (Brazil). The company is also offering new specialized resources to navigate the pandemic through MastercardBiz.
Free Cybersecurity Assessments and ID Theft Protection: To protect small businesses as they take their companies online, Mastercard is providing them free cyber vulnerability assessments and identity theft protection through December 31st, 2020. 

"The digital health of small businesses – not only through this crisis but beyond – is a key strategic priority for Mastercard," said Daniel Acosta, VP of Commercial Products for Mastercard LAC. "By enabling small businesses to move online, we can help them build new revenue streams that sustain them through the COVID-19 crisis and emerge stronger on the other side."


A Multi-Pronged Approach to Support Small Businesses 

Mastercard's Small Business Digital Acceleration Platform is a critical component of the company's COVID-19 response, including a global funding pledge, a digital inclusion commitment, free solutions and services, and its Small Business website MABiz. As part of its commitment to support small businesses, Mastercard recently announced it would bring 50 million small businesses, including 25 million women entrepreneurs, into the digital economy by 2025. Also, it pledged $250 million to support small businesses globally over the next five years. 

As the crisis evolves, the company is exploring new ways of leveraging its assets and partnerships to enrich the program further and support small businesses as they grow their online presence.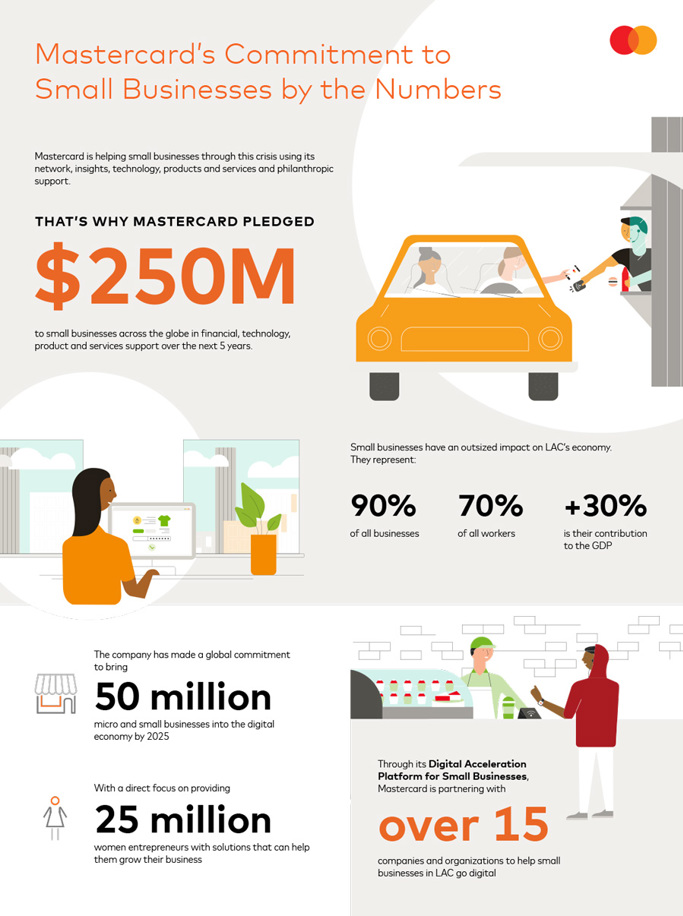 About Mastercard (NYSE: MA)
Mastercard is a global technology company in the payments industry. Our mission is to connect and power an inclusive, digital economy that benefits everyone, everywhere by making transactions safe, simple, smart and accessible. Using secure data and networks, partnerships and passion, our innovations and solutions help individuals, financial institutions, governments and businesses realize their greatest potential. Our decency quotient, or DQ, drives our culture and everything we do inside and outside of our company. With connections across more than 210 countries and territories, we are building a sustainable world that unlocks priceless possibilities for all.