Mastercard Joins HKMA's e-HKD Pilot Programme
May 19, 2023 | Hong Kong
Mastercard announced that it has been selected to participate in the Hong Kong Monetary Authority's (HKMA) e-HKD Pilot Programme. This programme is a key component of Rail 2 under the HKMA's three-rail approach to paving the way for the possible implementation of a retail Central Bank Digital Currency (CBDC), i.e. an e-HKD, in the future.
In the first round of pilots for 2023, Mastercard has proposed a use case that will demonstrate CBDC interoperability, by providing a way for CBDC holders to create a version of a retail CBDC that can be utilized on any public, permissioned, or private blockchain. Mastercard will demonstrate this functionality by using the retail CBDC to simulate the purchase of digital goods on a public blockchain. Through this iterative process, and the outcomes and learnings that will be gained as a result, Mastercard aims to support the HKMA's analysis and exploration of the possible implementation of an e-HKD.
Helena Chen, Managing Director, Hong Kong and Macau, Mastercard, said, "Mastercard is pleased to participate in the Hong Kong Monetary Authority's e-HKD Pilot Programme as HKMA evaluates the feasibility of implementing a retail Central Bank Digital Currency (CBDC). As the global economy accelerates its embrace of digital payments, Mastercard is committed to supporting central banks like HKMA in their chosen path to modernize payments as they look for solutions, including CBDCs, that seamlessly integrate with existing ways to pay, while maintaining monetary policy and financial stability."
As a leader in operating multiple payment rails and convening public and private sector partners to bring the most people possible into the digital economy, in 2020, Mastercard announced a proprietary virtual testing environment for central banks to evaluate CBDC use cases. The platform enables the simulation of issuance, distribution and exchange of CBDCs between banks, financial service providers and consumers. Central banks, commercial banks, and tech and advisory firms are invited to partner with Mastercard to assess CBDC tech designs, validate use cases and evaluate interoperability with existing payment rails available for consumers and businesses today.
- ENDS -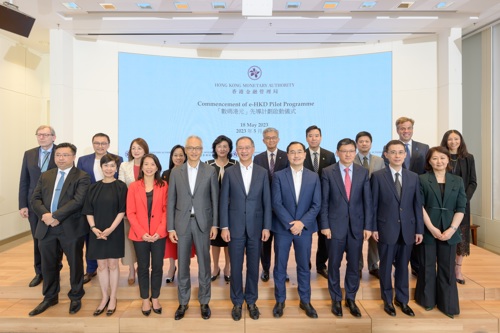 Photo Caption: Senior executives from the 16 selected firms from the financial, payment and technology sectors, including Helena Chen, Managing Director, Hong Kong and Macau, Mastercard (second row, fourth from left), attended the commencement event.
About Mastercard (NYSE: MA), www.mastercard.com
Mastercard is a global technology company in the payments industry. Our mission is to connect and power an inclusive, digital economy that benefits everyone, everywhere by making transactions safe, simple, smart and accessible. Using secure data and networks, partnerships and passion, our innovations and solutions help individuals, financial institutions, governments and businesses realize their greatest potential. With connections across more than 210 countries and territories, we are building a sustainable world that unlocks priceless possibilities for all.