inclusion
Strengthening our commitment to women's football through new partnerships with Leah Williamson, Alex Scott, Pernille Harder and Arsenal Women's FC
February 23, 2023 | London, UK
Mastercard has sponsored women's football for more than 25 years, supporting the game to grow around the world, championing the trailblazing women who are making history, and inspiring a generation of football fans.
Now, we're strengthening that commitment by sponsoring Arsenal Women's Football Club for three more years. We're also welcoming Arsenal and England Captain Leah Williamson as a Mastercard ambassador, and renewing our ambassadorships with football and broadcasting legend Alex Scott, and Danish and Chelsea Women's Football Club superstar Pernille Harder.
We've sponsored Arsenal Women's FC – the most successful club in English women's football – since 2019. Through our sponsorship we'll continue to work with the club to champion diversity and inclusion and inspire fans. 
"Supporting women's football is a unique way to connect with fans, promote gender equality, and inspire the next generation. It's not just about sponsorship – we want to advocate for women who are breaking down barriers, help boost participation, and truly support the growth of the women's game."
"Our extended partnership with Mastercard is another strong indicator of growth in women's football and Arsenal's continued investment to make the game a strong proposition for our partners," says Juliet Slot, Arsenal's Chief Commercial Officer. "We've seen recently in our matches that the crowds are coming, and now commercial partners are also coming."
"Mastercard were our first women's only partner and we applaud their foresight and for all they have done to work with us on promoting women's sport. Having bold, like-minded partners like Mastercard is key to sustainable growth. We've been pioneers in women's football since 1987, but true pioneers don't stand still, and we're excited to build on the progress we're making together."
Inspiring the next generation with our trailblazing ambassadors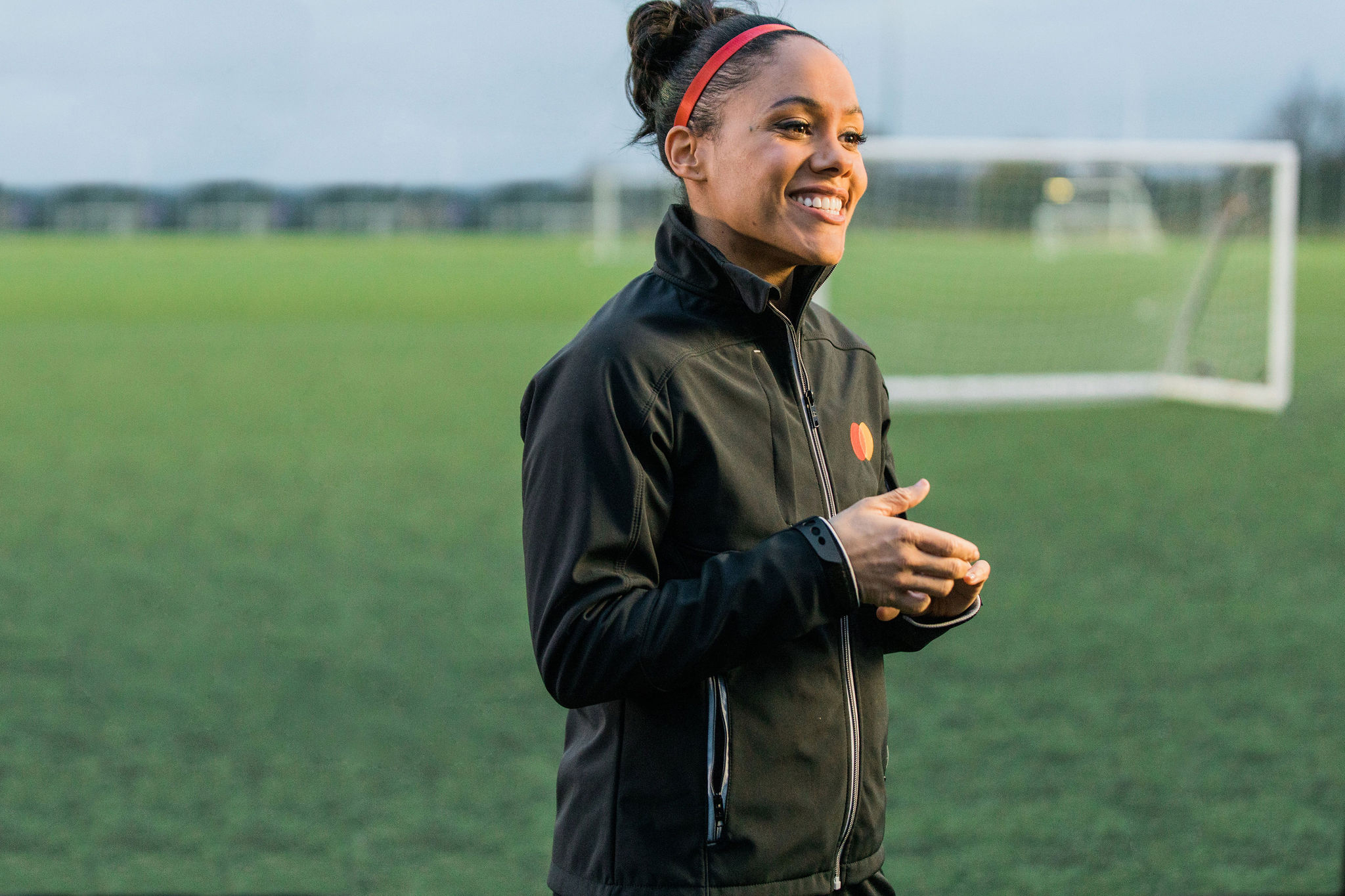 We'll work together with Leah, Alex and Pernille to promote girls' football at grassroots levels and inspire the next generation of fans. Leah recently surprised young football stars at Arsenal Community Club when she joined their training session and invited them to be mascots at Arsenal Women's FC's next game.
We got Alex and Leah together recently to chat breaking down barriers, role models, and how investment in women's sport can transform the game.
Mastercard's commitment to women's sport
These partnerships are part of our wider global commitment to champion gender equality and inclusion. Over the past decade, we've built one of the most well-rounded women's sports portfolios globally with significant investment in female athletes, teams, and competitions. This includes partnerships across tennis, golf, football, and rugby, as well as sponsoring players, teams, and events, such as Naomi Osaka, Kadeisha Buchanan, Pernille Harder, Ada Hegerberg, Sam Kerr, Saki Kumagai, Wendie Renard, Alex Scott, Brooke Henderson, Annika Sorenstam, Chanel Alberts, Piwokuhle Nyanda, Arsenal W.F.C., CBF Women's team, Olympique Lyonnais Féminin, Copa America Women, The Australian Open and The AIG Women's Open, among others.
About Mastercard (UK)
Mastercard is a global technology company in the payments industry. Our mission is to connect and power an inclusive, digital economy that benefits everyone, everywhere by making transactions safe, simple, smart and accessible. Using secure data and networks, partnerships and passion, our innovations and solutions help individuals, financial institutions, governments and businesses realize their greatest potential. With connections across more than 210 countries and territories, we are building a sustainable world that unlocks priceless possibilities for all.