Alex Scott talks how a ball can Start Something Priceless® in an exclusive interview with Mastercard
August 19, 2020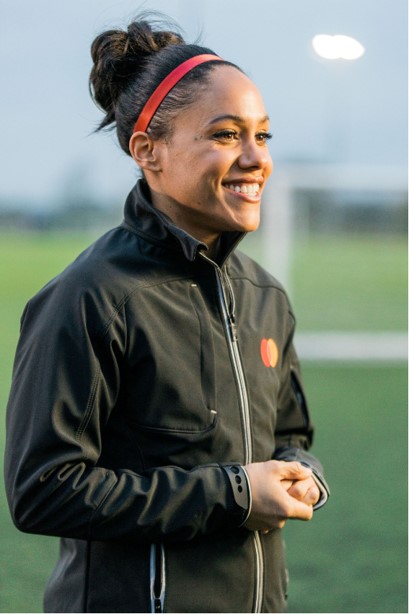 Alex Scott MBE, former professional footballer, pundit and presenter provides an exclusive interview on priceless.com with Mastercard, to celebrate UEFA Champions League and to bring fans closer to their passions.

The Mastercard ambassador and female sports legend spoke about how the game started for her in East London, whilst playing in a football cage. In the interview, Alex describes her first experience as a way to escape and be in a moment where she could "dream about playing at Wembley or playing for Arsenal and England".

Scott signed with Arsenal at age 8 and stayed with the team for most of her career. Retiring from international football in 2017 she ended her career the second most capped England player with 140 appearances.

Alex Scott  represents women in football and during the interview, she said; "women's football has grown, and young girls can aspire to watch role models and aspire to be like them. Female athletes are now a part of bigger brand campaigns, they can be proud to be female footballers and in being the best athletes they can be."

Scott opened The Alex Scott Academy in 2012, the first of its kind for women in the UK. The academy started to create a system that not only focused on training but also focused on working towards qualifications, providing players with an unrivalled calibre of training, skill development and match play.

To celebrate this year's UEFA Champions League, Mastercard will elevate the fan experience by showcasing that a simple ball, a special game and a unique event can start a celebration that has fans everywhere jumping out of their seats and celebrating the very best that football has to offer.

Alex explains her views on how footballs makes people feel; "football has the ability to bring people together, to share something you love, it makes me smile even thinking about it".

Jeannette Liendo, Senior Vice President, Marketing and Communications, Mastercard Europe said, "The UEFA Champions League is a massive event in every football fans calendar and for them we know that a ball can Start Something Priceless. From the excitement of a goal, to the sheer joy of the occasion. Mastercard is committed to connecting to people to priceless possibilities and with football legends such as Alex Scott and José Mourinho talking through their passions about the ball, fans really can feel connected to the game."

Consumers can also head to Priceless.com, Mastercard's experiential lifestyle hub designed to inspire and create once-in-a lifetime moment. Priceless experiences, with a number of football legends will be available from live Q&A sessions to time with the stars to perfect your football skills.

This year in a bid to bring fans closer together, Mastercard has declared its attempt to break a world record with the largest digital celebration 'wave' across social media. #PricelessWave will create a new unforgettable experience, that connects UEFA Champions League fans and players across Europe, to support their teams whilst watching the games from home. Join the Priceless Wave: https://www.tiktok.com/tag/pricelesswave

Mastercard ambassador, Alex Scott's MBE full interview can be watched on priceless.com.
 - Ends -

 
@mastercardEU #PricelessWave

 
For further information please contact: mastercard@talkertailor.com / +44 203 858 0022

About Mastercard (NYSE: MA), www.mastercard.com Mastercard is a global technology company in the payments industry. Our mission is to connect and power an inclusive, digital economy that benefits everyone, everywhere by making transactions safe, simple, smart and accessible. Using secure data and networks, partnerships and passion, our innovations and solutions help individuals, financial institutions, governments and businesses realize their greatest potential. Our decency quotient, or DQ, drives our culture and everything we do inside and outside of our company. With connections across more than 210 countries and territories, we are building a sustainable world that unlocks priceless possibilities for all.

Follow us on Twitter @MastercardEU @MastercardNews, join the discussion on the Beyond the Transaction Blog and subscribe for the latest news on the Engagement Bureau


About Priceless.com
Priceless.com is Mastercard's experiential lifestyle hub designed to inspire and create once in a lifetime moments to be shared with family and friends at home, online, and everywhere in between. Exclusive to Mastercard cardholders, its unique multicultural proposition allows people to connect closer to their passions, fuels their desires for continuous learning and discovery, and gives them the opportunity to gift experiences, enter sweepstakes, and participate in special auctions to benefit important causes. Inspired from over 40 destinations and accessible from 90+ countries, consumers can find dynamically curated experiences both physical and digital across culinary, sports, arts and culture, music, and more, as well as custom editorial content enabling them to Start Something Priceless.