Mastercard pop-up to support small businesses to grow
November 1, 2021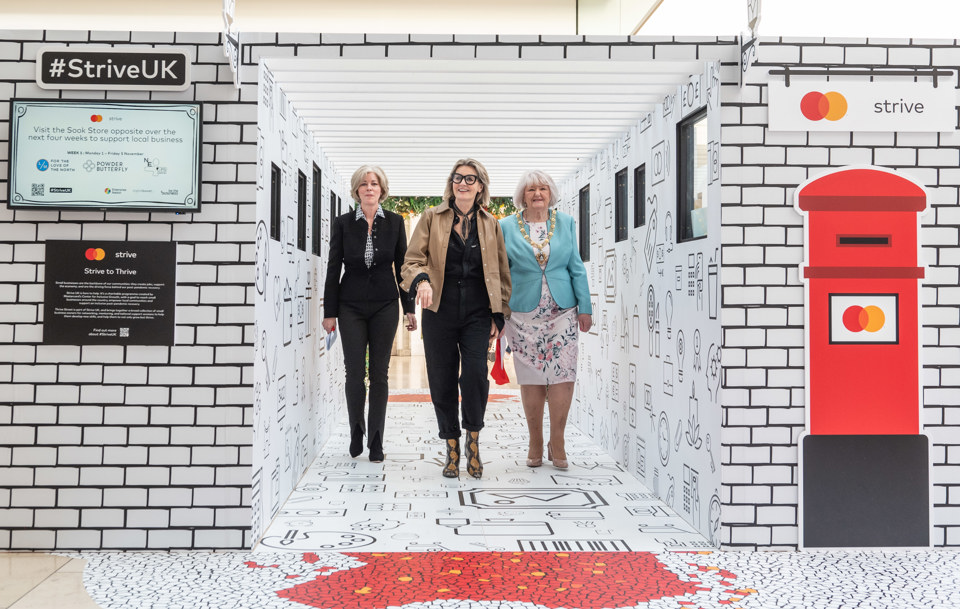 Marcia Clay, Mastercard, Retail Guru Mary Portas and Mayor of Gateshead, Councillor Dot Burnett at Thrive Street, Metrocentre Gateshead.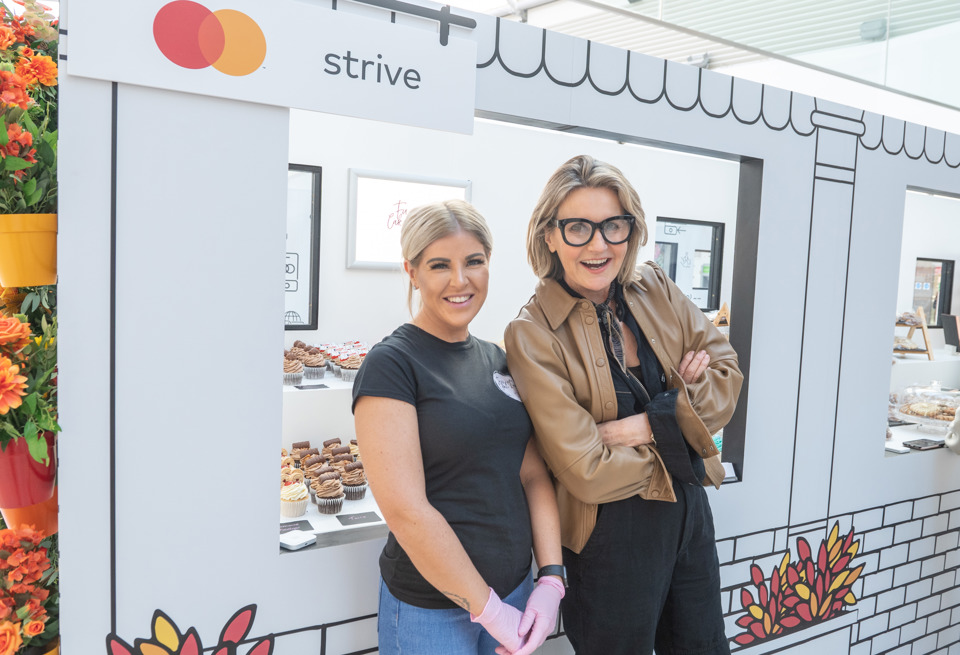 Megan Maddison, Fusion Cake House and Mary Portas at Thrive Street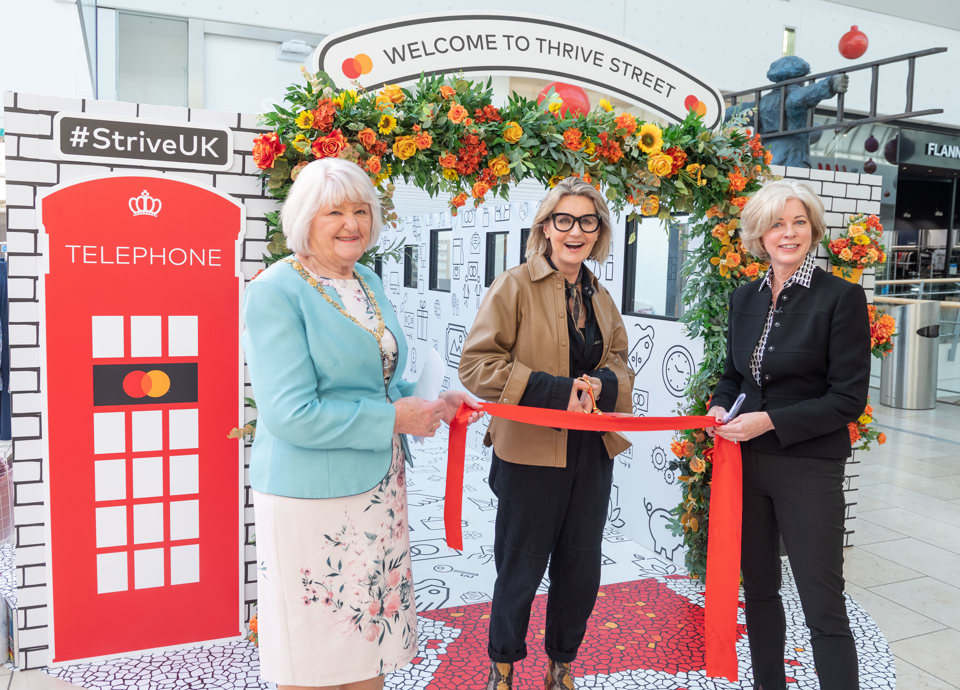 Mayor of Gateshead, Councillor Dot Burnett, Retail Guru Mary Portas and Marcia Clay, Mastercard open Thrive Street.
Mastercard launches Thrive Street pop-up to support local small businesses in the Northeast by offering free retail space to promote business, network and learn from business experts.
Thrive Street part of Strive UK, initiative set up by Mastercard to empower British micro and small enterprises to thrive in the digital economy, build financial resilience and improve growth prospects.
Series of masterclasses at Thrive Street will support business owners to develop digital skills needed to achieve future revenue growth – estimated at up to £827 billion* over the next five years.
Thrive Street opened by celebrity retail consultant, Mary Portas, and Mayor of Gateshead, Councillor Dot Burnett.
Today, Mastercard launches Thrive Street, a month-long event to support small business owners from the Northeast of the UK. Taking place in the Metrocentre in Gateshead throughout November, Thrive Street will provide local small businesses with an opportunity to sell goods and services from pop-up stands made available to them for free. Business owners will also be able to attend a series of masterclasses to develop skills to build long-term resilience and improve growth prospects, as well as network with other business owners within their community.
The event was opened by the Mayor of Gateshead, Councillor Dot Burnett, and retail consultant, Mary Portas, who delivered a talk about the impact of the pandemic on business and the importance of digital tools for revenue growth, especially for local, high-street retailers. Over the course of the first week (1st – 5th November), business owners will be invited to attend masterclasses covering a range of topics, including retail, marketing and PR, and digital skills. The masterclasses will be hosted by Strive UK partners - Enterprise Nation, Be the Business and Digital Boost, as well as well-known faces from the world of business such as Cecilia Harvey, Founder and Chair of Tech Woman Today, and Mark Martin, Urban Teacher.
While small businesses across the UK are unanimously in need of support, some regions will need more than others. Data from Mastercard's Inclusive Growth Score shows Newcastle upon Tyne scored almost ten points lower than London in terms of socioeconomic growth from 2018 to 2021. This reflects a broader trend of decline in the north that has, in part, been driven by decreases in the percentage of businesses that have fewer than 50 employees, exposing an urgent need to support small business owners in the region to succeed.
Thrive Street forms part of Strive UK, a philanthropic programme created by Mastercard's Center for Inclusive Growth, focused on supporting micro and small businesses around the country to succeed in the digital economy. Technology played a critical role in supporting small businesses through the pandemic, with a recent Mastercard/Cebr report – Striving to Thrive – finding that 41% of small business owners believe their company would not have survived without digital tools. Looking ahead, the role of digital in business growth is clear - 47% believe technology will become more important to their company's success over the next five years, and around a third say technological adoption has led to increased turnover and increased profit.
Despite this, data shows that challenges remain for small businesses looking to integrate digital tools, with 39% businesses feeling overwhelmed by the amount of choice, and 32% wanting to use more digital tools but unsure which ones would be best for their business. This uncertainty rises to 49% in the case of businesses that are owned or run by individuals from ethnic minority backgrounds, highlighting a need for highly-tailored, focused support. Over the next three years, Strive UK will offer free guidance, helpful tools, and personalised, one-to-one mentoring in digital skills, aiming to help business owners from a range of backgrounds – in particular supporting female owners and those from minority ethnic backgrounds who are traditionally harder to reach.
Kelly Devine, President, UK & Ireland, Mastercard, comments: "Small business owners told us they hope to achieve a collective £827 billion in growth over the next five years, but this won't happen without support, particularly when it comes to digital tools which have been so integral during the pandemic. Thrive Street, and our wider Strive UK programme, aims to empower small businesses with the skills they need to not just survive but thrive in the digital economy."  
Emma Jones CBE, Founder of Enterprise Nation, comments: "Thrive Street brings a whole host of opportunities and support for small business owners in the Northeast of the UK. Working directly with local communities is so important when it comes to developing small businesses, and Thrive Street offers business owners an invaluable platform for connecting with their peers, learning essential new skills and testing out physical retail for those who have not done so before."
Case studies are available on request. Business owners can sign up to attend the masterclasses by registering here.
--ENDS--
About Strive UK
Strive UK is an initiative of the Mastercard Center for Inclusive Growth that aims to empower 650,000 micro and small businesses in the UK to succeed in the digital economy over the next three years through free guidance, helpful tools, and personalised, one-to-one mentoring. The programme is run in partnership with Enterprise Nation, Digital Boost and Be the Business, and has been designed to complement Government initiatives such as Help to Grow. Strive UK builds on Mastercard's $250 million commitment to support small businesses' financial security and extends the company's commitment to financial inclusion, with efforts underway to bring a total of one billion people and 50 million micro and small businesses into the digital economy by 2025.
Enterprise Nation will build a data driven "One Stop Shop" for micro and small businesses to help them understand and find the resources, programmes and tools available to them. The company will also manage a Strive Learning Network, bringing together large corporates and not for profits involved in delivering support to small firms for the purpose of sharing views and insight on what's working when it comes to building the conditions for enterprise to thrive. https://www.enterprisenation.com/strive/
Be the Business will deliver bespoke digital adoption and leadership development programmes for minority ethnic owned/led micro and small business, with a special focus on female owners from minority ethnic backgrounds. https://www.bethebusiness.com/strive-uk/
Digital Boost will provide mentorship, advice and coaching to help micro and small business owners to develop critical business skills. https://www.digitalboost.org.uk/partner-org/striveuk
About Mastercard (UK)
Mastercard is a global technology company in the payments industry. Our mission is to connect and power an inclusive, digital economy that benefits everyone, everywhere by making transactions safe, simple, smart and accessible. Using secure data and networks, partnerships and passion, our innovations and solutions help individuals, financial institutions, governments and businesses realize their greatest potential. With connections across more than 210 countries and territories, we are building a sustainable world that unlocks priceless possibilities for all.