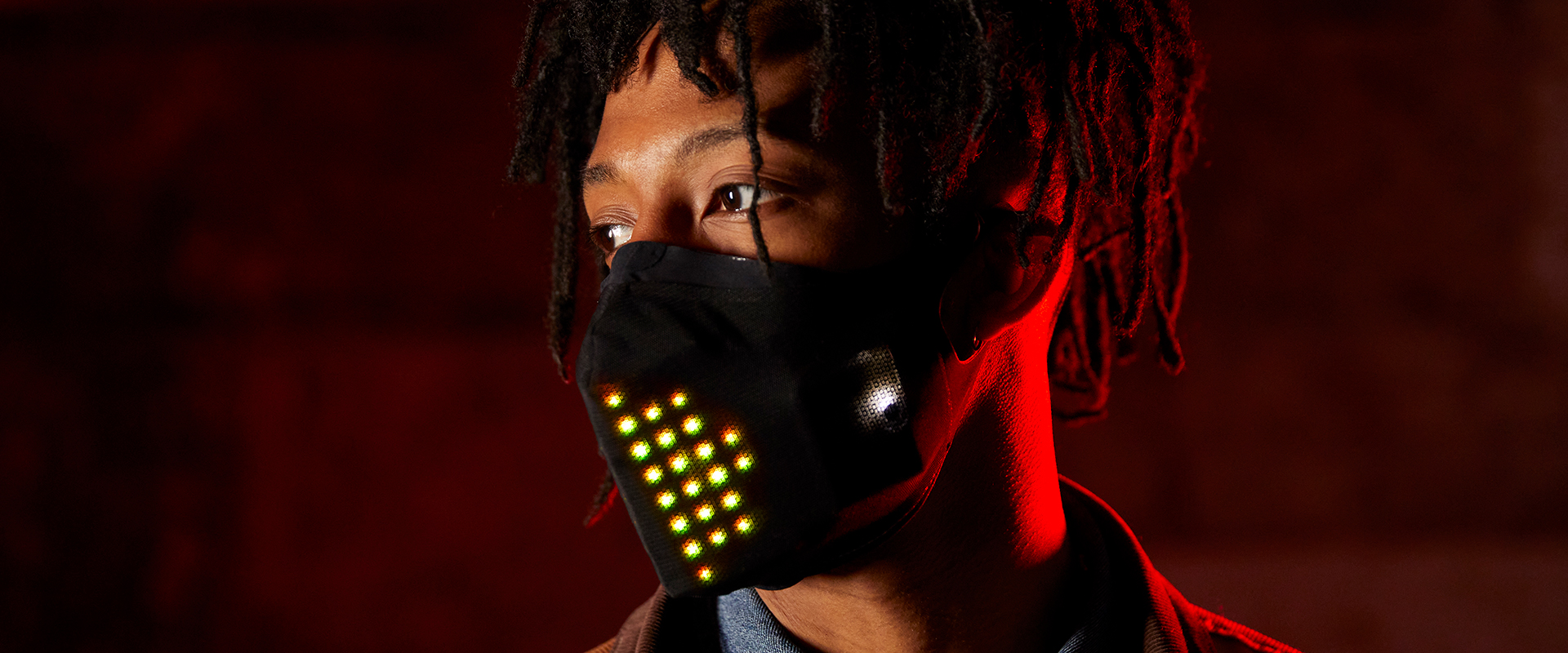 It's time to face(mask) the music
May 7, 2021 | London | By ljefferys
Mastercard creates limited edition face masks that light up to music in real time to connect people to music and each other
Two in five Brits would like to see technology incorporated into face masks
Mastercard, headline sponsor of The BRIT Awards 2021 for the 23rd year, has created the first ever audio connected LED face mask that interacts and illuminates in response to music and environmental sounds in real time, bringing music to life every day in a new and exciting way.
The exciting development comes after research commissioned by Mastercard found that after a year of wearing face masks, 38% of UK adults are ready to transform the mundane mask through the addition of new technology. Of these people, some of the advancements they would like to see include transparent masks to aid people who are hard of hearing (65%) and a colour code system indicating when a replacement may be required (39%). This follows on from a quarter (24%) of Brits are concerned about feeling disconnected when socialising at venues once they reopen due to having to wear masks.
However, it seems that the nation is adapting to the protocol of wearing masks as nearly a fifth (17%) of Gen Z and Millennials* like to wear them to make a statement by choosing a unique design that looks good on them and matches their outfit. This is particularly apparent amongst this younger generation with 14% saying their mask is a reflection of their personality.
Mastercard gave exclusive first access to Jack Whitehall to try out the new features on the pioneering face mask. Jack Whitehall said: "I can see this interactive face mask becoming a must have accessory. People want to get back to normality and find ways to enhance their experiences without compromising on safety or style. The limited-edition masks are a huge step up from the average face mask; I love the way that the lights flash and react to music and even my voice. They give people an opportunity to share the music they're listening to in everyday settings when out shopping, on public transport or at music venues."
Working alongside wearable technology pioneers, CuteCircuit, Mastercard has combined peoples' passions for tech, music, and fashion to create these unique limited edition face masks - perfect for music events and the every day. The mask, designed to elevate each user's experience, features 8x8 micro-LED lights with 64 pixels that react to music and surrounding environmental sounds. The mask is fully rechargeable and the lights are activated by a simple button.
"Face masks have become a feature of our everyday lives and may be for some time to come. By implementing interactive technology into face masks, Mastercard has made the exciting step of marrying music and technology to bring fans closer to music and each other."
Of the Brits who are planning to go to live events following the pandemic, Millennials (61%) and Baby Boomers (58%) are most excited to watch live bands. When music lovers were asked to select from a list of popular songs they are most looking forward to hear live, the three that came out on top were BRIT Awards nominee Dua Lipa's Levitating, followed by Harry Styles' Watermelon Sugar and The Weekend Save Your Tears*.
The BRIT Awards 2021 with Mastercard will take place on Tuesday 11th May 2021.
- ENDS -
For further information and images please contact mastercardbrits@talkertailor.com
Twitter: @MastercardUK
Instagram: @MastercardUK
#BRITS #StartSomethingPriceless
Notes to Editors:
Gen Z is defined as 18-24  year olds and Millenials as 25-34 year olds
All figures, unless otherwise stated, are from YouGov Plc.  Total sample size was 2065 adults. Fieldwork was undertaken between 27th - 28th April 2021.  The survey was carried out online. The figures have been weighted and are representative of all GB adults (aged 18+).
*Popular song list includes: AJ Tracey, Fire in the Booth; Young T& Bugsey, Strike a Pose; Dua Lipa, Levitating (6%); Harry Styles, Watermelon Sugar (5%); The Weekend, Save Your Tears (4%); Fountaines D.C – A Hero's Death (2%)


About Mastercard
Mastercard (NYSE: MA), www.mastercard.com, is a technology company in the global payments industry.  We operate the world's fastest payments processing network, connecting consumers, financial institutions, merchants, governments and businesses in more than 210 countries and territories.  Mastercard products and solutions make everyday commerce activities – such as shopping, traveling, running a business and managing finances – easier, more secure and more efficient for everyone.  Follow us on Twitter @MastercardNews, join the discussion on the Beyond the Transaction Blogand subscribe for the latest news on the Engagement Bureau.
About CuteCircuit
Internationally known fashion house, CuteCircuit, has been pushing the boundaries of wearable technology since its launch in 2004. A global leader in interactive fashion, CuteCircuit has introduced many ground-breaking ideas to the fashion world by integrating new beauty and functionality through the use of smart textiles and micro-electronics.
How to use the tech LED facemask
Wash your hands before and after using a face mask
To use the mask, simply charge the small box brain module
The brain module is a small box. Once it is charged, insert it into the side of the mask where the opening is
By clicking the one-button interface on the brain the mask will turn on and react to the sounds by illuminating
To turn off the mask, click and hold the on/off button for a few seconds
The brain is rechargeable via USB Micro. The battery charges in approx. 1 to 2 hours depending on use
The mask is a simple face covering made with sportswear moisture wicking fabric and silver-coated lycra which is an antibacterial fabric for general use
Disclaimer
Not for medical or surgical use. This face mask is not a replacement for medical grade Personal Protective Equipment, and in circumstances where medical grade Personal Protective Equipment is recommended, you should consult a health care professional. The decision to use this mask is solely your own.
Mastercard and CuteCircuit are not liable for any misuse of the mask. The face mask includes flashing lights – caution to those with light photosensitivity.  
The mask is splash-proof but not waterproof to any depth, so it cannot be immersed in water. It can be cleaned with disinfectant spray or anti-viral wipes. Do not wash and do not put in the dryer.
Warning! Not suitable for children.


Manufacturing details and safety compliances
The face masks are RoHS compliant - they are free of lead, mercury and other hazardous materials
The textiles used are OekoTex certified with no pesticides or other harmful substances
Batteries are 3.7 Volt nominal, 250 mAh, have built-in circuit protection for overcharge and over discharge
FCC / IC / TELEC certified module