HELPFUL and Mastercard Launch new Debit Card to Empower Sustainable Living
June 4, 2021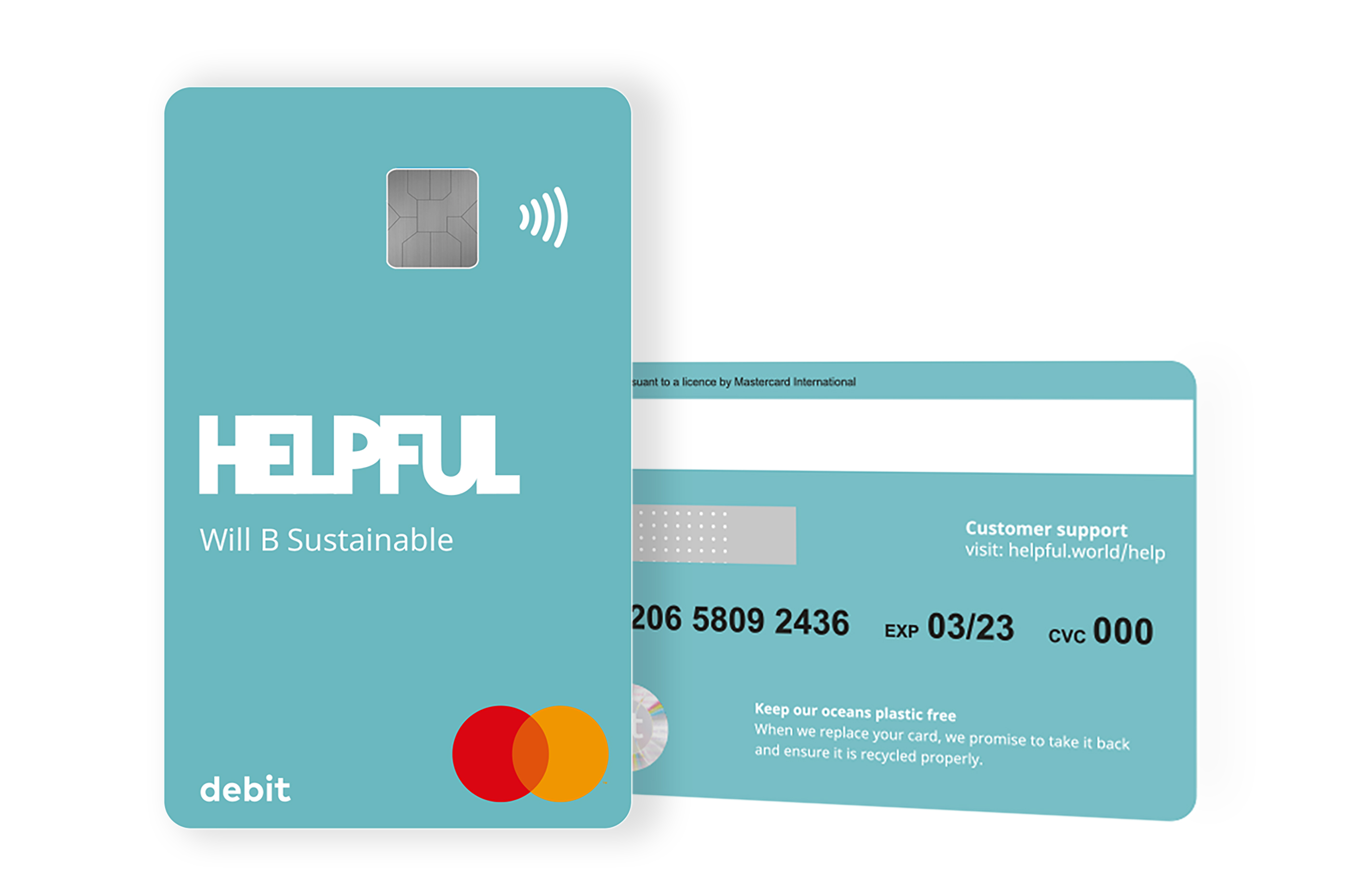 Marking World Environmental Day, HELPFUL in partnership with Mastercard have today launched a free consumer debit card that creates a healthier planet with every purchase.  
The HELPFUL debit Mastercard aims to challenge the banking world by offering a financial solution that puts the Planet First and appeals to a new breed of conscious consumer who wants their purchases to reflect their values, principles and lifestyles. 
With over 150 sustainable brands on board, the partnership establishes one of the UK's largest sustainable retail directories. Consumers who shop with brands from the directory will receive a reward of up to 10% cashback. 
The HELPFUL mission to give back has pledged to plant a tree for every purchase made on their cards. By using the HELPFUL app, users can see the positive impact they are having on the environment from the trees planted in return for their shopping choices. In the HELPFUL app, users can see the positive impact they are having on the environment with their tree planting actions, as a result of their shopping choices.
Evan Michaels, co-founder and CEO of HELPFUL said: "We are excited to launch our card in advance of World Environment Day, when people will be pausing to consider their own impact on the planet. Our vision with HELPFUL is to create a new way of digital banking that offers sustainable spending, and in future, savings and investments for people who actively put the Planet First. If we all shop more thoughtfully, we can each make a difference."
Today, values are as important as value. A McKinsey & Company survey found that consumers became more engaged in sustainability topics during Covid-19, with 88% of respondents believing that they should shop for products that reduce environmental impact.
Scott Abrahams, Senior Vice President, Business Development, Mastercard UK & Ireland added "We are thrilled that HELPFUL has joined the Mastercard Priceless Planet Coalition, offering environmentally-conscious consumers an easy way to help the planet as they go about their daily lives."
- Ends - 
About HELPFUL
HELPFUL was created in 2019 by successful entreprepreneurs Evan Michaels and William Nordh to help people break the plastic habit. During the lockdown of 2020, Evan and William, the founders, accelerated the business roadmap by including payments and shopping tools to help people live sustainably, as they saw consumers become more aware of their impact on the planet and conscious in their spending habits. Evan and William have been working together for over 20 years and HELPFUL is their latest venture with a mission to put the Planet First. They have put together a team with the right blend of product development, finance, technology and sustainability. 
The HELPFUL Debit Mastercard is issued by PayrNet Ltd pursuant to license by Mastercard International Inc. PayrNet Ltd is authorised by Financial Conduct Authority to conduct electronic money service activities under the Electronic Money Regulations 2011 (Ref: 900594)
About Mastercard (UK)
Mastercard is a global technology company in the payments industry. Our mission is to connect and power an inclusive, digital economy that benefits everyone, everywhere by making transactions safe, simple, smart and accessible. Using secure data and networks, partnerships and passion, our innovations and solutions help individuals, financial institutions, governments and businesses realize their greatest potential. With connections across more than 210 countries and territories, we are building a sustainable world that unlocks priceless possibilities for all.