José Mourinho, Edwin Van Der Sar and Marcel Desailly reveal how a ball can Start Something Priceless® in exclusive interviews with Mastercard
August 13, 2020
To celebrate the return of UEFA Champions League, Mastercard releases exclusive interviews on priceless.com with football legends. The interviews delve into how football has impacted not only their careers, but their lives and gives fans insight into how a ball can Start Something Priceless.

As the UEFA Champions League continued last Friday, after a five month pause, Mastercard called on José Mourinho, two-time UEFA Champions League winning manager and current manager of Tottenham Hotspur, as well as Edwin van der Sar, Dutch former goalkeeper named four times best goalkeeper in Europe and Marcel Desailly, former French footballer and two-time UEFA Champions League winner, to reflect on the passions of the game and the importance of celebration.

The three Mastercard ambassadors reveal everything from memorable moments in their UEFA Champions League career, to their inspirations and why the UEFA Champions League is one of the most Priceless competitions in football.

Discussing his introduction to football, Portuguese football manager José Mourinho, said it was 'in his blood' from the day he was born; "A ball can be the volcano of something incredible. My father was a football player and I was born on a match day, my father and his teammates left the team hotel to come and see me".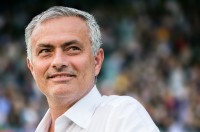 SYDNEY, AUSTRALIA - AUGUST 24: A blurred view of Sydney FC fans during the round one Hyundai A-League match between Sydney FC and Central Coast Mariners at the Sydney Football Stadium August 24, 2007 in Sydney, Australia. (Photo by Getty Images)


The legendary coach, often considered the greatest in the world, also lays out plans for what's next in his career; focussing on winning trophies with his current club.

The French footballer, Marcel Desailly, looks back at winning the UEFA Champions League twice. As an integral part of the 1994 UEFA Champions League winning team, Marcel Desailly credits an element of the success to the support of his teammates and the importance of staying connected throughout the duration of the competition. The football legend says,

"I've been lucky to have amazing players by my side and be able to win the UEFA Champions League".

For Edwin Van Der Sar, values and kindness are important to him and he hopes he can leave this as his legacy, as well as inspire the next generation to become goal keepers.

Throughout the interview his passion for UEFA Champions League is prominent, speaking about how important football is for the fans because of the joy it gives, but also for the players, who experience the feeling of walking onto the pitch in front of a full stadium.

Jeannette Liendo, Senior Vice President, Marketing and Communications, Mastercard Europe said "The UEFA Champions League is a massive event in every football fans calendar and for them we know that a ball can Start Something Priceless. From the excitement of a goal, to the sheer joy of the occasion. Mastercard is committed to connecting to people to priceless possibilities and with football legends such as Mourinho, Van Der Sar and Desailly talking through their passions about the ball, fans really can feel connected to the game"

Mastercard will elevate the fan experience by showcasing that a simple ball, a special game and a unique event can start a celebration that has fans everywhere jumping out of their seats and celebrating the very best that football has to offer. Mastercard brings fans closer to their passions through its sponsorship platforms as well as working alongside the three icons by giving fans the chance to have Marcel Desailly help them improve their football skills and the chance to ask José Mourinho and Edwin Van Der Sar some burning questions.

This year in a bid to bring fans closer together, Mastercard has declared its attempt to break a world record with the largest digital celebration 'wave' across social media. #PricelessWave will create a new unforgettable experience, that connects UEFA Champions League fans and players across Europe, to support their teams whilst watching the games from home. Join the Priceless Wave: https://www.tiktok.com/tag/pricelesswave
- Ends -

 @mastercardEU #PricelessWave


 For further information please contact: mastercard@talkertailor.com / 0203 858 0022

About Mastercard (NYSE: MA), www.mastercard.com Mastercard is a global technology company in the payments industry. Our mission is to connect and power an inclusive, digital economy that benefits everyone, everywhere by making transactions safe, simple, smart and accessible. Using secure data and networks, partnerships and passion, our innovations and solutions help individuals, financial institutions, governments and businesses realize their greatest potential. Our decency quotient, or DQ, drives our culture and everything we do inside and outside of our company. With connections across more than 210 countries and territories, we are building a sustainable world that unlocks priceless possibilities for all.

Follow us on Twitter @MastercardEU @MastercardNews, join the discussion on the Beyond the Transaction Blog and subscribe for the latest news on the Engagement Bureau

 

About Priceless.com

Priceless.com is Mastercard's experiential lifestyle hub designed to inspire and create once in a lifetime moments to be shared with family and friends at home, online, and everywhere in between. Exclusive to Mastercard cardholders, its unique multicultural proposition allows people to connect closer to their passions, fuels their desires for continuous learning and discovery, and gives them the opportunity to gift experiences, enter sweepstakes, and participate in special auctions to benefit important causes. Inspired from over 40 destinations and accessible from 90+ countries, consumers can find dynamically curated experiences both physical and digital across culinary, sports, arts and culture, music, and more, as well as custom editorial content enabling them to Start Something Priceless.