Study offers greater insight into retail sales health of the city
November 19, 2019 | By akristersson
Working with Mastercard and utilizing aggregated and anonymized merchant spend data, Helsinki develops approach to better understand the economic impact of  Slush for its hometown.

Helsinki is determined to be the most functional city in the world by making the best use of digitalization. In pursuing this goal, Helsinki seeks to create the best conditions possible for urban life, for its residents and visitors. The city's strategic intent is to do things a little bit better day by day, in order to make life in Helsinki easier and more pleasant. To do this, Helsinki will have to become a data-driven city.

The key challenges of the future will be solved in cities. Helsinki wants to be a forerunner in solution-finding and this is one of the reasons why Helsinki is one of the 16 founder cities of the global City Possible network, an initiative pioneered by Mastercard. Inspired by the philosophy of collaboration between cities and the private sector as the key to identifying solutions that are scalable and tested, the network provides an urban co-development framework to facilitate the sharing of ideas and best practices between cities, companies and communities.

Through the City Possible network, Helsinki was able to access the Mastercard City Insights platform, which allowed the city to better understand the economic impact of Slush, the world's leading start-up event, taking place every year.  Helsinki is the proud hometown of Slush and also one of Europe's most captivating locations for innovative start-ups and an attractive hotbed for companies and individuals wanting to make the world a better place.


Slush pilot findings

In December 2018, with 20,000 tech-heads, many of them international, joining the start-up buzz, Slush was expected to have an impact on Helsinki's economy. Measuring the exact impact had previously proven to be difficult. In partnership with Mastercard, the City of Helsinki was able to conduct a data insights study to analyse aggregated and anonymized merchant sales transactions during Slush, using the Mastercard City Insights platform. The goal of the study was to develop a hyper-local view of the impact of the event on the city with the help of data analysis and visualisation tools, which would also serve as an approach for other major city events.

Four City insights were found from the study.
Slush is a shopping week for international guests  
Retail sales were found to be higher compared to an average week. In addition, insights revealed that Slush drove broader spend from international guests than during the average week. During the event most of the international spend concentrate in the city center and Pasila region near the venue (see the picture above).


International guests are bigger spenders than locals 
International guests on an average spent 1.4 – 1.6 times more on local merchants than their domestic counterparts. The difference was highest during the second day of Slush.


The Month of December is good for Helsinki's economy 
Aggregated merchant sales during the month of December performed favorably when compared to the rest of the year, suggesting Slush has a positive impact on the local economy, alongside other notable events such as traditional Christmas spend and annual tax returns typically carried out during December.


The number of payment cards used during Slush has increased for three consecutive years
Slush is nowadays one of the biggest start-up events in the world and has been growing consecutively for the last three years. Similarly, the number of payment cards used during the event has continuously increased over the last three consecutive years.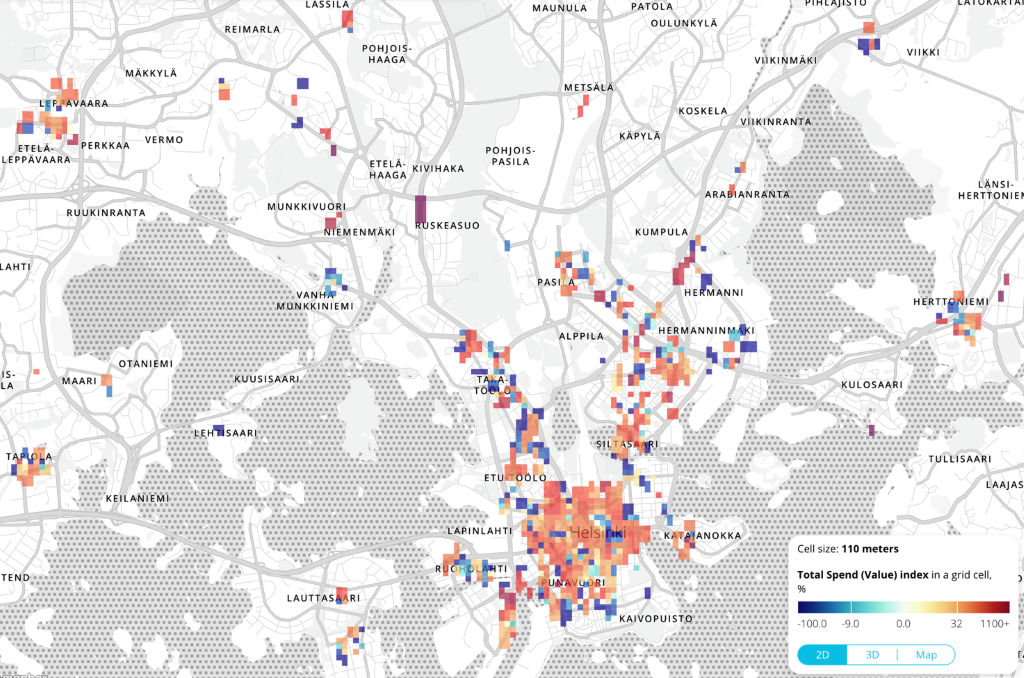 View of Helsinki showing aggregated merchant spend by international cards during the second day of Slush 2018, compared to an average day in Q4/2018.

Creating a digital twin 

"This pilot study is just the beginning and an example of how external data helps us to understand how the City, its citizens and companies operate together. Developing a digital twin combining both internal and external data sources is one of the key objectives in Helsinki's ambitious digital strategy," says Mikko Rusama, the Chief Digital Officer of Helsinki.

Helsinki is one of the world's leading cities in sharing and utilising open data. Helsinki Region Infoshare has over 600 datasets and almost 250 applications utilizing this data. The city understands its role as a creator and enabler of possibilities. Helsinki works actively with residents, companies and everyone interested in developing and revitalizing the city. Helsinki's operating principle is built upon trust, openness and transparency.

"We want to be a forerunner in utilising data in the future.  By combining data in safe, secure and innovative way we are able to understand the changes in the City's business environment and react on future needs. Data helps us to simulate different scenarios and to make better decisions," Rusama concludes.

"These insights show that Slush visitors have an impact on the city beyond their attendance at the event, which offers real opportunities for the city and its businesses to take advantage of the increase in consumer spending. By helping to map the impact of aggregated merchant spend we are assisting the City of Helsinki to make better and faster planning and resource management decisions that can offer a rich and personalized experience for visitors and residents alike. We are delighted that City Possible has been instrumental in helping Helsinki's efforts to become a more connected, inclusive, efficient and responsive city." says Erik Gutwasser, Head of Nordics & Baltics at Mastercard.

At Smart City Expo World Congress (SCEWC) in Barcelona, November, 19-21, attendees will have the chance to learn and experience first-hand how Mastercard City Insights can help connect communities and drive inclusive growth. Pairing the SCEWC theme of "Cities Made of Dreams" with the collaborative spirit of City Possible, Mastercard will host a curated program of Tech Talks and Urban Stories will convene cities, companies and communities from all over the globe to share how cities are tackling shared challenges at a local level.

Notes to Editor:

To find out more about City Possible visit: https://citypossible.com/

About Slush: https://www.slush.org/about/what-is-slush/

The aggregated data was analysed with Stata and SAS and visualised with Habidatum's platform https://habidatum.com/

Contact details for the City of Helsinki:

Chief digital officer Mikko Rusama, e-mail: mikko.rusama@hel.fi
Project manager Pasi Rautio, e-mail: pasi.rautio@hel.fi