DRIVING (AND FLYING) HOME FOR CHRISTMAS
December 9, 2019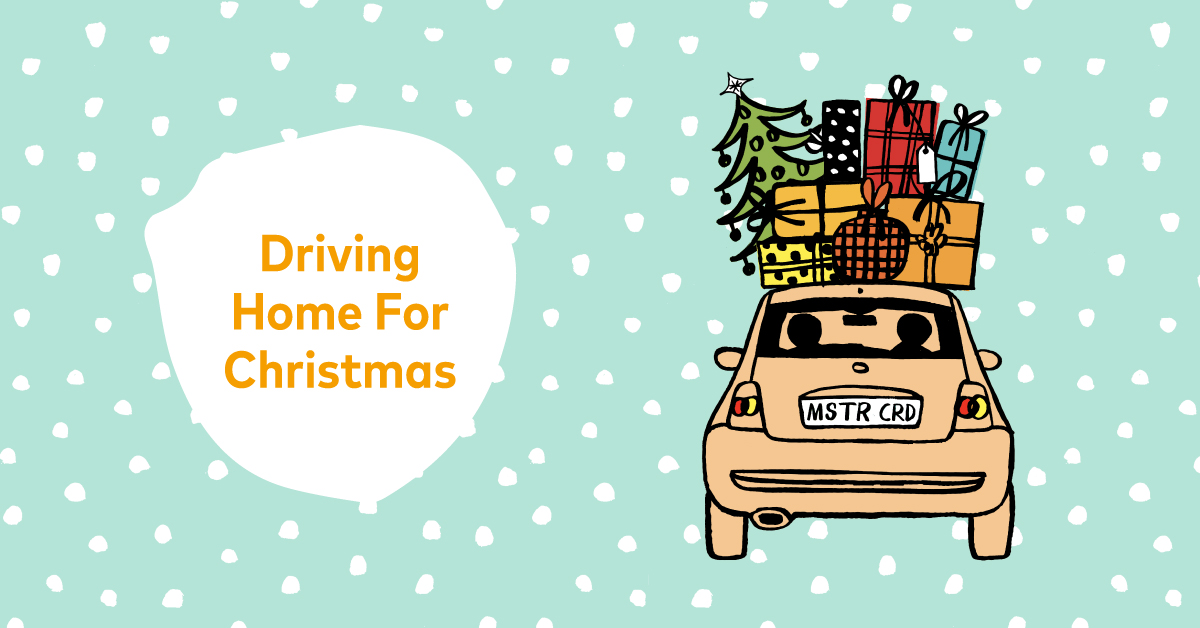 Over 250 million Europeans will hit planes, trains and automobiles to get home for Christmas 

Average journey home over 500 kilometres

Europeans spend €322 each getting home for Christmas
European travellers will hit the roads, rails and skies in record numbers this Christmas, as over 250 million sons and daughters travel home from different parts of the world to be with their family on Christmas day. The average European will travel 516 kilometres to get home, around the distance from Paris to Amsterdam, with nearly one in four (23 per cent) taking to the sky to see their family. The research from Mastercard reveals that the average European will spend €322 travelling home, and start saving for their festive homecoming two months before Christmas.         

Roads, trains and planes are expected to be at their busiest on Christmas Eve, the most popular day to travel back in time for Father Christmas. While mum and dad are the most popular people to go back to see, almost one in three (29 per cent) say they would go the distance to see their pet!

Despite the high costs of travel, the majority of people (64 per cent) don't consider their presence a present, with the average person spending an extra €238 on gifts to take home for the family.

Nearly one in five (19 per cent) book their journey home at least three months in advance, though 12 per cent of last minute planners book within just a few days of travelling. The average traveller sorts their travelling arrangements 49 days before Christmas, with nearly everyone (89 per cent) having at least one car or bus journey on the way and more than a quarter (26 per cent) needing to take a train.

"We live at a time where people travel more and build careers and lives in new cities and countries around the world, but Christmas is still a time for getting home to be with family," said Rose Beaumont, Senior Vice President Business Enablement and European Comms at Mastercard. "Christmas has always been a major spending occasion, but with more and more people living away from their hometowns it has become one of the biggest travel occasions of the year too. At Mastercard we're constantly innovating to bring exclusive travel benefits to cardholders from airport lounge access and luggage insurance to a dedicated concierge, which we hope make it easier for all those planning their Priceless Christmas journeys home."

Being reunited with family isn't the only reason Brits are choosing to travel this Christmas, with one in five (19 per cent) opting to go abroad on holiday over the festive period. 18 per cent of these say it's less stressful than having Christmas at home, 11 per cent want to avoid family arguments and 19 per cent say all they want for Christmas is some winter sun.

The research from Mastercard indicates that while the majority of Europeans aim to spend Christmas with their families, one in five (20 per cent) are unable to travel back. A quarter (25 per cent) can't travel home due to financial reasons, 22 per cent say they have to work over the Christmas period and 19 per cent stay put to spend Christmas with their partner's family. Of those unable to make it home, a third (32 per cent) will Skype or FaceTime their family on Christmas Day.


MANAGING YOUR FESTIVE FINANCE: TOP TIPS


Work out a Christmas budget
There is a lot of areas to plan for including food, gifts, travel and decorations. Plan each one to ensure you don't spend beyond your means.

Spend safely
Use reputable retailers when buying online and do your research on those you don't recognise. And remember to use your loyalty cards to earn rewards for your spending.

Plan your shopping
Planning what to buy and who for can save you a lot of money by avoiding last minute panic buys and enabling you to shop around for the best prices.

Book travel early
If you're travelling home by plane, train or coach, it pays to plan and book in advance – the less seats available, the higher the price.

Book accommodation early
For those going away for Christmas, remember that booking early when rooms are plentiful will help you save on the last minute price hikes.

Save early and use credit wisely
December tends to be a month like no other so try to save early and use the buffer around Christmas, or plan your credit spending so you can pay it off in January, a traditionally easier month on the pocket.


 – Ends –



Notes To Editors

For more information and imagery please contact kara.condon@mastercard.com.
Independent research company Fly Research questioned over 10,000 adults across 19 countries in November 2019.


About Mastercard

Mastercard (NYSE: MA), www.mastercard.com, is a technology company in the global payments industry.  We operate the world's fastest payments processing network, connecting consumers, financial institutions, merchants, governments and businesses in more than 210 countries and territories.  Mastercard products and solutions make everyday commerce activities – such as shopping, traveling, running a business and managing finances – easier, more secure and more efficient for everyone.  Follow us on Twitter @MastercardNews, join the discussion on the Beyond the Transaction Blog and subscribe for the latest news on the Engagement Bureau.