Banks in Europe will offer biometric solutions as of April 2019 as part of the company's renewed efforts to improve the shopping experience
Waterloo, 22 January 2018
– Mastercard announced today that consumers will have the capability to use biometrics, such as fingerprints or facial recognition, as a way to identify themselves when they shop and pay with Mastercard as of April 2019.
The increased availability of biometric capabilities on tablets and smart phones - consumers' clear preference for these kind of solutions - and the EU's new regulatory requirements for strong authentication suggest that the time is ripe for enabling biometric validation solutions for digital payments.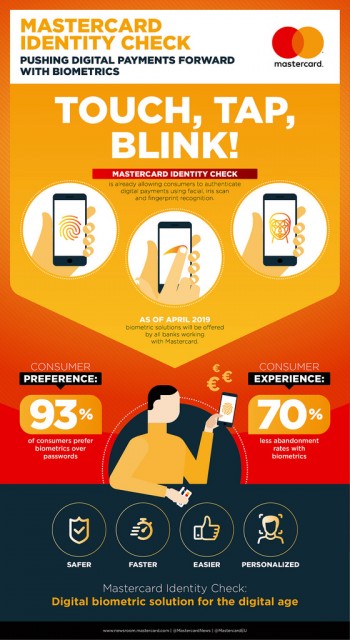 The vast majority of consumers—93%—prefer biometrics
over passwords for validating payments and according to a recent research paper conducted by
Oxford University in collaboration with Mastercard
, 92% of banking professionals want to adopt biometric solutions. Banks also report that when such biometric authentication is used, customers are much more inclined to go through with their purchase. The abandonment rates can drop by up to 70% compared to other methods like One Time Password sent via SMS, which reflects the much improved user experience.
«Biometric technologies perfectly match consumers' expectations of getting the secure payment solutions of tomorrow, in line with the increased digitalization of lifestyles. This can significantly benefit consumers, retailers and banks by improving the purchase experience and better securing the transaction. Our leadership in the field demonstrates our ability to adapt to the expectations and new uses of consumers »,
said Javier Perez, President, Mastercard Europe.
Existing methods to prove an identity online can take shoppers away from a retailer's website if it is time consuming or complex. One way to solve that is moving from a reliance on what the consumer knows (e.g. passwords) and what they have (card or smart device), to what they have (e.g. mobile phone) and who they are their (biometrics).
Mastercard has been a driver of the advancement of biometric technology in payments for years with a focus on improving both consumer experience and security online and offline.
Mastercard Identity Check
, now available in
37 countries[1]
around the world, is an authentication solution that enables individuals to use biometric identifiers, such as fingerprint, Iris- and facial recognition to verify their identity using a mobile device during online shopping and banking activities. This solution dramatically speeds up the digital checkout experience and improves security providing a seamless check out experience that reduces abandonment rates.
A plan to enhance consumer experience and security in the digital environment
This shift to biometrics is part of Mastercard's new action plan to help banks, retailers and partners, to prevent fraud and improve the consumer experience in the new digital environment. It also meets new regulatory requirements around Strong Customer Authentication set out by PSD2 and is aimed at ensuring a smoother consumer experience and reducing unjustified declines. It includes a new set of services recently designed such as
Mastercard's Decision Intelligence
or
Automatic Billing Updater
that leverage most contemporary technologies, including artificial intelligence. With this approach, Mastercard will help its partners not only to comply with requirements set out in the new PSD2 legislation, but also to go further in optimizing the checkout experience of their customers.
[1]
Mastercard Identity Check is available in 37 markets including Australia, Austria, Bahrain, Belgium, Brazil, Canada, Chile, Colombia, Czech Republic, Denmark, Egypt, Finland, Germany, Hong Kong, Hungary, Iceland, Israel, Japan, Kuwait, Lebanon, Malaysia, Mexico, the Netherlands, New Zealand, Nigeria, Norway, Oman, Qatar, Saudi Arabia, Singapore, South Africa, Spain, Sweden, Switzerland, the United Arab Emirates, the U.K, and the US.
Mastercard media contact:
Philipp Brüchert, Philipp.Bruechert@mastercard.com
+32 2 352 52 58
About Mastercard
Mastercard
 (NYSE: MA), 
www.Mastercard.com
, is a technology company in the global payments industry.  We operate the world's fastest payments processing network, connecting consumers, financial institutions, merchants, governments and businesses in more than 210 countries and territories.  Mastercard products and solutions make everyday commerce activities – such as shopping, travelling, running a business and managing finances – easier, more secure and more efficient for everyone.  Follow us on Twitter 
@MastercardEU
, join the discussion on the 
Beyond the Transaction Blog
 and 
subscribe
 for the latest news on the 
Engagement Bureau
.