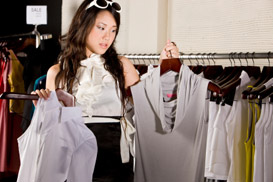 MasterCard supported the United Nations Development Fund for Women (UNIFEM) in Singapore in December in a campaign to raise funds to stop violence against women. The MasterCard donation program was part of the region's Purchase with Purpose™ social responsibility and citizenship platform.
A two-day UNIFEM Buy to Save charity sale, held in conjunction with the International Day for Elimination of Violence Against Women, offered shoppers a collection of gently used designer clothes, shoes, bags and accessories donated by the fashion-savvy. The items for sale were sold at a fraction of their original price and all proceeds went to UNIFEM.
MasterCard cardholders were empowered with an additional way to contribute to the cause. With every purchase, MasterCard donated an additional S$2 to UNIFEM. As a result, close to half the electronic transactions at the sale were made with MasterCard cards.
"It was powerful to see how the MasterCard Purchase with Purpose program worked," said Trina Liang-Lin, chairperson, UNIFEM Buy to Save, 2009. "Buy to Save customers would switch credit cards at the cash register, from other brands to MasterCard, to allow for the additional donation. I hope many customers came away with as deep an appreciation for MasterCard's community efforts as I did."
In addition, MasterCard staff donated their time to work behind the cash registers at the sale. Our new media platforms helped heighten awareness and create buzz about the sale. All in all, the event garnered UNIFEM over S$85,000, more than double the amount of money raised during the last such sale.
Influencing the giving process
"Purchase with Purpose is our small effort to change and shift the giving mentality. Just by using their card, a cardholder can make a difference by influencing the giving process. We believe that giving is not just something you do on a special occasion. It's about making it an everyday activity. That's what we facilitate with our Purchase with Purpose program," said Georgette Tan, senior business leader, Communications, Asia/Pacific, Middle East & Africa.
"More people are putting their everyday expenses on their card and when they do so, we make a donation to the beneficiary," concluded Tan. "So we make it convenient for MasterCard cardholders to make an everyday contribution to a good cause. In this instance, we worked with UNIFEM to develop a donation program, and we continue to look for other worthy causes to support under our Purchase with Purpose umbrella."