Mastercard and Selcom work together to introduce a suite of payment solutions
Dar es Salaam, Tanzania – 26 June 2018
: Mastercard and
Selcom
have expanded their collaboration by signing a seven year strategic partnership agreement to introduce a variety of payment solutions in the country, thus supporting Tanzania's goal of becoming a cashless economy.
Tanzanian's will be enabled to transact more conveniently, quickly and securely at more payment acceptance locations. Already consumers, retailers and local businesses are benefiting from the introduction of Masterpass QR currently being implemented across various retailers and merchants. Consumers will now also gain access to a wide variety of payment solutions that will be accessible on mobile money platforms or via their bank.
"Tanzanians have proven to have an appetite for digital payments, particularly mobile. The country had over
40 million
mobile phone subscribers in 2017, showing the potential to create and scale innovative solutions on this platform" says Sameer Hirji, Executive Director of Selcom.
"With the wider variety of payment options at consumers' fingertips, it is equally important to ensure that they are able to use these solutions wherever they may be paying for goods or services," said Raghav Prasad, Division President, Sub-Saharan Africa, Mastercard. The partnership will result in Selcom's 17,000 point-of-sale (POS) terminals and extensive ATM network being able to accept local and international Mastercard card payments and cash withdrawals.
"In order for us to narrow the gap and ensure Tanzanians have access to relevant financial tools, our approach with Selcom is to build a stronger payment ecosystem. Our partnership will strengthen key areas of the economy, thus better equipping businesses and consumers to replace cash with secure and convenient payment options, whether they be on mobile or card solutions – it is not a one size fits all approach," said Prasad.
Given the country's high rate of mobile money account usage, Selcom will introduce a Mastercard card linked to a mobile wallet, which gives the user the ability to withdraw cash or pay in-store or online. Additionally, in an effort to support online payments, merchants will gain access to the Mastercard Payments Gateway Services platform, which helps e-retailers to accept payments for web purchase both from local and international users – further expanding the options for consumers on how they wish to make purchases.
Customers of over twenty banks and mobile network providers in Tanzania already connected to Selcom will also have access to a number of other solutions including: virtual cards for safe online purchases and Mastercard debit and prepaid cards.
"We are committed to supporting local business growth by delivering meaningful connections, relevant technology and by driving economic efficiencies. It is for this reason, that our partnership with Mastercard is so vital to the growth of Tanzania. Our collaboration is helping us achieve our goals of connecting and digitizing the payments ecosystem in Tanzania," said Hirji.
It is solutions such as these that build on Mastercard and Selcom's
initial partnership
announced in March to help drive the goal of creating a cashless Tanzania. "Cash is inefficient and presents risks to both business owners and consumers, additionally it puts a costly burden on the local economy as cash is expensive to transport and handle. Digital payment solutions not only make consumers' and merchants' lives easier, but they also support the local economy's growth," concludes Prasad.
-ENDS-
About Mastercard
Mastercard
(NYSE: MA),
www.mastercard.com
, is a technology company in the global payments industry.  We operate the world's fastest payments processing network, connecting consumers, financial institutions, merchants, governments and businesses in more than 210 countries and territories.  Mastercard products and solutions make everyday commerce activities – such as shopping, traveling, running a business and managing finances – easier, more secure and more efficient for everyone.  Follow us on Twitter
@MastercardNews
, join the discussion on the
Beyond the Transaction Blog
and
subscribe
for the latest news on the
Engagement Bureau
.
Mastercard Communications Contacts: Geraldine Grealey -
geraldine.grealey@mastercard.com
About Selcom
Selcom is a forward-thinking, ever-evolving digital payments company with a strong focus on m-commerce, e-commerce, and issuing, acquiring and over-the-counter (OTC) transaction processing services. Selcom is wholly Tanzanian-owned, with a vision to enhance financial inclusion across Africa through strategic partnerships and alliances to facilitate the seamless movement of funds electronically at all levels.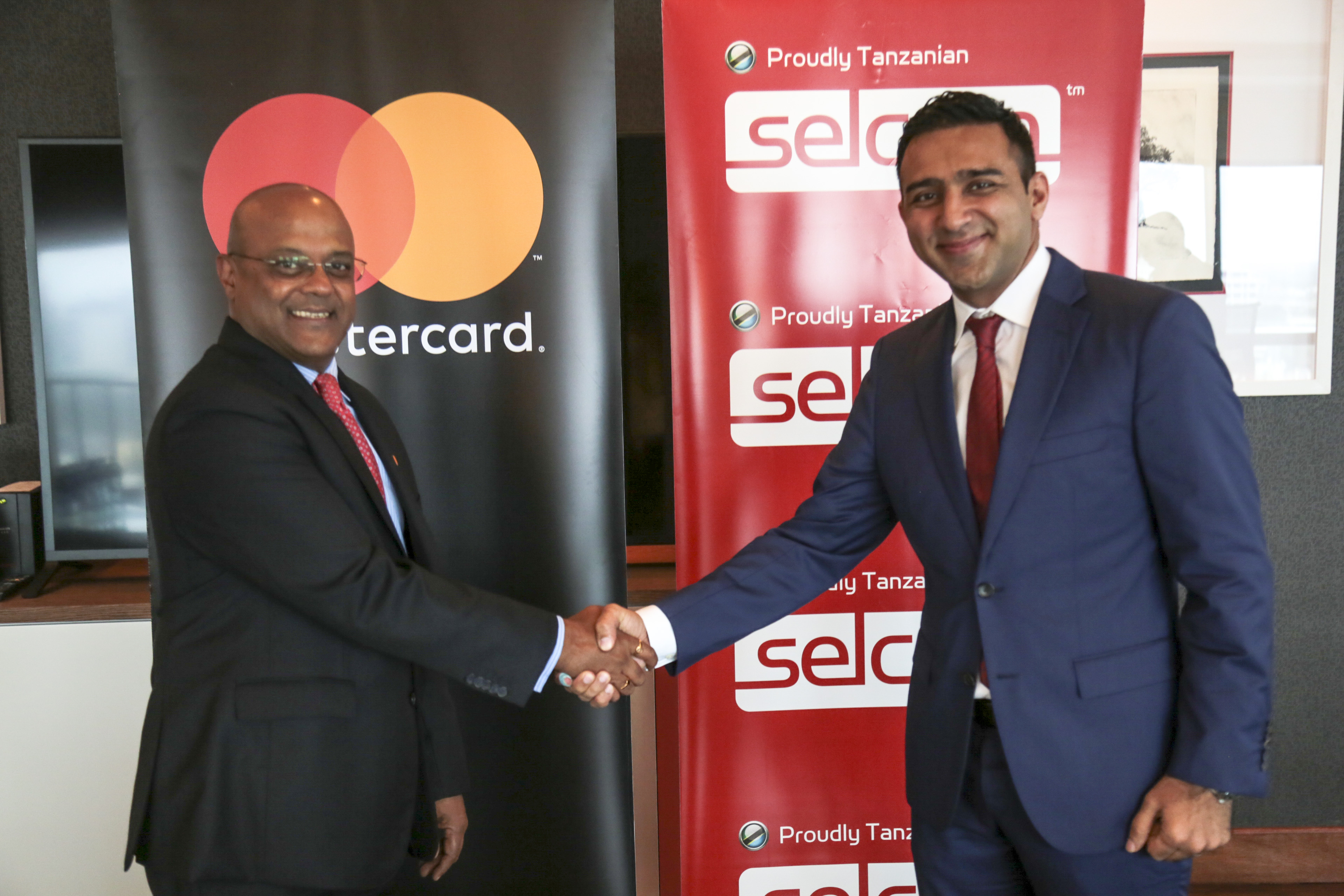 Raghav Prasad, Division President for Sub-Saharan Africa, Mastercard and Sameer Hirji, Executive Director of Selcom, celebrate their partnership to roll out a suite of digital solutions that will allow merchants and consumers to make and receive payments more easily and safely, and support Tanzania's shift to a cashless economy.
Raghav Prasad, Division President for Sub-Saharan Africa at Mastercard and Sameer Hirji, Executive Director of Selcom use the Masterpass QR solution at a fast food outlet in Tanzania.
Masterpass QR offers a safe and easy way for Tanzanian consumers to make cashless payments. The partnership between Mastercard and Selcom will enable 100 000 merchants and merchant locations to accept MPQR as a payment method within the next 12 months