Get Mastercard Identity Check for stronger authentication
As a merchant, you accept more and more payments digitally every day, yet you need to ensure that every transaction is secure. Mastercard Identity Check leverages the latest authentication standards of EMV® 3-D Secure (replacing 3DS 1.0) to complete more transactions without disruption.

Helps eliminate unnecessary friction during authentication

Supports all card-not-present channels for secure payments on any device

Enables the exchange of richer data between you and financial institutions

Covers recurring payments, digital wallets, tokenization, and more
Ready to help you get started
Mastercard Identity Check, backed by EMV 3-D Secure, optimizes the digital payment experience through:

A global network
With best-in-class fraud detection, our network facilitates a rich data exchange and authenticates billions of secure transactions every year.

Ongoing innovation
We continually evolve in areas such as biometrics, risk-based authentication, artificial intelligence, and behavioral analytics.

Plug-and-play biometrics
A biometric solution helps secure digital payments via strong two-factor authentication.

A simple path
Implementation process built on proven success reduces resource needs and time to market.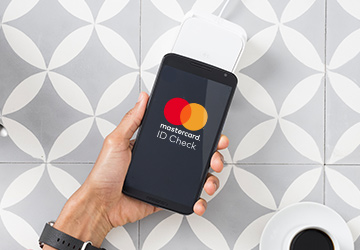 With Mastercard Identity Check, you can:
Enhance the digital payment experience
Help eliminate unnecessary friction
Decrease online shopping cart abandonment and improve conversion rates
Drive approval rates and transaction growth
Improve loyalty and engagement with your customers
*Dates are subject to change.